Basic Concept
The watch business has positioned customer satisfaction at the very core of its management and always seeks to provide high-quality products and services from the customer's perspective. Toward the pursuit of customer-oriented management that contributes to the resolution of issues faced by customers and society, we listen to customer opinions and make use of them in product development and improving services. We classify comments from customers for analysis into sales and planning, development and manufacturing, and service categories. The respective responsible divisions then take measures based on the results of analysisfor making improvements.

Implementing Customer-Oriented Management
Initiatives of the Customer Watch Consultation Center (Customer Service/Technical Service/Customer Watch Consultation Center)
To increase customer satisfaction even more, the watch business is striving to improve the comprehensive quality it delivers to customers, including after-sales service, in addition to product performance in such areas as quality, functions, and design. Recent initiatives include (i) Voice of the Customer (VOC) Reports intended to analyze customer feedback along axes based on customer experiences and to deploy the findings in related sections, (ii) enhancement and maintenance of FAQs on the website to encourage problem-solving by customers themselves, and (iii) adoption of user manuals easy to view on mobile devices and an analysis of the state of their use. In the future as well, we will continue working to increase customer satisfaction by making further improvements.
VOC Reports
VOC Reports organize data collected at the Customer Watch Consultation Center (Customer Service/Technical Service/Customer Watch Consultation Center) along three customer experience axes: pre-purchase/purchase, post-purchase/use, and repair. The Customer Watch Consultation Center prepares VOC Reports monthly for use in sharing customer feedback within the watch business, as well as measuring customer satisfaction based on these data and analyzing quality in the market, to aid in product development and service improvements. These efforts are linked to further increases in customer satisfaction.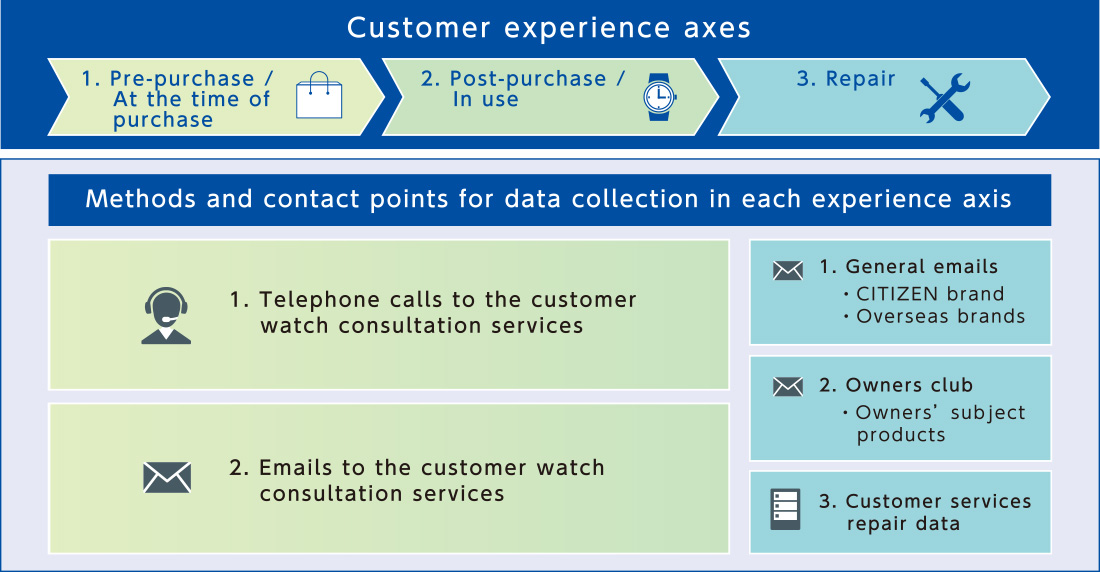 Evaluation of Customer Service in the Watch Business—"Words of Thanks from 1,000 Customers Every Year!"
To realize the corporate philosophy of "Loved by citizens, working for citizens," it is important to swiftly respond to, and make improvements regarding customer inquiries and requests in order to build long-term relationships with them. The CITIZEN Customer Service Desk handles varieties of questions and requests that include advice on product performance and material quality prior to purchase and operating procedures after purchase. Meanwhile, Customer Care & Technical Support aspires to provide after-sale service that will enhance customer satisfaction through repair and maintenance. The numbers of thanks letters and of full marks on email evaluation forms from customers in each year exceed 1,000.
Words of thanks received after resolving dissatisfactions and troubles make our employees happy and boost their motivation.
To increase customer satisfaction, we will continue to strive to provide services that satisfy customers through periodic operator trainings aiming for acquisition of skills and knowledge.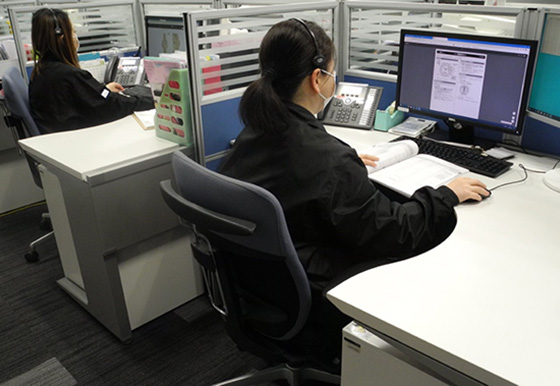 Customer Watch Consultation Department
Number trend of inquiries received by customer watch consultation / customer service / technical support and repair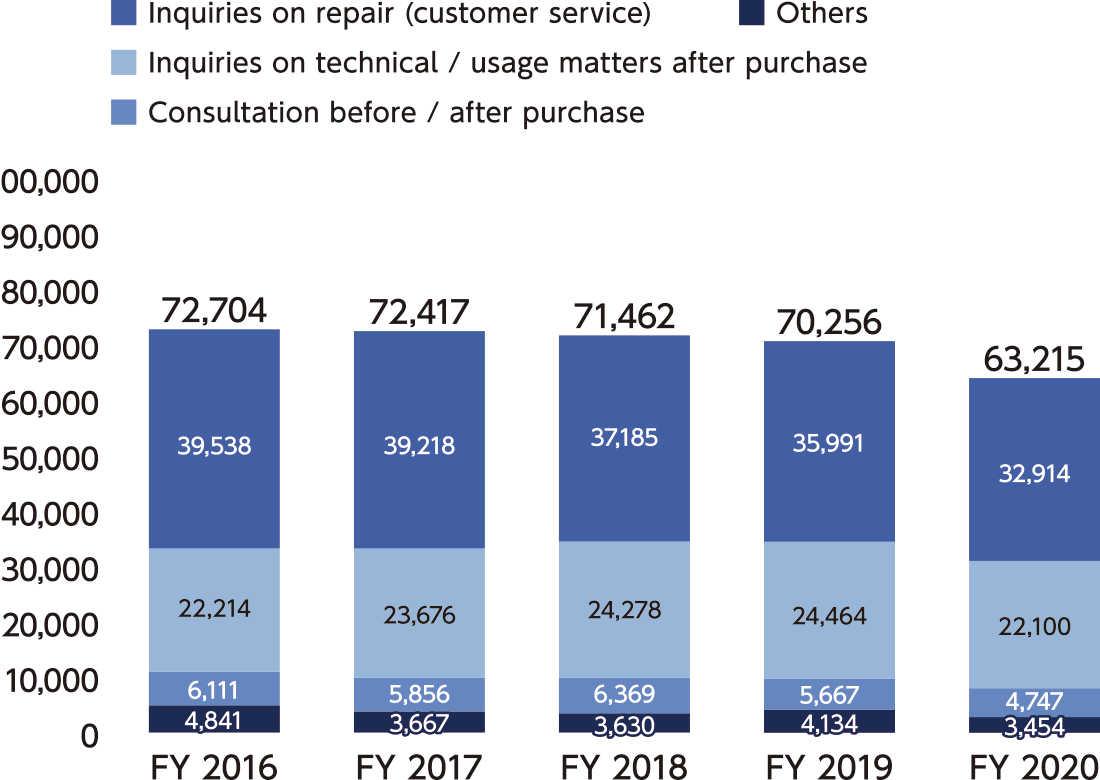 "At the Heart of Your Health" to Continually Maintain Good Health
The "At the Heart of Your Health" vision refers to supporting a healthier future in which measuring bodily conditions is a regular habit.
CITIZEN SYSTEMS continues to supply products that deliver self-confidence and peace of mind about health by pursuing new possibilities in maintaining and improving people's health.
One product reflecting this concept is CITIZEN's CTEB718V vibration thermometer.
This thermometer doesn't just make a sound when it is finished measuring temperature, but it also vibrates.
This vibrating signal makes it easy for people whose hearing has worsened with age, people able to hear only limited tones, people with hearing impairments, and those who find it hard to hear certain sounds in noisy environments to know when the temperature measurement is complete. Also available is a special attachment, called "Pitachment," to enable stable temperature measurement without dropping the thermometer, even for users who find it hard to grip the device under their arms.
We will continue striving to improve customer satisfaction by developing products that meet customers' expectations.

Alkapplysolution Supports Digital Transformation in Manufacturing
As the adoption of digital technologies advances throughout society, the waves of digital transformation are reaching manufacturing workplaces as well, centered on the machine tools industry. Alkapplysolution, which has built up a strong track record since the 1990s, has proposed digitalization solutions that can be put to use immediately in manufacturing workplaces.
Specifically, through its Web solutions that enable provision of up-to-date information at all times in materials, such as descriptions of machining techniques, e-manuals, and e-learning materials on programming and technological knowledge, and its network solutions, including systems that monitor the state of machinery operation automatically and services for analysis of operational data, it responds to a wide range of issues to realize more comfortable manufacturing workplaces through means, including increasing customers' productivity, improving business efficiency, paperless solutions, and support for human-resources development.
Alkapplysolution will continue evolving to meet the needs of manufacturers in these changing times.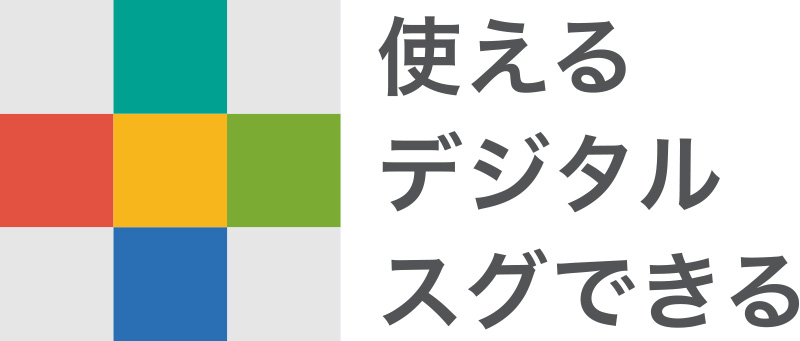 【The Alkapplysolution logo】
This colorful square represents the varied products and services that Alkapplysolution provides. The plus sign symbolizes the additional value that these products and services in combination deliver to customers.
CITIZEN MACHINERY's Alkapplysolution digitalization solutions, which can be put to effective use right away, support customers' digital transformation comprehensively from a wide range of approaches, through more than just a single product.
Entering a New Market and a New Product Field in Response to Customer Feedback
The Devices & Components business collects feedback from customers around the world through its network of dealers and uses it in the development of new markets and new products through organic collaboration with headquarters product planning and development sections. One example is a COB* system for growing plants. While development of a COB system for growing plants first started in 2014, it accelerated in response to feedback from the market received at a European dealers' conference in 2015, proposing that CITIZEN's technologies capable of providing a wide range of color and light quality by freely changing the arrangement of phosphors under high output could be used to develop high-output COB with a spectrum optimal for plant growth to replace the sodium vapor lamps used mainly in Europe and North America for plant factories. This required a time cycle of several years to check actual plant growth in the evaluation of the technology, since the agricultural market was a completely different one to those where COB products had been used previously, and insufficient data were available on the effects of COB on plant growth. We also lacked agricultural knowledge in house, but through research on phosphor combinations suited to the spectrum that promotes photosynthesis, which began with reference to various published studies, we were able to introduce a prototype at a dealer's conference held the following year in 2016. Since then, we have proposed this technology to manufacturers of lighting equipment, agricultural firms, universities, research facilities, and other prospective clients, chiefly in Europe. In Japan as well, we were in charge of development of LED lighting for growing large seedlings and COB* auxiliary lighting solutions for greenhouses that also use solar light through our participation in the Asian Monsoon Plant Factory System (PFS)* Consortium industry-academy-government partnership project. We plan to continue initiatives toward implementation of this technology in society through cooperation mainly with other participating firms, aiming to contribute to improved yields in the humid, high-temperature regions of Southeast Asia that are subject to this project.
*COB: Chip On Board LED  *PFS: Plant Factory System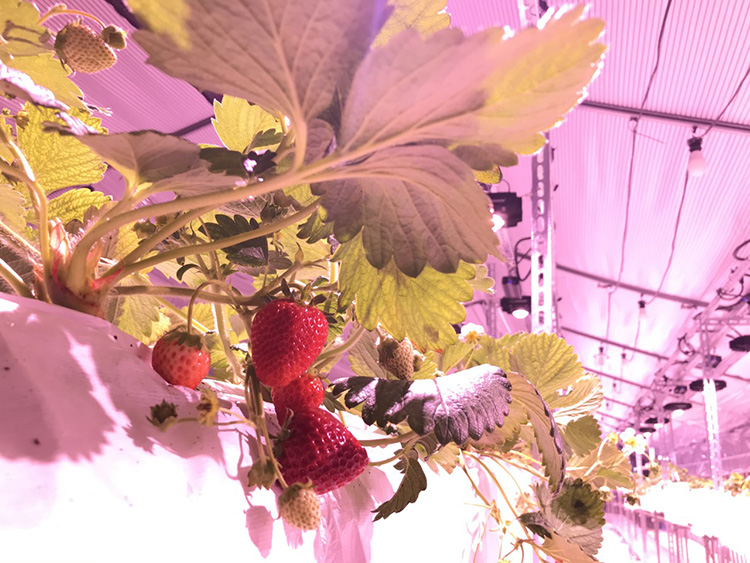 Example of use: strawberries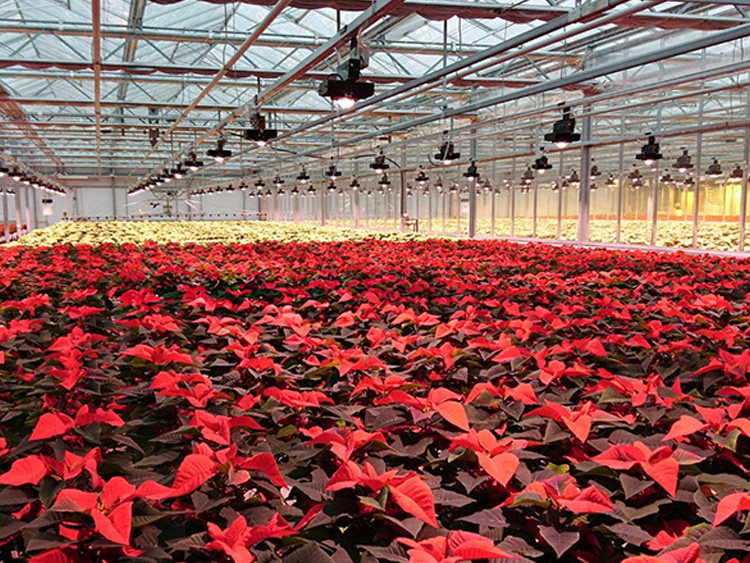 Example of use: poinsettias