Local Community
In FY 2020, due to the pandemic, initiatives with an asterisk (*) at the end were suspended or implemented online.
Sponsorship of the Iida Yamabiko March (started in 2012)
Iida Plant, CITIZEN WATCH MANUFACTURING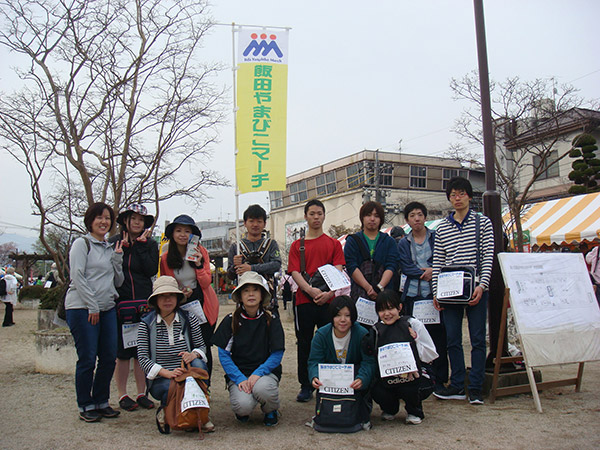 Every year in April, the city of Iida holds a walking event called "the Iida Yamabiko March."CITIZEN WATCH Manufacturing's Iida Factory has sponsored this event in the hope of creating a healthier lifestyle for the many people who gather from across the country to participate in the event. (*)
Table Tennis Exchange Events with Members of Company Teams (started in 2008)
CITIZEN WATCH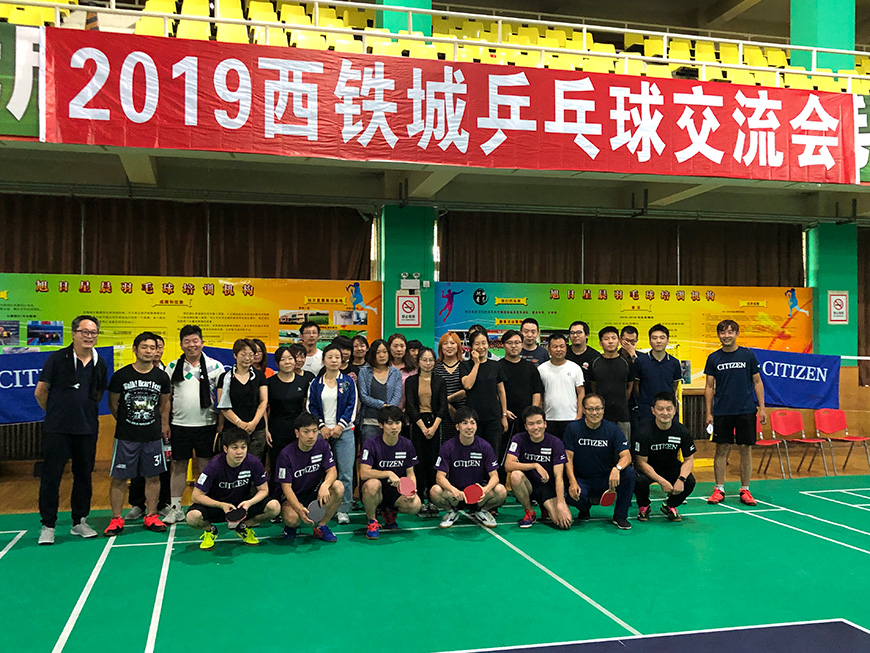 Table tennis exchange event (Beijing)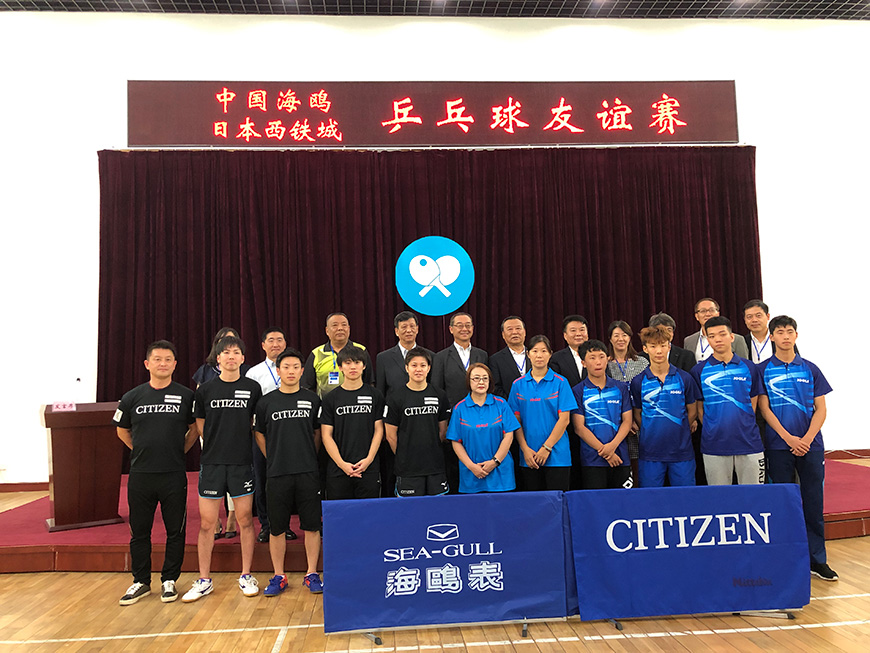 Table tennis exchange event (Tianjin)
The CITIZEN Table Tennis Club holds table tennis exchange events in cities nationwide where CITIZEN Group facilities are located. In FY 2019, these were held for the first time in Beijing and Tianjin, where overseas facilities are located. Due in part to the fact that these were held in China, a leading table tennis power, the skill level of participating employees was extremely high. It seemed as if they must practice extensively every day. Participants and players took part in continuous rallies and smiled naturally to each other despite differences of language as participants picked up techniques from the players. It gave one a feel for how wonderful sports, which people can enjoy together, can be. These exchange events are held to deepen exchanges with the community and communicate the enjoyment of sports through table tennis both in Japan and around the world. (*)
Activities to Protect Traditional Culture
Yoshida Fire Festival (started in 1992)
CITIZEN ELECTRONICS
Head Office and Kawaguchiko Plant, CITIZEN FINEDEVICE
Kawaguchiko Plant, CITIZEN WATCH MANUFACTURING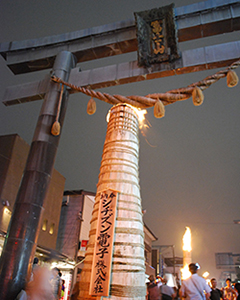 By actively taking part in local traditional events, the CITIZEN Group works to deepen its exchange with and revitalize local communities. "The Yoshida Fire Festival" is held every year at the end of August in the city of Fujiyoshida in Yamanashi Prefecture. The festival - known as one of the three most "unusual festivals" in Japan - is held to give thanks to the safety of mountain climbers who climb Mt. Fuji. At the festival, about 80 large pine torches made from scrap timber are burned furiously.' In addition to supplying pine torches for the festival, the CITIZEN Group cooperates in various other ways, such as assisting festival organizers and sponsors l and helping to carry portable shrines. (*)
Support for the 2019 Setouchi Triennale (started in 2013)
TOKYO BIJUTSU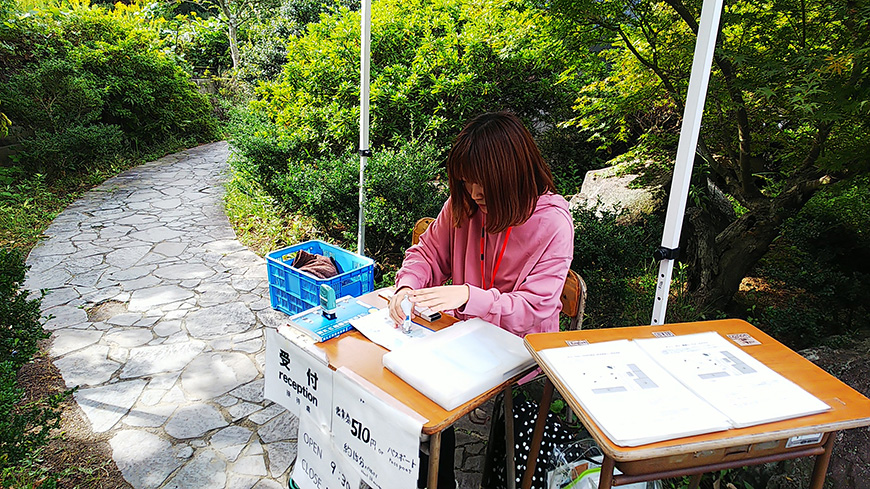 Since FY 2013, TOKYO BIJUTSU established the TOKYO BIJUTSU Volunteer Team (TVT), through which it volunteers in support of art festivals held across Japan. Through these activities, employees have enjoyed numerous stimulating experiences through contact with contemporary art. The aims are to protect the beauty of the natural environment and to value exchanges with the people with whom we come into contact. As part of these activities, in order to participate continually in the festival's management instead of temporal volunteer participation, we first began supporting the Setouchi Triennale as a sponsor, and in FY 2019, we continued providing support both as a sponsor and in the form of volunteers. In the future as well, we plan to continue these activities to provide proactive support as a company and raise morale among individual employees as well.
Blood Drive in Thailand (started in 2008)
ROYAL TIME CITI, CITIZEN MACHINERY ASIA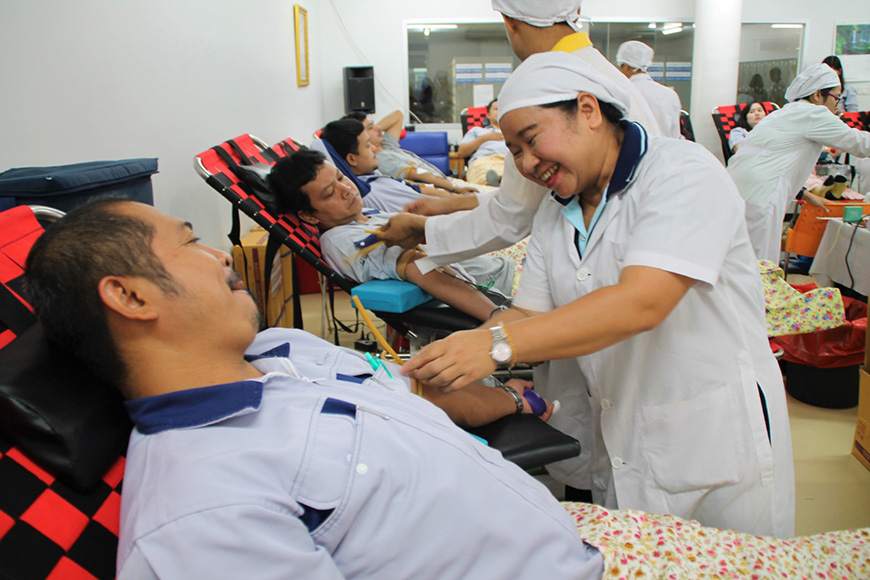 ROYAL TIME CITI CO., LTD., has participated in a blood drive since FY 2008. In 2019, a total of 276 employees took part in this drive. In this way, the company contributes to healthcare in Thailand with the large number of employees who appreciate its cause. (*)
Experience Events in "Zokkon Saku City"(started in 2012)
Miyota Plant, CITIZEN WATCH MANUFACTURING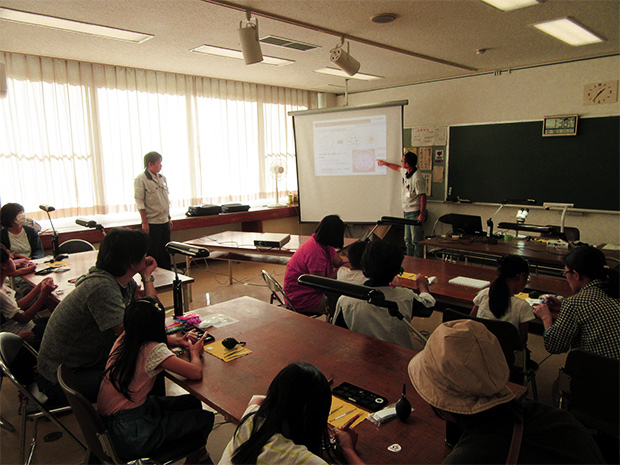 Expalaining watch
CITIZEN WATCH MANUFACTURING's Miyota Saku Factory participates in "Zokkon Saku Ichi," an industrial trade fair sponsored by the Saku Chamber of Commerce and Industry held every year at the beginning of October. At the trade fair, the plant conducts a wristwatch assembly demonstration and hosts a hands-on event geared toward the general public titled "Build Your Own Original Wristwatch." Participants can also design their own watch face to create their own one-of-a-kind wristwatch. As such, the event is extremely popular among children. CITIZEN WATCH MANUFACTURING hopes that event participants are able to get a sense of the excitement manufacturing has to offer. (*)