Basic Concept for Quality Compliance
In FY 2018, the CITIZEN Group established the Quality Compliance Committee in order to continually provide products and services that fully reflect consideration for safety, peace of mind, quality, and the environment. Since then, this committee has played a central role in our efforts to enhance quality compliance throughout the group by raising awareness through employee training and e-learning and deploying the CITIZEN Group Quality Code of Conduct internationally.
With membership consisting of the officers responsible for quality at each Group company, this committee strives to ensure the spread of compliance related to quality, to improve the efficacy of internal whistleblowing systems, and to respond to stakeholder demands while incorporating the perspectives of ESG and the SDGs.
The Quality Compliance Committee organizational chart

Initiatives for Enhancing Quality Compliance
Employee Training
To ensure that all members of the CITIZEN Group have a shared understanding of quality compliance, we conduct periodic training and education concerning the CITIZEN Group Quality Code of Conduct, which was formulated based on the circumstances of each business in accordance with Article 2 of the CITIZEN Group Code of Conduct, to raise awareness of quality compliance Group-wide.
FY 2020 training results
Training
Content
Participants (subjects)
Compliance Training

Improving understanding of the Group Quality Code of Conduct
Raising awareness of the Compliance Hotline

551 persons
(Six newly appointed Group officers, 101 new Group employees, and 444 persons from CITIZEN ELECTRONICS)
In addition, we are planning to conduct training for all employees on the contents of the CITIZEN Group Quality Code of Conduct.
Deployment of the CITIZEN Group Quality Code of Conduct Internationally
To achieve a shared understanding of quality compliance internationally, we have posted posters to raise awareness of the CITIZEN Group Quality Code of Conduct at facilities in China, and in FY 2020, we expanded this activity to manufacturing plants in Thailand and Vietnam as well. The CITIZEN Group Quality Code of Conduct identifies not only efforts to maintain quality but also the ideals to be achieved by Group members in terms of attitudes on the job. The response at overseas facilities has shown that, despite the increased difficulty of mutual communication under the conditions of the COVID-19 pandemic, this shared understanding has helped employees overseas feel a sense of belonging and of being supported as members of the Group. We will continue publicizing and deploying the Quality Code of Conduct in the future as well.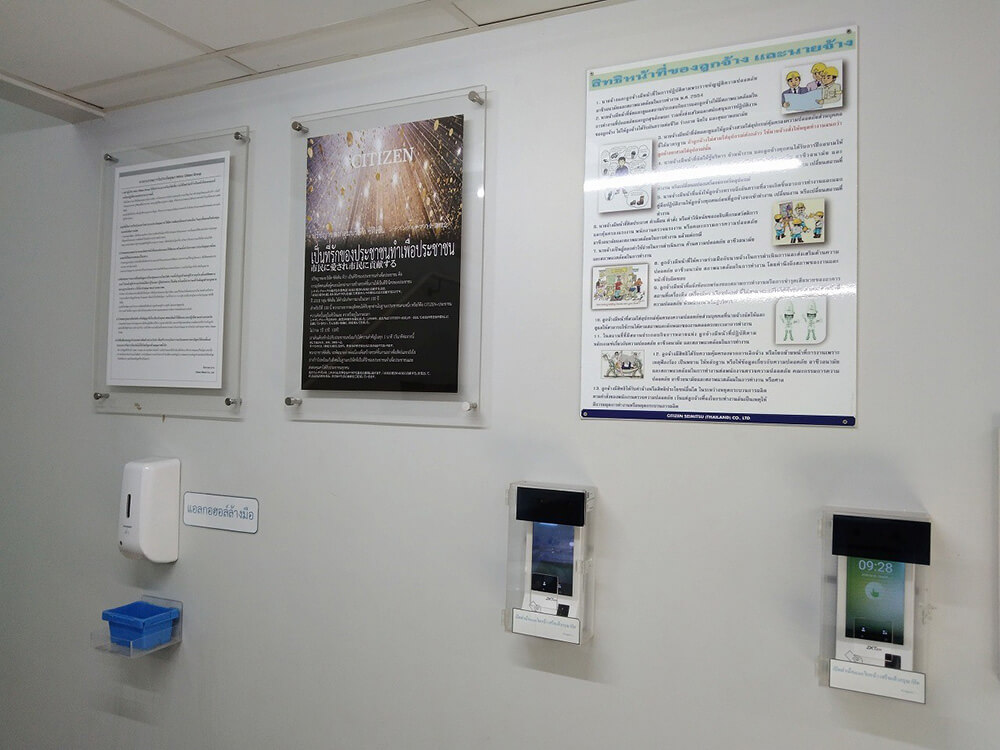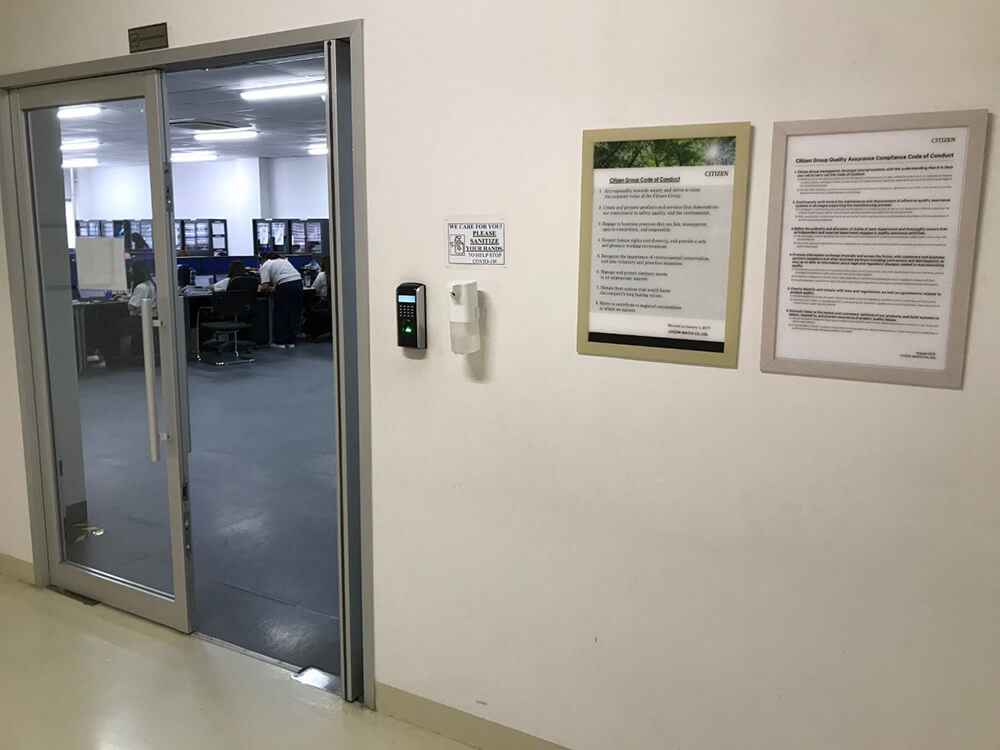 Poster display at overseas manufacturing plants
Initiatives at Group companies
As initiatives to strengthen quality compliance, CITIZEN ELECTRONICS was an early adopter within the Group of a system of periodic rotations of section heads and a computer system to prevent alteration of quality results and data. Its internal sections related to quality assurance also are advancing their own independent efforts. Since it began these initiatives, CITIZEN ELECTRONICS has not experienced a single quality-related impropriety, and this result is being shared within the Group together with the state of its initiatives.
Progress on the Roadmap and Future Outlook
The goals included in the Materiality Roadmap formulated in FY 2019 concerning enhancement of quality compliance by FY 2020—"Activities to raise awareness of the Quality Code of Conduct conducted twice" and "Percentage of personnel undergoing e-learning: 90%"—both were achieved. On the measure of "Deployment of the Quality Code of Conduct to overseas facilities," some results were achieved despite COVID-19. The other measure, "Preparation of auditing checklists from the perspective of quality compliance," is being advanced chiefly by CITIZEN WATCH. Specifically, CITIZEN WATCH coordinates quality-related items studied by each Group company from a compliance perspective and identifies from these common items to check in the Group. Through this process, we plan to prepare shared checklists that add to the items to check specific to each company common Group-wide items.
The CITIZEN Group Quality Compliance Committee plans to monitor quality compliance initiatives within the Group using these shared checklists. With the Committee serving as the center for related Group activities, progress will be made on enhancing and improving quality compliance through cooperation with organizations, such as the sections in charge of quality and auditing at each company.