Reconstruction Initiatives
from Great East Japan Earthquake Disaster
Great East Japan Earthquake Disaster Recovery Support
Each Companies of The CITIZEN Group
In the hope of a speedy recovery for the survivors of the Great East Japan Earthquake disaster, The CITIZEN Group donated 100 million yen through the headquarters of the Japan Red Cross, and CITIZEN WATCH COMPANY OF AMERICA donated $50,000 through the American Red Cross. Furthermore, 3,000 digital thermometers were provided to Japanese Red Cross Fukushima Hospital.
CITIZEN Group Holds Table Tennis Event
CITIZEN WATCH
A table tennis event was held at Shinchi-machi, location of CITIZEN WATCH MANUFACTURING Tohoku Soma Factory. Seeking to contribute to the region's recovery from the Great East Japan Earthquake disaster, five players from the First Division of the Japan Table Tennis League visited to participate in the event under the slogan "We can do it, Soma!" Students from elementary and junior high schools in Fukushima and Miyagi prefectures gathered at the venue to practice serves and smashes with the League players, receive instruction, and observe rapid-fire demonstration matches.
A Watchmaking Workshop in a Disaster-Stricken Area
CITIZEN WATCH
Tohoku Plant, CITIZEN WATCH MANUFACTURING
In June 2013, employees from CITIZEN WATCH MANUFACTURING Tohoku Factory visited Onagawa-cho in Miyagi Prefecture to hold a watchmaking workshop. Work such as painting watch dials and assembling watch hands provided an opportunity for elementary school students, who live in a fishing town where there are few opportunities for first-hand experience of "monozukuri (manufacturing)," to understand the enjoyment of manufacturing.
Donation of Musical Instruments to Elementary and Junior High Schools in Shinchi-machi, Soma District
CITIZEN WATCH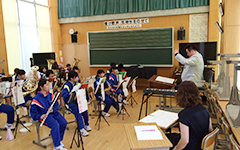 In February 2012, in an effort to support the recovery efforts following the Great East Japan Earthquake disaster, CITIZEN WATCH Group companies, CITIZEN WATCH ITALY and CITIZEN WATCH EUROPE, donated a total of 453 musical instruments, including those for fife-and-drum bands, clarinets, horn, and harps, to elementary and junior high schools in Shinchi-machi, a town in the Soma District of Fukushima Prefecture, which is also home to CITIZEN Tohoku Soma Factory(currently CITIZEN WATCH MANUFACTURING). A commemorative concert was held together with a presentation ceremony for the donation.
In FY2017, six years on from the disaster, the Sendai Philharmonic Orchestra provided lessons for musical instruments performance to the members of the brass band at Shoei Junior High School in Shinchi-machi. Thorough this, we were able to see the growth of the students and success in concert performances. The disaster recovery support through music has now come to an end but our support to Shinchi-machi will continue into the future.