Basic Concept for Human Resources Development
In the CITIZEN Group, individual operational companies are responsible for developing human resources capable of adapting to the business environment in accordance with their respective policies.
Human Resource Development
Group Human Resource Rotation Program
The CITIZEN Group's human resource development system consists of rank-specific programs organized by CITIZEN WATCH and company-specific programs conducted by each group company. We also implement a group-wide human resource rotation program that reaches beyond individual companies as we focus on developing the next generation of leaders for the CITIZEN Group.

Other Human Resource Development Initiatives
Training Manufacturing Technicians
CITIZEN WATCH MANUFACTURING, whose aim is to operate the best watch factories in the world, has established a Watch School intended to improve manufacturing skills, develop human resources, and pass skills along to future generations. It is promoting efforts to encourage employees to take on the challenges of earning national qualifications, independent internal qualifications suited to internal manufacturing work, and qualifications to assist in their business careers by conducting educational activities led by veteran and highly skilled employees to improve the skills and expertise of young and inexperienced employees.
In addition, as another activity to pass along skills and improve the abilities of skilled workers, we participate in the National Skills Competition, a competition of skilled workers up to 23 years of age whose skills will be essential to the future of Japanese manufacturing. In the FY 2019 competition, four employees in the field of watch repair and two teams (four employees) in the field of mechatronics took part. We won the gold medal for the first time in five years in the field of watch repair, and one employee won the fighting-spirit prize.
Such efforts as these helps to improve employee motivation and foster an attitude of striving toward goals that lead to human-resource development through manufacturing.
In the future as well, we will continue to train young technicians and pass along skills and techniques, as well as raise the level of employees' abilities, through the Watch School and the National Skills Competition.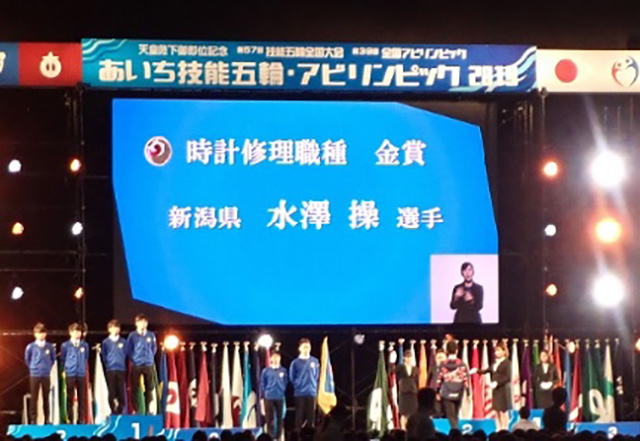 Winning a gold medal in the National Skills Competition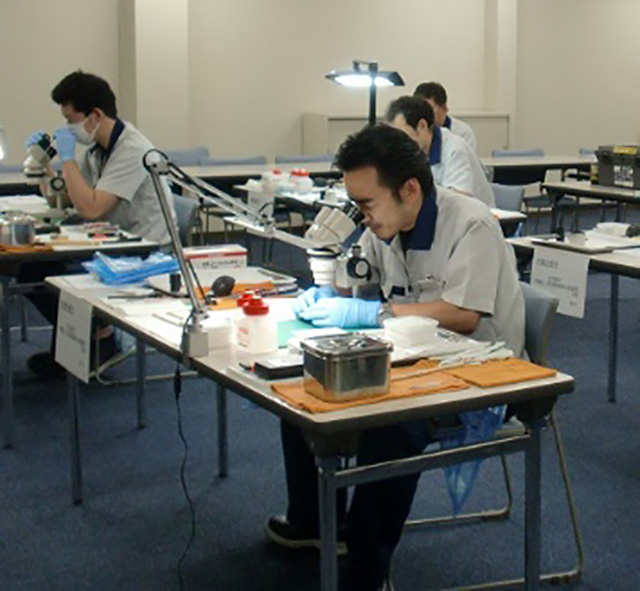 Internal examinations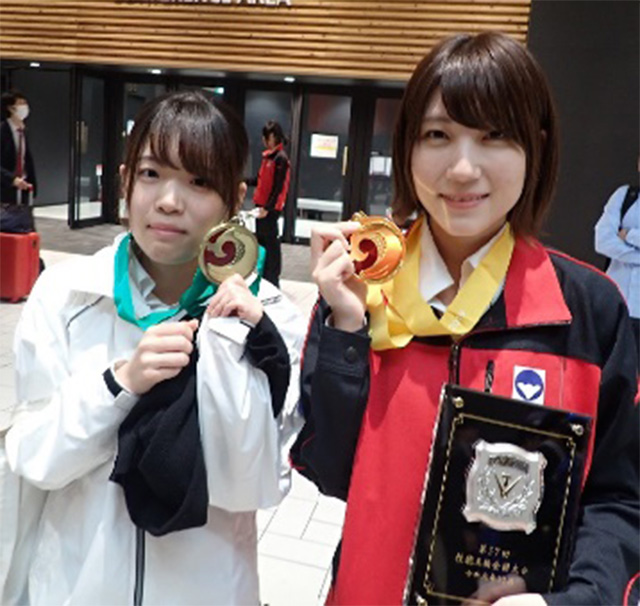 National skills Competition Winners
Career Support Training (CST)
CITIZEN ELECTRONICS implements CST to carry out a framework for an instruction/development system in the workplace so that employees understand the importance of on-the-job training (OJT).
CST first establishes opportunities for OJT instructors and members to interactively study approaches to matters and attitudes toward work with the aim of improving individual/organizational capabilities and increasing communication skills. It is expected that this system will help new employees improve their skills in strong relationships of trust with team chiefs on whom they can rely. But, it not only helps younger employees grow on the job but also helps team chiefs gain leadership experience, resulting in synergistic human-resources development intended to realize an even stronger organization in the future. Also, with an eye toward further energizing OJT activities, the opportunity is provided in a results presentation meeting at the end of the three-year CST period to look back on one's work and plan one's career going forward. Through CST, we pursue a culture of systematically fostering young employees with the united efforts of the workplace, OJT instructors, and the Personnel Division, in mind the stimulation of the company and development of competitive work force early on through retention of human resources.
* OJT: Refers to employee training through hands-on experience at the workplace.