CITIZEN WATCH Health Statement
Established in September 1, 2018
To contribute broadly to people's lives around the world based on our corporate philosophy "Loved by citizens, working for citizens," CITIZEN WATCH has established a code of conduct that calls for respect for human rights and diversity as well as creating safe and pleasant working environment.
Based on this code of conduct, we have established the following basic policies and are working to realize health & productivity management.
To enable each and every one of our employees—who make up our most valuable management resources—to demonstrate his or her maximum performance in good mental and physical health, we will promote respecting human rights, open communication, and good mental and physical health as well as create safe and comfortable working environments.
Our efforts to address global health issues include communication and raising awareness among employees traveling internationally on business of information concerning safety, including the three major illnesses of HIV, tuberculosis, and malaria.
We respond immediately to any cases of infection in cooperation with local authorities, medical professionals, and individual workplaces to prevent them from becoming more severe and from spreading.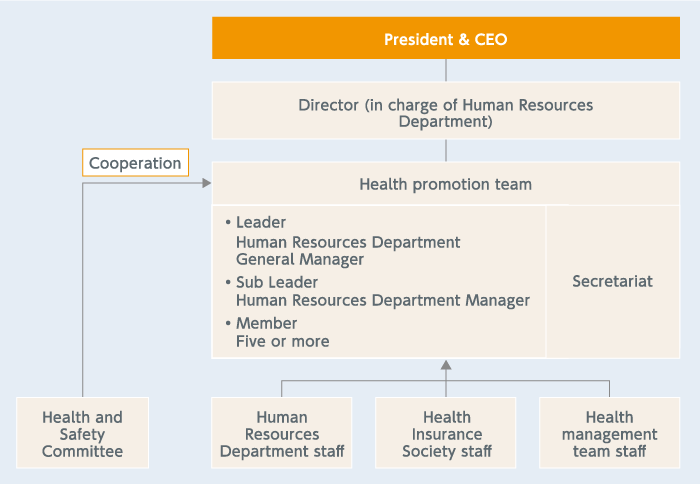 Health & Productivity Management Organizations 2021 Certificate
Certified in April 1, 2021
CITIZEN WATCH Co., Ltd. was certified by the Health Council of Japan (designed by the Ministry of Economy, Trade and Industry) as one of the "Health & Productivity Management Organizations 2021". This is our third certification.
This certification is given to the excellent companies in promoting a health management according to the health promotion initiatives addressed by the Japan Health Council cooperating with their insurers.
We have worked the promotion of our employees' physical and mental health on the whole company and achieved 100% of health checkup rate and 93.6% of stress check rate and Non Smoking Promotion Activity. Many employees are also involved in voluntary health measures such as cancer screening. Each employee participates and shows a high level of interest in improving their health, which brings to the vitality of the entire company.
In particular, this year's certification reflected a high regard for initiatives to address health issues specific to women, systems and measures to ensure appropriate working hours, activities to reduce the rate of smoking in the organization, and improved rates of undergoing detailed testing and optional health examinations.

Thorough Workplace Safety
Article 4 of the CITIZEN Group Code of Conduct explicitly calls for the Group to promote health and safety in order to "respect human rights and diversity, and provide a safe and pleasant working environment." Based on this, the CITIZEN Group Basic Policy on Health and Safety was established in April 2020.
Health and Safety Management Structure
Each of the six main companies in the CITIZEN Group has established a Health and Safety Committee in accordance with laws and regulations, and some Group companies supervise health and safety matters through committees whose membership includes board directors.
In addition, the Group Health and Safety Council meets twice annually to share and deploy Group-wide information concerning such matters as the health and safety management activities of individual companies and the incident investigations and responses conducted by individual companies' Health and Safety Committees in response to occupational accidents. These efforts are intended to improve the occupational health and safety environment and prevent the reoccurrence of those accidents. In FY 2020, because of the impact of the COVID-19 pandemic, the Group Health and Safety Council was conducted through information sharing and exchange of opinions among Group companies via email and other means. In addition, information is deployed and shared with individual companies in the Group regarding serious occupational accidents that qualify as crises in order to prevent accidents from occurring.
At present, one overseas facility has earned OHSAS 18001 certification.
Occupational-Safety Risk Assessment
The six main companies in the CITIZEN Group conduct safety risk assessment for newly adopted equipment and chemical substances used. Specifically, when adopting new facilities and equipment an equipment safety review meeting is held to prevent accidents and injuries on the job through the evaluation of safety and other matters, and when using new chemical substances or alternative chemical substances, the Health and Safety Committee reviews the substances before commencing the handling of them in cooperation with environmental sections and others. In addition, they also conduct legal and statutorily required voluntary inspection of such matters as existing equipment, working environments, and chemical substances used to ensure thorough safety management.
Risk assessment: Specialized review of chemical substances and specialized review of equipment safety (including new projects etc.)
Statutory inspection: Disaster-prevention management inspection, working environmental measurements, periodic inspection of machinery, etc.
Monitoring and Management of Results
Related to Occupational Health and Safety

The six main companies in the CITIZEN Group formulate their own individual plans for health and safety management activities and monitor their progress and results periodically. In addition, information on the occurrence of occupational accidents are ascertained and managed through a Group-wide crisis information system in addition to management by individual companies. The number of occupational accidents in FY 2020 was six. We will strive to enhance health and safety activities as we work toward our goal of completely eliminating by the end of FY 2030 all occupational accidents resulting in lost time.
Health and Safety Activities at the Tokyo Office
At the Tokyo office, the Health and Safety Committee formulates an annual health and safety action plan under which efforts are made to secure the health and safety of employees and prevent occupational accidents. In its monthly meetings, the Health and Safety Committee deliberates on and deploys information concerning health, safety, occupational accidents, and related countermeasures, aiming to reduce employee health and safety risks and to achieve the goal of 1800 continuous accident-free days (days free from on-the-job fatalities or accidents involving lost time during the period September 6, 2018 to August 10, 2023). In FY 2020, we took initiatives such as sharing health and safety information via the intranet in the pandemic. In addition, efforts in the area of disaster prevention included comprehensive disaster drills, led by the Disaster Prevention Committee, in preparation for large-scale earthquakes and fires, training on the use of fire extinguishers and fire hydrants, training on responding to oil spill, development of systems for confirming the safety of individual employees in a disaster and for securing emergency supplies, and efforts to raise employee awareness of disaster prevention. We will continue efforts to ensure employee health and safety and be ready for disasters through the Health and Safety Committee and the Disaster Prevention Committee.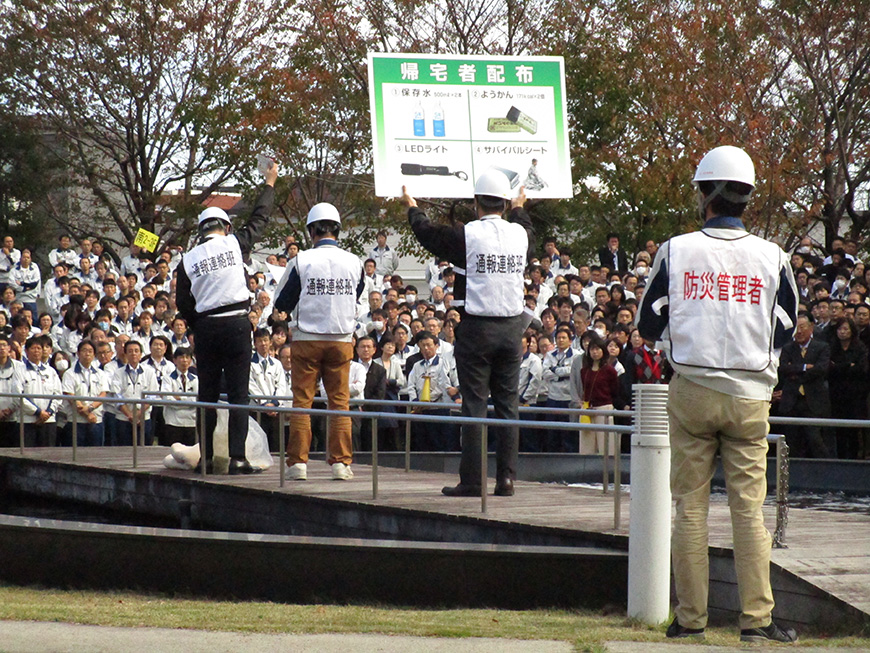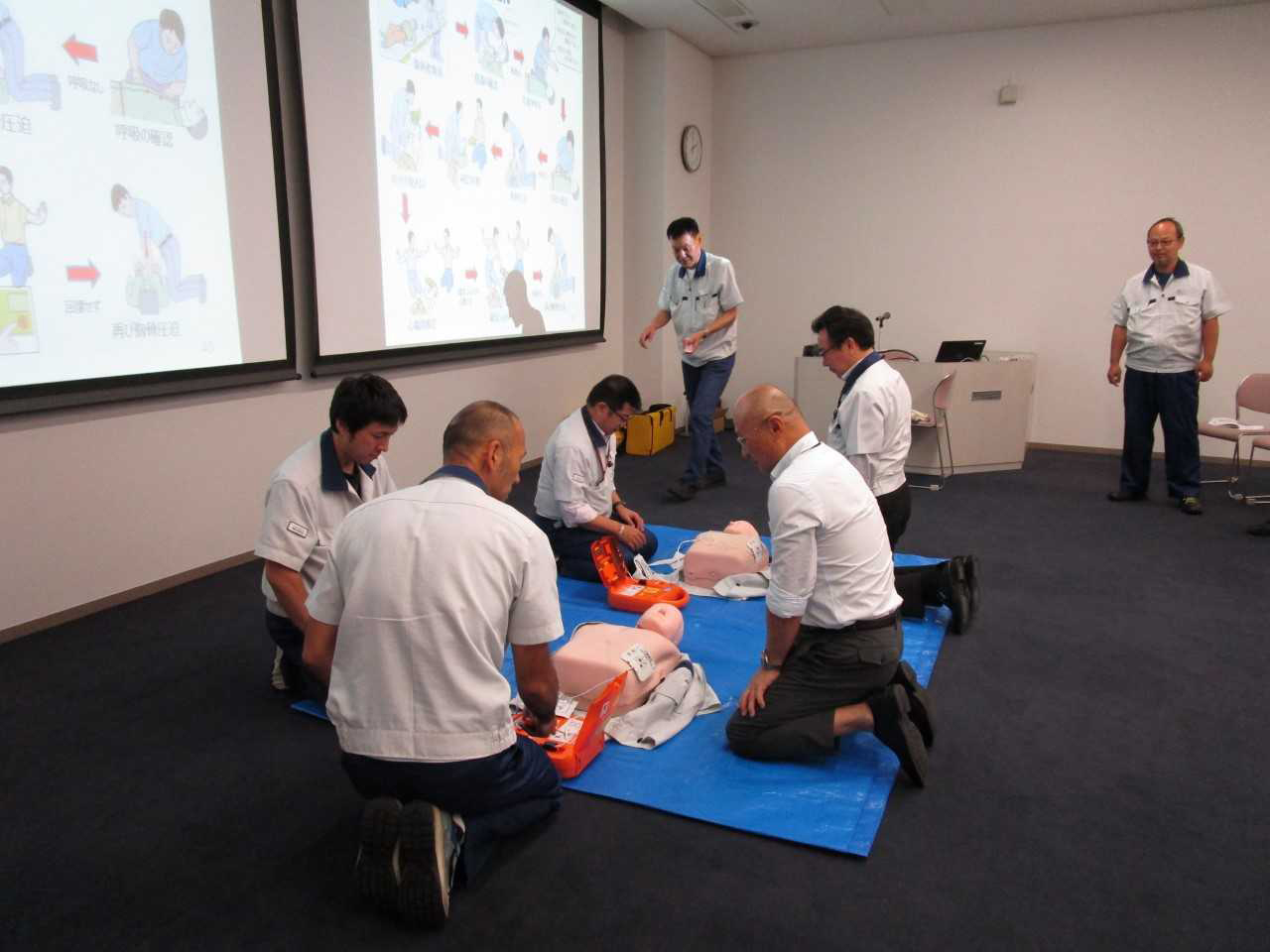 Comprehensive disaster drill in preparation for a large-scale earthquake
(Implementation status in FY2019)
Activities to Maintain and Promote Health
The Tokyo Office and the Tokorozawa Office make efforts to maintain and promote the health of employees under the direction of the Health and Safety Committee at each company. At the Tokyo Office, an industrial physician lectured on health based on the theme, "Mental Health Care at CITIZEN." but it was cancelled in FY 2020 due to the pandemic. The Health Care Section held a "walking campaign" as an event in which any CITIZEN Group member could participate to provide an opportunity for them to focus on health while having lighthearted fun. The offices are promoting a smoke-free workplace through conducting monthly patrols at smoking areas and putting up posters to motivate smokers to stop smoking. The CITIZEN Group will continue to improve employee health by carrying out various types of activities that maintain and promote health.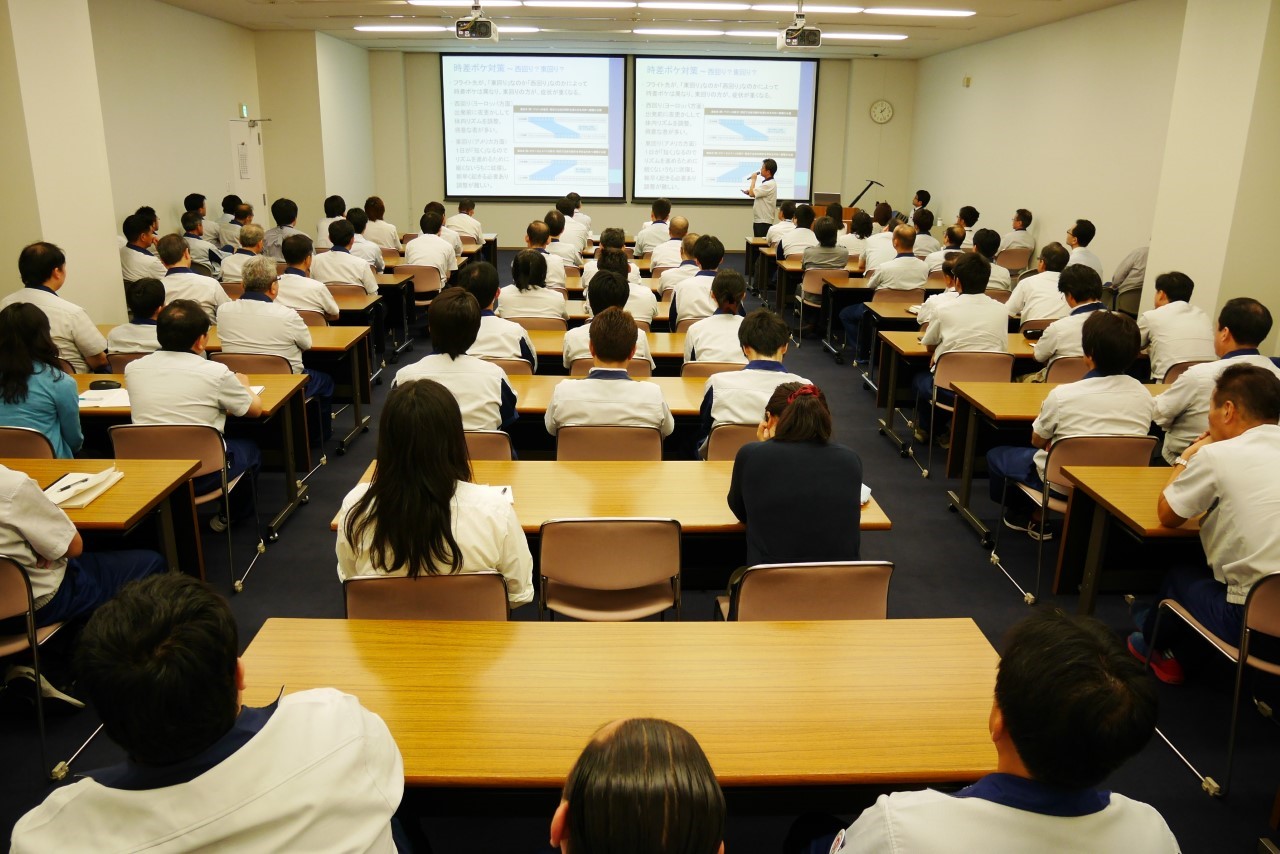 Health lecture
(Implementation status in FY2019)
"Walking Event" Health-Promotion Activity
Since its founding, CITIZEN WATCH MANUFACTURING has held an annual healthy working event companywide as a centerpiece of the Shine 361 program intended to help create a healthy company culture. This activity sets a virtual starting line and finish line each year so that employees can enjoy working toward the goal by converting their own total steps into the corresponding distance. Thanks in part to the small prizes awarded, this activity proves highly popular every year. Winning participants have described how happy they feel to have their efforts rewarded. This year's virtual route will be based on a trip to famed hot springs around Japan.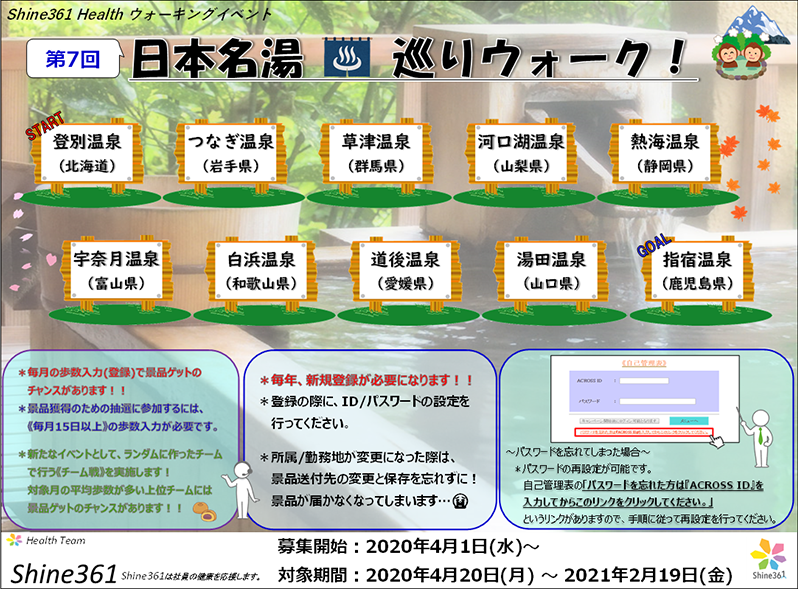 Health Maintenance and Promotion Initiatives
The Citizen Health Insurance Society manages programs intended to maintain and improve the health of insured persons and their families.
PEP UP Health Information Site
The health insurance society operates the PEP UP health information website. This site's features include "My Health Status," based on individual health examination results, the healthy age calculated from health examination results, health-related articles reflecting members' individual health issues, and information about such subjects as healthcare costs incurred at hospitals and generic drugs. Furthermore, we are implementing various campaigns, such as the Health Check Results Improvement Challenge, in which members can receive Pep Points for participation in walking rallies or having healthy ages that are younger than their actual ages. These help to improve the health of Health Insurance Society members.
Offering More Diverse Specified Health Guidance Options
The specified health guidance program provides advice on healthier living and other information to those aged 40 and above who are at high risk of developing lifestyle-related conditions. The Japanese government requires health insurance societies to carry out such programs. However, because of COVID-19, it is difficult to conduct specified health guidance through in-person interviews and group seminars at present. Accordingly, health guidance is being provided through Web-based interviews and online training, which are intended to improve eligible persons' health and reform their health consciousness. Furthermore, other efforts are conducted to enable swift responses for persons at high risk even below the age of 40 years.
Phase 2 Data Health Plan, Phase 3 Specified Health Guidance
Our six-year initiatives in both Phase 2 of the Data Health Plan and Phase 3 of the Specified Health Diagnosis/Specified Health Guidance program have been underway since FY 2018. FY 2021 was designated at a time to look back over the progress of these programs.
The Health Insurance Society uses specialized analytical tools to analyze health-insurance conditions, identify issues, and study and implement responses.
While progress has been made on reducing medical care costs due to members refraining from undergoing health examinations as a result of the COVID-19 pandemic, one issue the Society faces is the need to reduce medical care costs resulting from cancer and lifestyle-related conditions.
In response, the Society is striving to reduce medical care costs by increasing rates of undergoing examinations and early detection by paying subsidies for various examinations (such as screening for colon cancer and cervical cancer and CAT scans), reducing smoking rates through payment of subsidies for online smoking-cessation programs, and increasing health literacy through health and long-term care classes.
In addition, since data health plan analysis showed that the Society's members were less likely than those of other health insurance societies to exercise regularly, the Society is striving to improve members' exercise habits through payment of subsidies for walking-rally events.
Also, measures to prevent worsening of conditions among members who have been examined for such conditions at a hospital but who have been unable to make improvements have started to show gradual results.
Other Initiatives
We will continue to make efforts to improve the content of health checkups and increase the rate of regular health checkups and cancer screenings by distributing coupons for free regular examinations to dependent family members.