Recognizing the importance of the ecosystem services provided by biodiversity and the impact of our business activities on biodiversity, the CITIZEN Group has established the CITIZEN Group's Biodiversity Vision and is working together with local communities to conserve biodiversity.
The CITIZEN Group's Biodiversity Vision
Basic Approach
The CITIZEN Group realizes that its business activities benefit from ecosystem services and at the same time have an impact on ecosystems themselves. In order to contribute to a civil society where people can live an enriched and secure lifestyle in harmony with nature, the entire Group engages in activities to protect biodiversity.
Key Initiatives
Display affection toward nature and provide attractive, eco-friendly products that evoke the feeling of peacefully coexisting with nature.
Promote greening activities on our premises in consideration of biodiversity.
Actively disclose information on our environmental initiatives and work to deepen communication with society regarding biodiversity.
Promote environmental and biodiversity conservation activities within local communities.
Implement educational activities on ecosystem services for all our employees in an effort to deepen their understanding toward biodiversity conservation.
Established in April 2020
Promoting Activities to Preserve Biodiversity
Based on the Group Biodiversity Vision, the CITIZEN Group continues activities to help resolve biodiversity issues and preserve biodiversity in the communities in which we do business.
While these activities were suspended in FY 2020 because of COVID-19, we plan to resume them steadily beginning in FY 2021.
Protecting Butterfly (started in 2003)
CITIZEN FINEDEVICE
CITIZEN MACHINERY
CITIZEN WATCH MANUFACTURING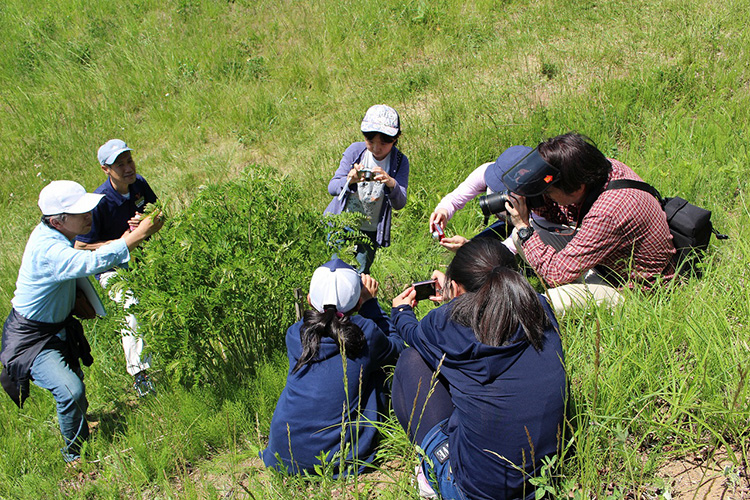 Taking photos of the large shijimi blue butterfly (Shijimiaeoides divinus) of Japan alighting on its forage, the shrubby sophora (Sophora flavescens)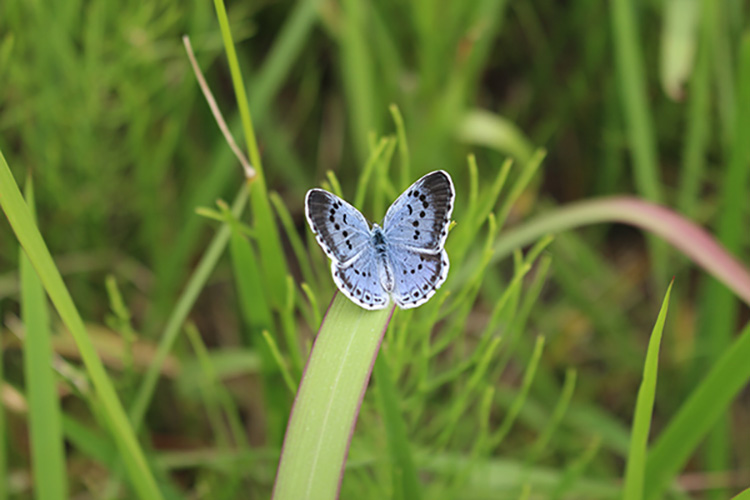 Shijimiaeoides
Shijimiaeoides divinus
(Japanese large shijimi blue)
The area surrounding CITIZEN FINEDEVICE's Kitamimaki Plant is a natural habitat for the Shijimiaeoides divinus (Japanese large shijimi blue), a Class I endangered species. The plant is a member of a local organization dedicated to protecting the butterfly, and since 2003 its employees have been involved in growing and protecting sophora, a legume that the butterfly larvae eat, and have taken measures to eliminate harmful insects in an effort to prevent the butterfly's extinction. Employees also cooperate in conducting tours for parents and children and open the plant's grounds and facilities to the public to draw attention to these butterflies.Participants in the tour to observe the Japanese Large Shijimi Blue butterfly come from the neighbourhood and also from other prefectures.
Loggerhead turtle protection activities (started in 2007)
Kagoshima Plant, CITIZEN WATCH MANUFACTURING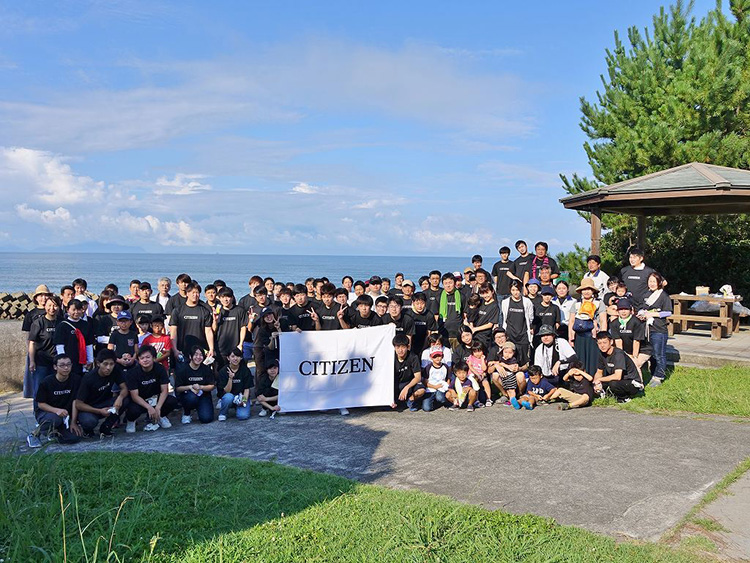 Participants from the Kagoshima Plan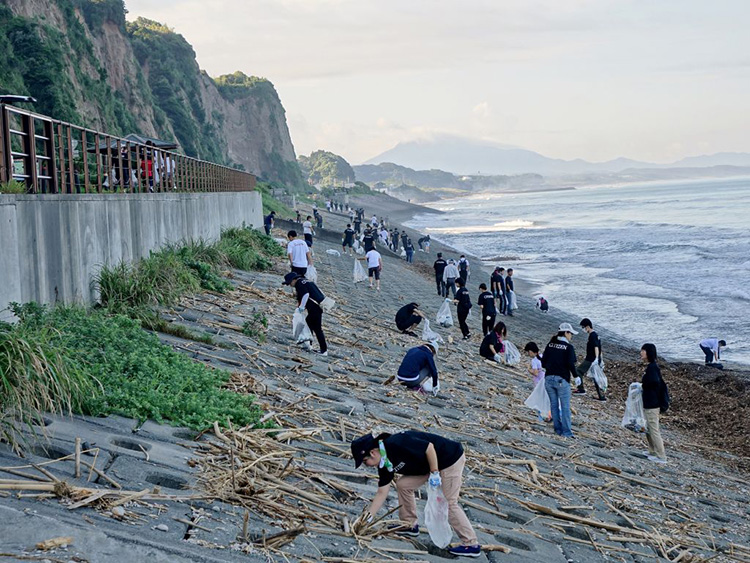 Cleanup Activity
Since 2007, the Kagoshima Plant of CITIZEN WATCH MANUFACTURING has participated in cleanup activities on Fukiagehama Beach in the city of Hioki to preserve the loggerhead turtle, designated an endangered species by the International Union for Conservation of Nature (IUCN).
More than one-half of the loggerhead turtles in Japan are said to come ashore in Kagoshima Prefecture, which is Japan's largest spawning ground for the species. But large volumes of driftwood and waste, such as plastic bottles, are impeding the turtles from coming ashore to spawn. These activities will continue with the goals of protecting the loggerhead turtle's ecosystem and the natural beauty of Fukiagehama Beach.
Lake Kawaguchi Bur Cucumber Eradication Project (started in 2017)
Head Office, Kawaguchiko Plant, CITIZEN FINEDEVICE
FUJIMI
Kawaguchiko Plant, CITIZEN WATCH MANUFACTURING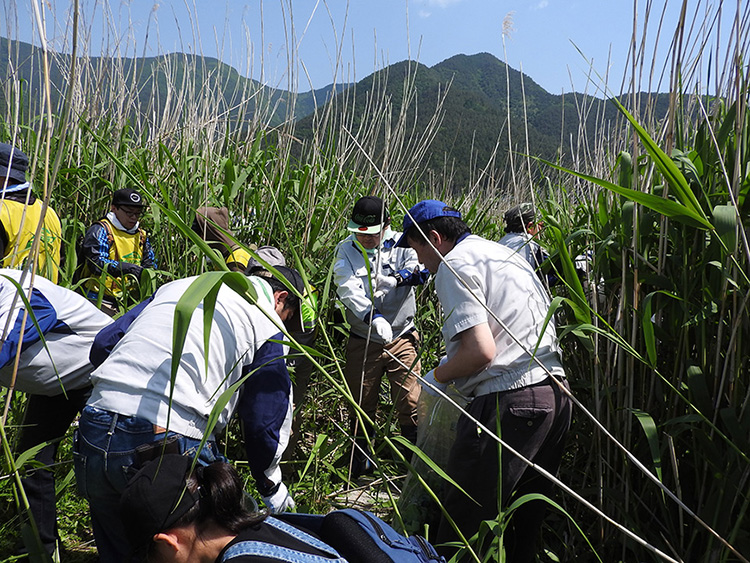 Cleanup Activity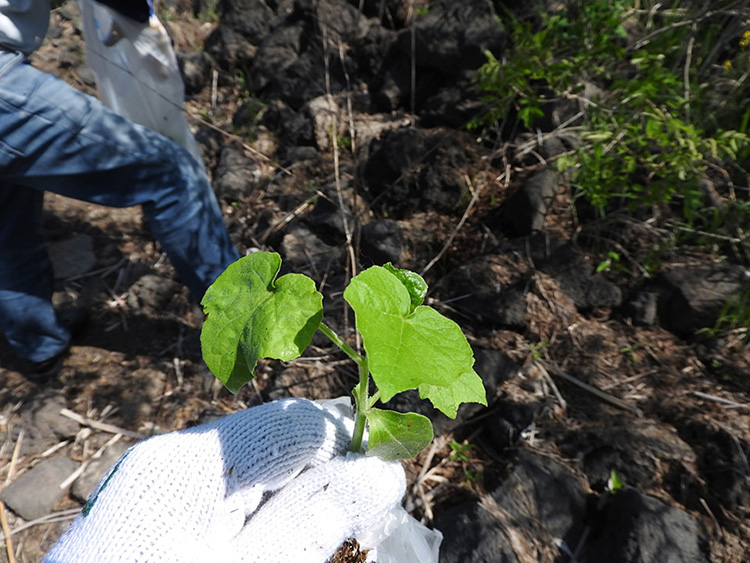 Sicyos angulatus
Lake Kawaguchi, a part of the Mt. Fuji World Heritage Site, is home to diverse natural life forms that support our way of life. However, since the presence of the bur cucumber, a designated invasive alien species, in the lake was confirmed in 2011, the survival of the ecosystem of the Lake has been under threat. Bur cucumbers must be weeded from the roots by hand, one at a time. We have participated in bur cucumber eradication activities organized by an NPO since 2017. We will continue activities to preserve biodiversity in the future, as well, based on our strong recognition of the way our business activities enjoy the benefits of the ecosystem.