As a provider of eco-friendly products, the CITIZEN Group continues activities aiming to eliminate thoroughly, reduce, and replace hazardous chemical substances in the manufacturing processes both in Japan and around the world.
Reduction of Hazardous Chemical Substances
The CITIZEN Group has set a target of reducing, by 2024, its use of chemical substances subject to the PRTR Act (Japan) by 10% vs. FY 2018, and we are carrying out activities intended to reduce the use of hazardous chemicals through such means as modifying related processes and testing alternative substances. While our target for FY 2020 called for reducing the use of such substances by 1% compared to FY 2018, we were able to achieve a reduction of 20.9% (20.5 tons), due in part to the impact of reduced production.
The CITIZEN Group has carried out activities to reduce hazardous chemical substances for many years. Through now, we have fully eliminated use of the substances shown in the table below.
Today, we are focusing on efforts to replace 1-bromopropane, which accounts for 36.1% of our use of PRTR Act-subject substances in Japan and is expected to be subject to increasingly strict regulations worldwide, aiming ultimately to eliminate its use completely. In addition to having replaced about 1.6% (0.5 tons) of the 1-bromopropane we used in FY 2019, we were able to reduce 1-bromopropane use in FY 2020 by 2.3 tons compared to FY 2019 through improvements, such as restraining excess vaporization.
We are proceeding with activities toward further reductions in the use of 1-bromopropane through a long-term approach, including capital investment accompanying its replacement. Since the use of 1-bromopropane in Japan accounts for about 99% of our total use of this substance, domestic initiatives are very important. The new targets we established in 2019 call for a 10% reduction by 2024 and a 45% reduction by 2030 (both vs. FY 2018 levels) in the total volume of chemical substances subject to the PRTR Act used in Japan. We are focusing efforts on reducing 1-bromopropane along with the next most commonly used substances of xylene and trimethylbenzene. We will proceed with activities to replace and reduce other heavily used chemical substances as well. To achieve our targets for reduction of hazardous chemical substances, we advance technological development and equipment upgrades in the Watches and Auto Parts businesses, which use large volumes of chemical substances. We also consider the management of environmental risks overseas an important topic, and we will monitor and reduce the use of chemical substances overseas as well.
Chemical substances subject to the PRTR Act of which the CITIZEN Group has fully eliminated use
Subject substance
Year use was fully eliminated (FY)
Chlorine-based organic solvents
2008
Alternative chlorofluorocarbons (HCFCs)
(Not including coolants inside devices)
2008
Ferric chlorides
2018
A case: CITIZEN Chiba Precision
Replacement of 1-bromopropane
CITIZEN Chiba Precision had used a bromine-based cleaning agent, of which 1-bromopropane was a main ingredient, in the parts cleaning process. In FY 2019, it used 500 kg per year of this material, but in August 2020, it was able to switch to a hydrocarbon-based cleaning agent as the result of moving forward with activities to shift to a more eco-friendly cleaning process, including adoption of new equipment.
In this migration, close attention was paid to the selection and evaluation of the alternative cleaning agent and cleaning equipment, conformity to new laws and regulations, and quality assurance.
Our products are used in equipment that requires strict environmental performance, including low gas emissions and suitability for cleanroom use. This shift to alternative substances was able to succeed thanks to the cooperation of customers in evaluating samples to confirm that the change of cleaning agents had no negative effects.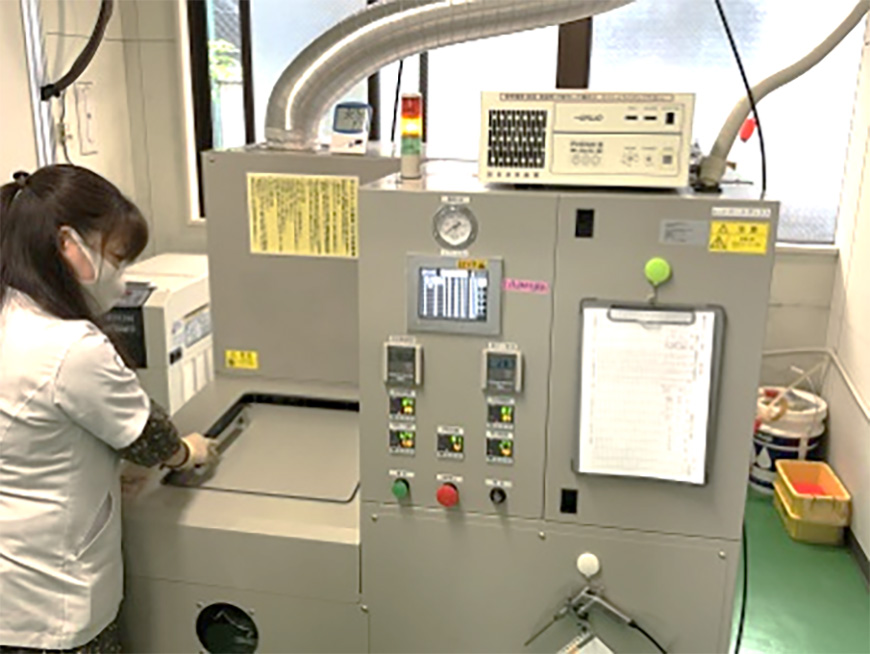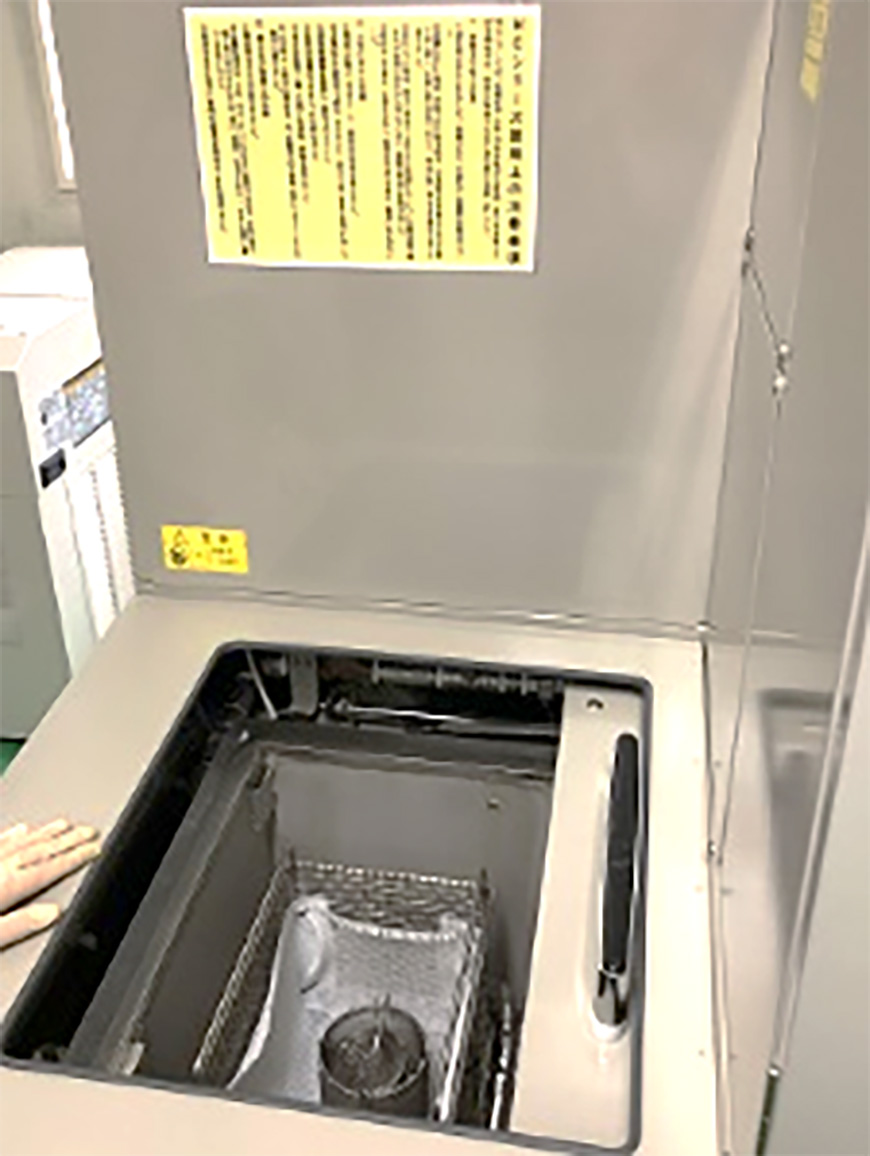 A case: CITIZEN FINEDEVICE
Efforts to reduce use of substances subject to the PRTR Act
At its Headquarters / Kawaguchiko Plant, CITIZEN FINEDEVICE uses chemical abrasive fluids subject to the PRTR Act (hydrogen fluoride and water-soluble salts thereof) in surface treatment of auto parts.
Conditions are specified for individual products concerning the volumes of chemical abrasive fluids used, based on the volumes (heights) of fluid in which products are dipped. Noticing that there still was room for performance of chemical abrasive fluid, in April 2020, CITIZEN FINEDEVICE began experimentally switching to smaller tanks in order to reduce the volume of these fluids used without changing the height of the fluid in which the parts are dipped.
It successfully completed the changing of the conditions for all products on schedule in one year by grouping its roughly 200 products into seven categories.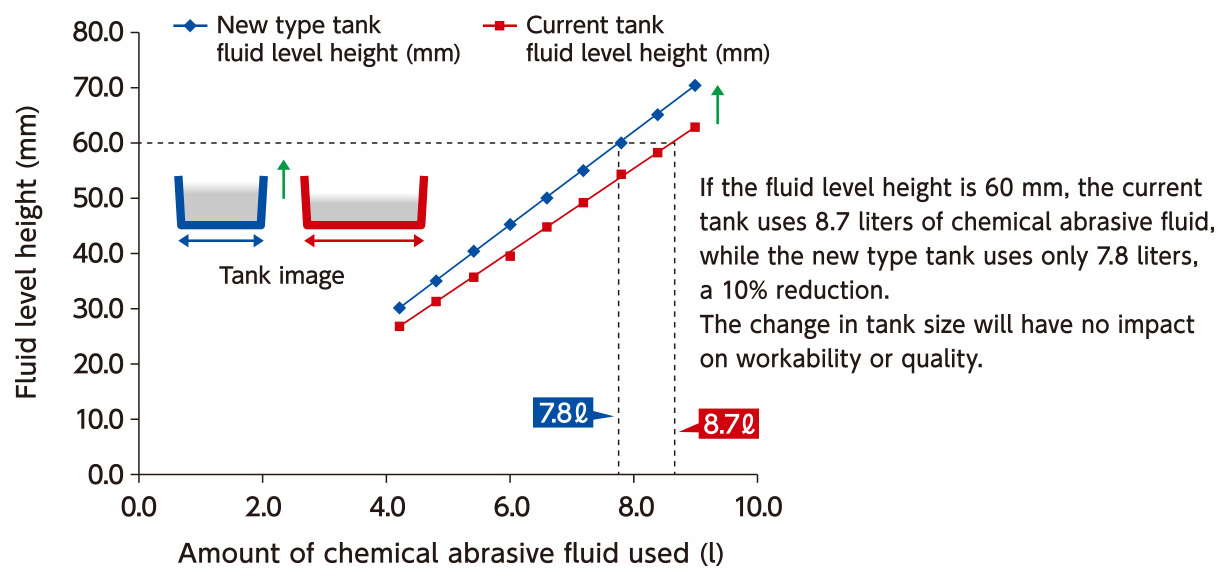 A case : CITIZEN MACHINERY Kitakami Works
Efforts to Reduce the Risks of Chemical Substances
The CITIZEN MACHINERY Kitakami Works handles painting operations. In the purchase and use of organic solvents, it strives to ensure that solvents are selected and handled safely in order to avoid risks based on an understanding of the dangers and hazardous properties through checking the content of the latest safety data sheets (SDSs) and assessing the risks of included chemical substances. For the purposes of safe handling, it has established procedures on the handling of chemical substances and then trains operators who will use the substances on their hazardous properties, dangers, and appropriate handling methods.
In addition, since CITIZEN MACHINERY manufactures large-scale machine tools, the rooms it uses to clean their parts are also large in scale, and they include equipment emitting volatile organic compounds that are subject to the Air Pollution Control Act. Painting is conducted inside booths equipped with return equipment to prevent the release of paint particles into the atmosphere, and safety measures are implemented, such as fully sealing them when not in use.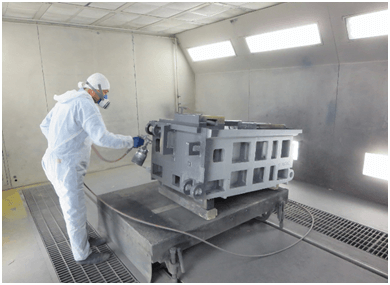 Painting work inside a booth
A case: CITIZEN MACHINERY
Discontinuing the Use of Heavy Oil
At Saku Works, two heavy oil fired boiler units were used for heating. Since the boilers necessitated frequent repair after 30 years of operation, they were replaced with electric air conditioners. As a result, the new system eliminated the risk of leakage and reduced CO2 emissions from combustion by 23.2 tons. Moreover, the system emits no methylnaphthalene, a substance subject to the PRTR Act, as well as NOx and SOx. Use of rust inhibitors for pipes and soot cleaners is no longer necessary. Underground heavy oil tanks were also removed.