Launch of Sustainable Management
The CITIZEN Group is taking on the challenge of creating new value through our business in line with the CITIZEN Group Medium-term Management Vision, "Innovation for the next—Sense the Time and Create an Impression for the Future." One of the priority measures for the challenge is to promote Sustainable Management across the group as called for in Medium-term Management Plan 2021.
The CITIZEN Group has been operating for over 100 years based on its Corporate Philosophy of "Loved by citizens, working for citizens." In order for the group to remain a company that is needed and loved by people all over the world well into the future, we need to create products and services that cater to changes in society and to exercise due care and diligence in procurement and production processes. In addition, principles underpinning our business must be accepted by society.
Simply supplying good products and services is not enough for Sustainable Management. Sustainable Management, as the CITIZEN Group defines it, means to increase corporate value through expanding business operations while winning stakeholder trust by respecting human rights and considering the global environment and other social issues when conducting business. In order to become a company close to and loved by citizens, we will contribute to solving social issues and achieving the SDGs through our business in order to remain viable over the next 100 years.
Sustainable Management Promotion Structure
In April 2020, the CITIZEN Group established the Sustainability Committee to put sustainable management into practice by continuing to produce sustainable products in sustainable factories while also contributing to solutions to the materiality identified. Chaired by the President & CEO of CITIZEN WATCH, this Committee, whose membership consists of the executive directors of CITIZEN WATCH and operating companies' presidents, promotes sustainable management throughout the CITIZEN Group. The CSR section and Management Planning Division of CITIZEN WATCH, which serve as the secretariat for this Committee, work together with the CSR sections and management planning sections of Group companies and with the secretariat of each committee in charge of assigned materiality. They also hold sustainability secretariat conferences to regularly review sustainability issues in each company and check on matters, such as the state of progress of related initiatives. Proposals and reports from each committee and each company are presented to the Sustainability Committee for deliberation.
Sustainability Committee
Objectives and Functions
To promote sustainable management in the CITIZEN Group:


(1) Identification and periodic review of materiality
(2) Promoting efforts in existing businesses to improve their sustainability and contribute to resolving social issues
(3) Formulating policies for addressing ESG issues and monitoring activities based on those policies

Meets
Quarterly (every three months)
The following subcommittees of the Sustainability Committee have been established: the Group Quality Compliance Committee, which deliberates on quality compliance in the Group; the Group HR Committee, which deliberates on hiring and human resource development and addresses discrimination by nationality, LGBT status, and other properties, as well as human rights; and the Group Environmental Committee, which deliberates on such subjects as Group-wide opportunities, risks, and measures related to environmental issues in general. The Group Sustainable Procurement Committee deliberates on revisions of the supplier management structure Group-wide in order to be more sustainable and responsible.
We also established the Group Information Governance Committee, the Group Legal/Compliance Committee, and the Group Business Continuity Management Committee to address matters related to the handling of management-related risks and making the Group's management base more resilient. These committees addressing risks related to the management base have been established under the Management Committee, which meets monthly, as a structure that enables swift detection of and deliberation on problems as well as immediate responses to them. In FY 2020, we also established CITIZEN-SIRT to resolve any computer security incidents swiftly.

Solving Social Issues Through Sustainable Products
The CITIZEN Group's Sustainable Management is based on the belief that it is indispensable for our future business growth to contribute to the achievement of the SDGs, which is a challenge for the entire global community, by 2030. Through Sustainable Management, the CITIZEN Group, by 2030, will come up with Sustainable Products*1 designed to help address key global challenges in each business segment of the group. The CITIZEN Group's Sustainable Products refer to products that reflect environmental considerations in production, use, and other stages of existing products, as well as those that do not contribute to social issues, such as human-rights violations fostered by the trade in conflict minerals in the stages of raw-materials production and procurement. Starting with our core Watches business and the Machine Tools business, which is the second pillar of the CITIZEN Group's businesses, we will gradually expand Sustainable Products to the rest of our businesses as well.
*1Sustainable Products: Products manufactured at Sustainable Factories
Examples of Sustainable Products
Watches business
Background
In the modern world with its high level of uncertainty, we are expected to agilely respond to the changing times and offer new technologies and products in a timely manner. To this end, it is important to create innovation from the completely new perspectives that have been acquired through entering into partnerships with other entities. Furthermore, the current requirements for manufacturing are not limited to those related to product value. Sustainability is required in manufacturing processes, which must comprehensively deal with issues associated with human rights, labor practices and environmental conservation.
Business Vision
Create new value and experience over time
Initiatives at CITIZEN
The Watches business is engaged in the development of smart watches that can be customized to incorporate diversifying functions required by users. Riiiver, an IoT platform developed jointly with VELDT, enables watches to be connected to various other devices including an AI speaker and electrical appliances thus making life more convenient, comfortable and fun-filled for users. CITIZEN has consistently worked on adding value to products and has offered products that deliver benefits to the environment and society through products such as the Eco-Drive and CITIZEN L. Going forward, we will expand the lineup of products driven by next-generation power derived from highly efficient and cleaner energy sources. Through its ethical watches, the CITIZEN Group will change people's awareness of production and resource consumption, and offer them opportunities to be involved in the resolution of social issues.
Machine Tools business
Background
A shortage of new skilled workers due to the decline and aging of the general population against the background of a decreasing birthrate poses a risk to business continuation, which has become a serious problem. Therefore, new approaches for passing on sophisticated manufacturing skills to the next generation of workers are now required. We believe that manufacturers have a responsibility to ensure the conservation of the environment through the effective use of limited resources and reduction of waste while at the same time developing innovative products.
Business Vision
Create the world's most advanced production innovation solution to establish a position as a new manufacturing (monozukuri) company
Initiatives at CITIZEN
The Machine Tools business is taking on the challenge of automating the manufacturing processes that require specialized human skills. By mechanizing the advanced techniques believed to be difficult to replicate with conventional machines, we can ensure stable quality and enhance productivity. This initiative is expected to help address the issue of labor shortages in the next generation of skilled workers. We also strive to expand the lineup of products featuring CITIZEN's environmental technologies, develop a technology to reduce cutoffs in the cutting process, and another technology to enable the implementation of cutting work concurrently with shredding cutoffs. Through these technologies, we will contribute to reducing resource consumption and improving production efficiency.
Consumer Awareness Raising through Events
In April 2019, a social campaign called "New TiMe, New Me" was launched under the CITIZEN L brand.
In FY2019, its first year, this campaign offered visitors an opportunity to touch and try CITIZEN L watches to help familiarize more people with sustainable products. Maintenance services were also provided to encourage users to keep using their wristwatches for longer, while workshops were held to help visitors find their own ways to tackle the SDGs.
The second phase was held in April-June 2021. It involved communicating information on topics, such as the objectives and activities of the New TiMe, New Me campaign on a special website. In the area of taking action to address the issue of ocean plastic pollution in particular, we announced our support for the UpDRIFT™ campaign and introduced a model fitted with a watchband made of textiles woven from fibers produced from plastic bottles collected through beach cleanup activities. Furthermore, during the period of the campaign we used part of the sales of CITIZEN L watches to fund activities to recover ocean plastic wastes.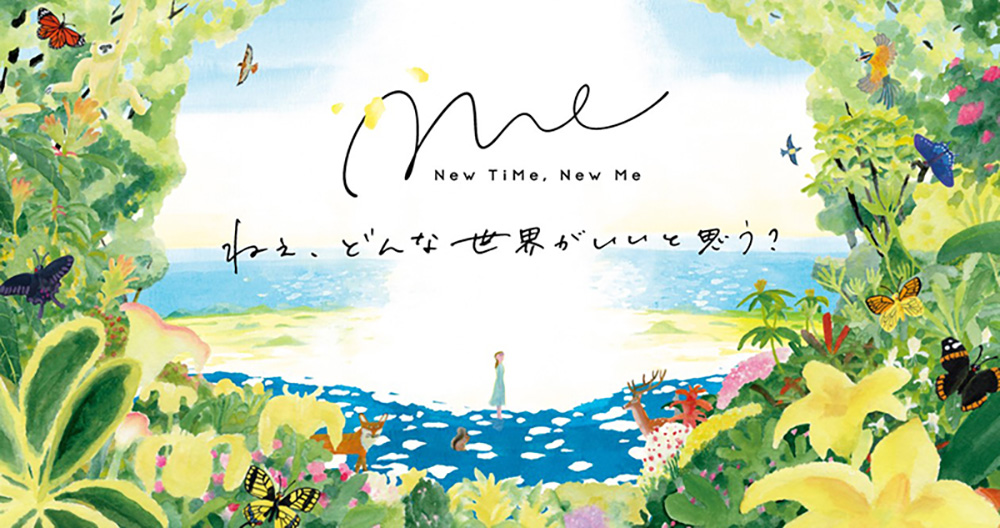 Giving Concrete form to Customers' thoughts for the Environment
As it takes on environmental challenges from a long-term perspective, to realize a sustainable civil society, on April 1, 2020 CITIZEN WATCH revised the CITIZEN Group Environmental Vision 2050 to establish the CITIZEN Group Resource Circulating Vision 2050, under which we will contribute to the realization of a cyclical society. Based on this vision, on November 1, 2020 we launched Eco Tree ACTION, an initiative that aims to reduce packaging materials and donate seedlings of mangrove*1 trees, important plants for preventing global warming.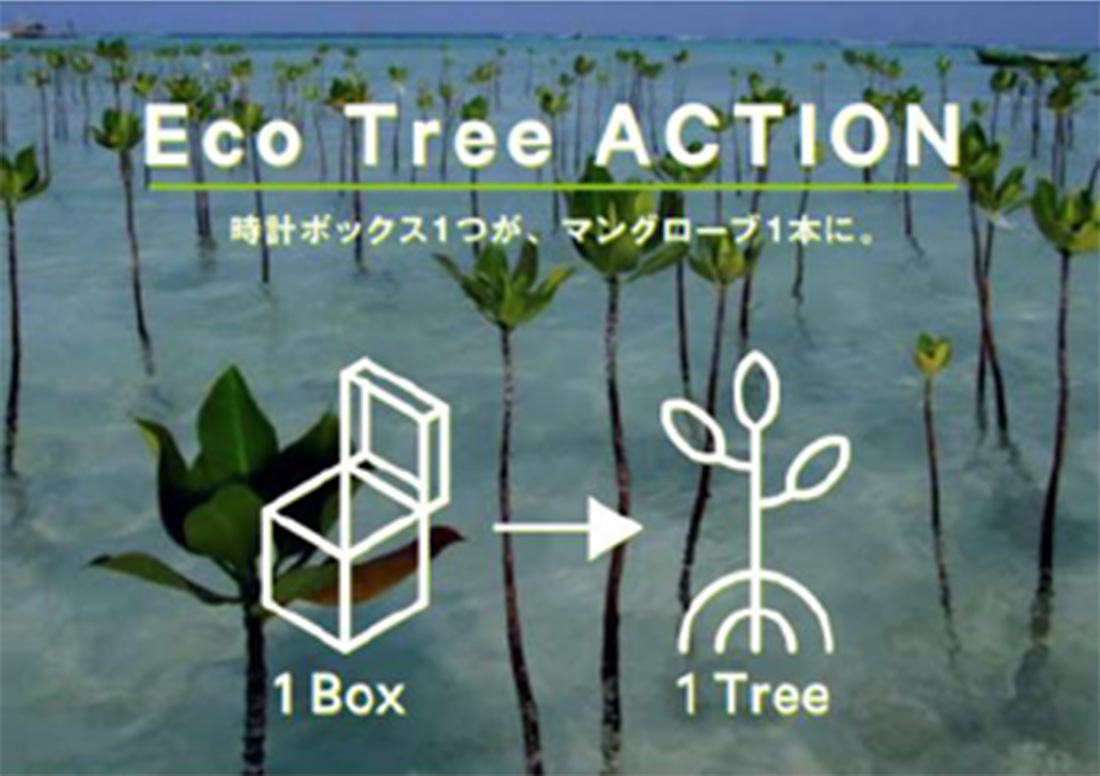 Under this initiative, when a consumer chooses not to receive a watch case with a watch purchase, *2 we donate a mangrove seedling to Cambodia through the international NGO NICE *3.
Mangroves absorb and store large quantities of carbon dioxide from the atmosphere. This campaign helps both to reduce unnecessary packaging materials and to prevent global warming by planting mangroves.
Customers who chose not to receive boxes from November 1, 2020 through May 31, 2021 contributed 21,340 mangroves in total. As of July 2021, steady progress was being made on planting the trees, in cooperation with local NGOs.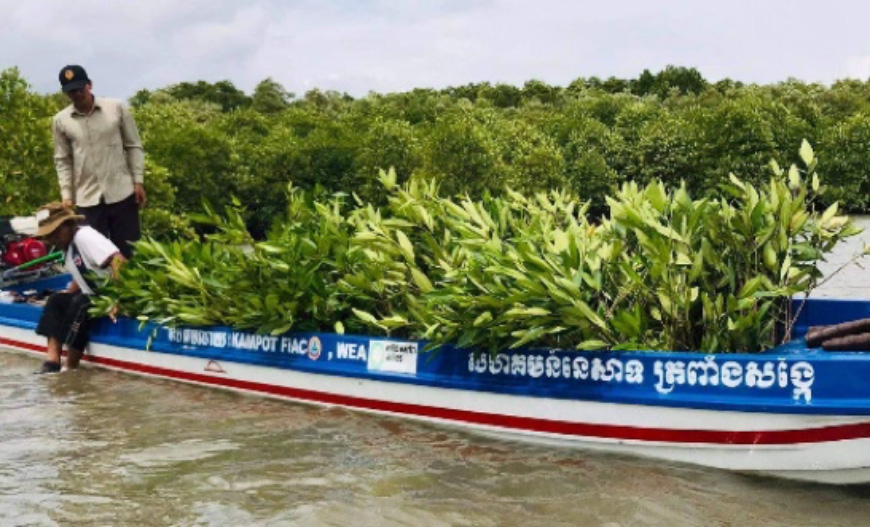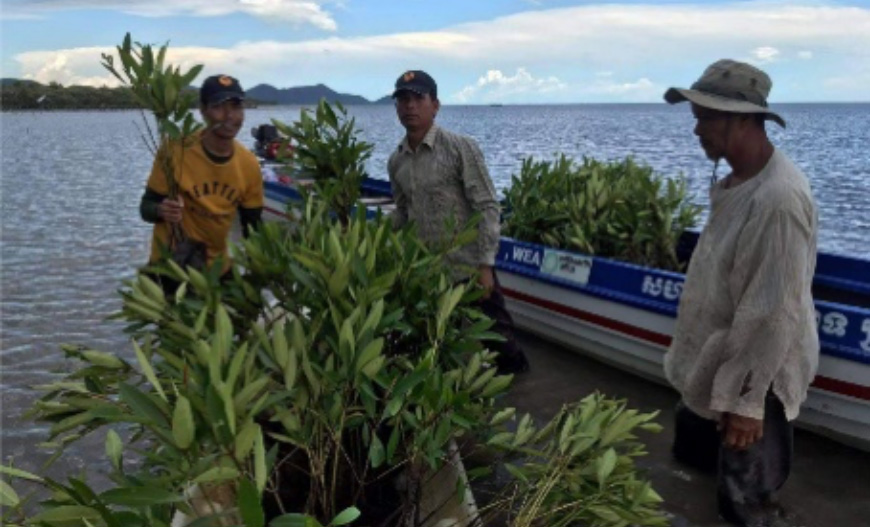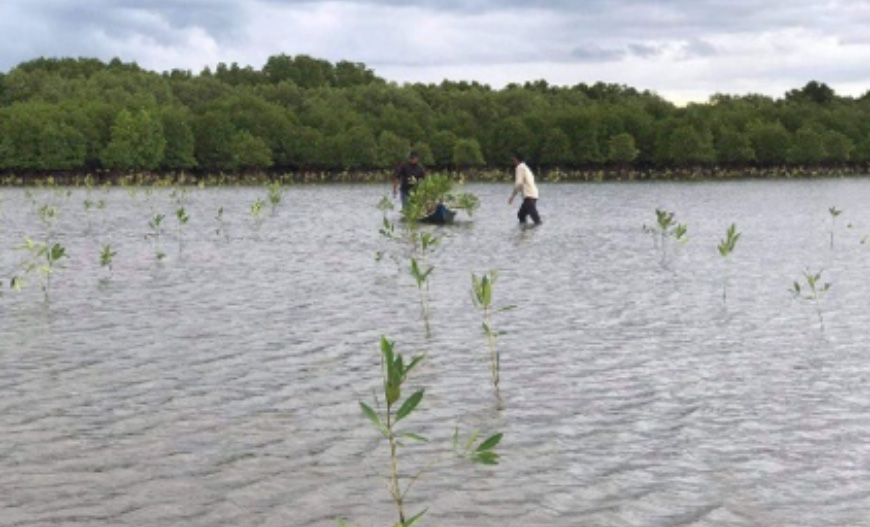 *1: A group of plants growing in brackish water, where sea water and fresh water mix
*2: The CO2 emissions equivalent of 10,000 paper boxes is 1.3 tons.
*3: Never-ending International workCamps Exchange (https://www.nice1.gr.jp/about/)
Sustainable Factory
The CITIZEN Group has devised a concept it dubbed the "Sustainable Factory" which gives consideration to the manufacturing process for creating future Sustainable Products. This concept involves more than just the traditional environmental considerations employed at Group factories by considering the entire value chain, including suppliers, to constitute a Sustainable Factory.
Under the Sustainable Factory concept, we pledge to develop sustainable production facilities reflecting comprehensive consideration for matters, such as compliance, human rights, labor practices, BCP*, and productivity improvements, in addition to traditional environmental considerations. The Sustainable Products produced in these Sustainable Factories embody messages for solutions to various issues, demonstrating the CITIZEN Group's proactive contributions toward achievement of the SDGs and realization of a sustainable society.
Since realization of a Sustainable Factory requires the cooperation of all stakeholders involved in the value chain, including suppliers, we also are advancing activities to enlist the cooperation and understanding of such stakeholders.
* BCP: Business continuity plan/planning. A business continuity plan is formulated during normal times of operation to prepare for possible effects of large-scale disasters on business activities. Such a plan stipulates the systems, functions, and procedures necessary to continue supplying products and services, and to enable early recovery.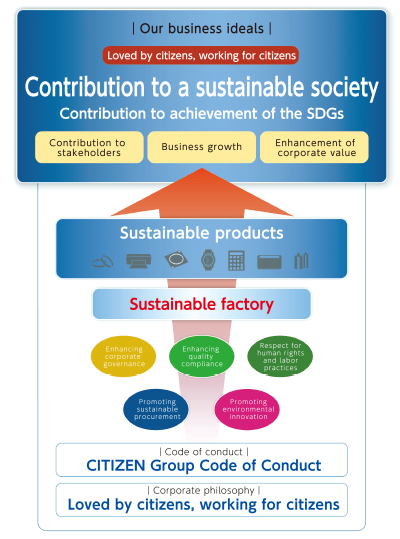 Raising Awareness of Sustainable Management throughout the Group
To implement sustainable management throughout the Group, the CITIZEN Group promotes initiatives, centered on the Sustainability Committee, to raise understanding and awareness of sustainable management among all employees.
Specific initiatives include study sessions and e-learning programs to encourage an understanding among all employees of the ideal of sustainable management and of various social issues, as well as continual activities to raise awareness among employees, including messages from the CEO and use of in-house newsletters.
Lecture Meetings
In executing sustainable management, a priority of Medium-Term Management Plan 2021, the Group held lecture meetings for staff at the levels chiefly responsible for SDG promotion, intended to raise their levels of knowledge and awareness. In 2020, the July lecture meeting on the theme "Creation of New Products and Services in Light of Social Issues in the Post-COVID World" welcomed experts who described the reasons why the SDGs were most needed at a time like the COVID-19 pandemic and the latest global trends regarding the SDGs. Furthermore, to implement specific measures at individual Group companies in the future, study sessions were also held on individual themes, such as human rights and sustainable procurement for the sections in charge, such as HR and Purchasing, while showing how their contributions were related to the SDGs.