It is the CITIZEN Group's duty as a company to respect individuals, embrace diversity, and create an environment in which employees can thrive.
Recruitment
The CITIZEN Group recruits new graduate candidates on a regular basis and experienced mid-career candidates from a long-term perspective at all the CITIZEN Group companies. We also have a scheme in place whereby employees on fixed-term contracts can be promoted to permanent employees, depending on factors such as their level of enthusiasm and capabilities. When recruiting personnel, we focus on individual skills, aptitude and drive, in an effort to ensure equal opportunities and diversity.
Framework to Ensure Open Recruiting
To minimize the effect of students' job-searching activities on their schoolwork, the CITIZEN Group offers a wide range of opportunities to help students avoid being disadvantaged by geographic and academic constraints. Such opportunities include job seminars conducted on campus at colleges, publication of videos of company seminars on the website, web-based job interviews and a special screening process for Japanese students studying abroad.
Internship
The CITIZEN Group offers medium-term internship programs to allow students to get work experience in a real workplace setting and observe various jobs firsthand.
Empowerment of Female Employees
To create an employment environment that allows female employees to advance their careers, the CITIZEN Group has formulated various action plans, including the upgrading of career education programs and working style reforms focused on work-life balance. The target rate of female employees in managerial positions is set at 10% or higher by FY2025.
Employment of Persons with Disabilities
Under its basic policy of "Working Together," the CITIZEN Group proactively hires people with disabilities. For example, for more than 40 years, we have subcontracted such tasks as counting wristwatch parts and after-service parts, packing, and watch disassembly to the social welfare service cooperation, Murayama-en as a means of supporting employment for people with disabilities in the community. We will strive to expand employment and the range of subject occupations even further in the future.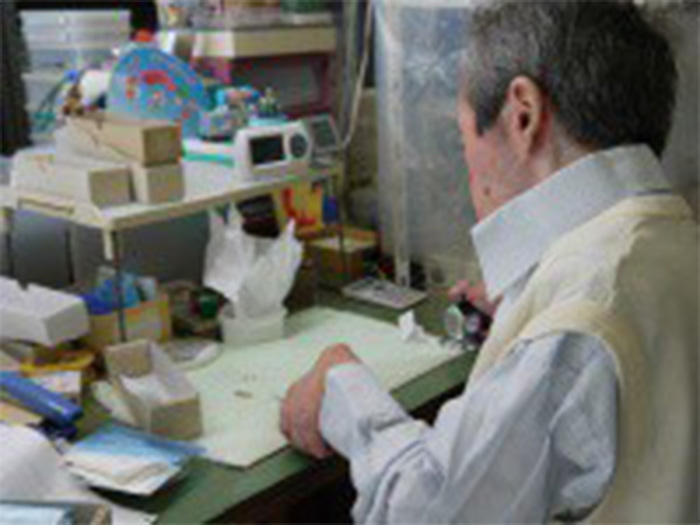 Counting work at Murayama-en