Results of CSR Awareness Survey
Each year, we conduct a CSR awareness survey targeting management and employees (including temporary employees) of the CITIZEN Group (a total of 17 companies in Japan in FY2020) to ascertain levels of awareness concerning CSR and corporate ethics within the CITIZEN Group.
Question 1, concerning enhancement of corporate value, has revealed that half of our officers and employees believe that CSR is instrumental to enhancing corporate value. With regard to Question 2 on the recognition of the Compliance Hotline, those who answered that they would use the consultation service in Question 3 account for only around 50%, indicating there is room for further efforts. In October 2016, the Citizen Group Code of Conduct was revised to promote the spread of the Code of Conduct on a global basis.
Q1: Do you think that CSR activities enhance the group's corporate value?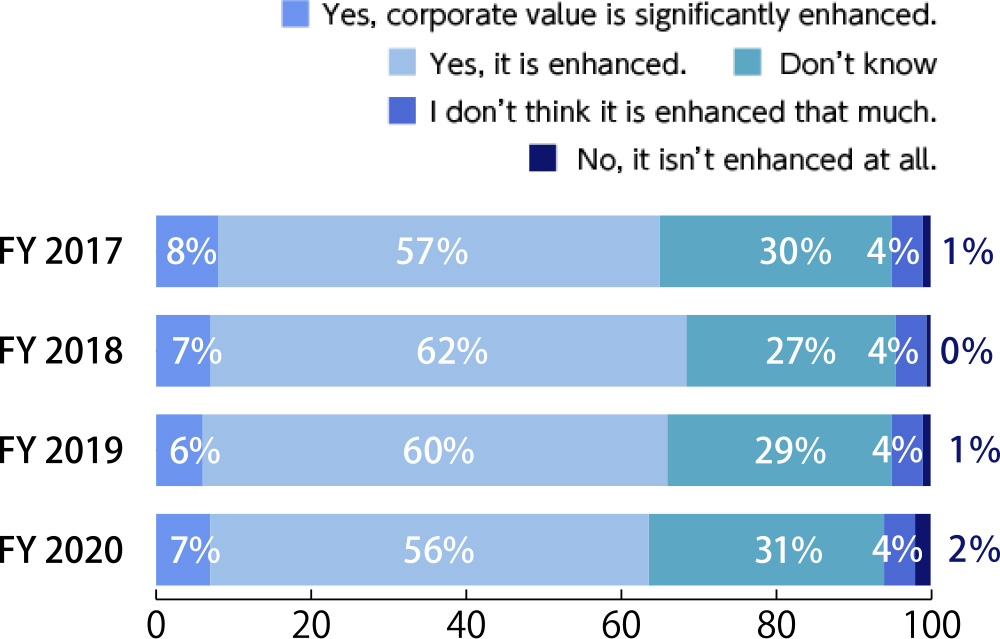 Q2: Do you know about the Compliance Hotline?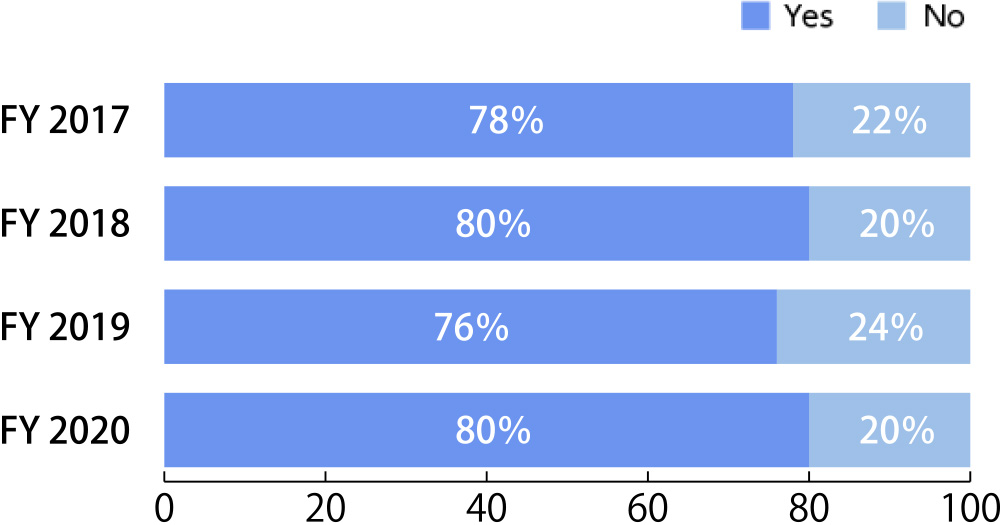 Q3: If you detect a violation of the Code of Conduct that you think it will be difficult to consult your superior about, will you use the Compliance Hotline?
[ Number of Respondents ]
FY2017: 7,954 out of 9,009 employees (25 subsidiaries targeted: response rate of 88.3%)
FY2018: 8,029 out of 8,969 employees (24 subsidiaries targeted: response rate of 89.5%)
FY2019: 7,253 out of 8,749 employees (20 subsidiaries targeted: response rate of 82.2%)
FY2020: 7,291 out of 8,200 employees (17 subsidiaries targeted: response rate of 88.9%)