CITIZEN Group's stakeholders
Through the realization of its corporate philosophy, CITIZEN Group aims to both contribute to the development of a sustainable society as well as grow as a company. At the same time, the Group aims to be loved and respected, and be truly valued by society as a whole. When expanding our business, CITIZEN implements CSR that encourage participation from all employees, as per the Citizen Group Code of Conduct, which in itself is based upon the United Nations Global Compact. In order to maximize the value of its contributions to society, the Group believes that it is important to accurately incorporate stakeholders' requests and desires into its management. The Group therefore works to strengthen its communication with its stakeholders. Throughout its business activities, CITIZEN Group aims to create a relationship of trust with varied stakeholders, and communicating with them in this way helps to embody the Group's corporate philosophy.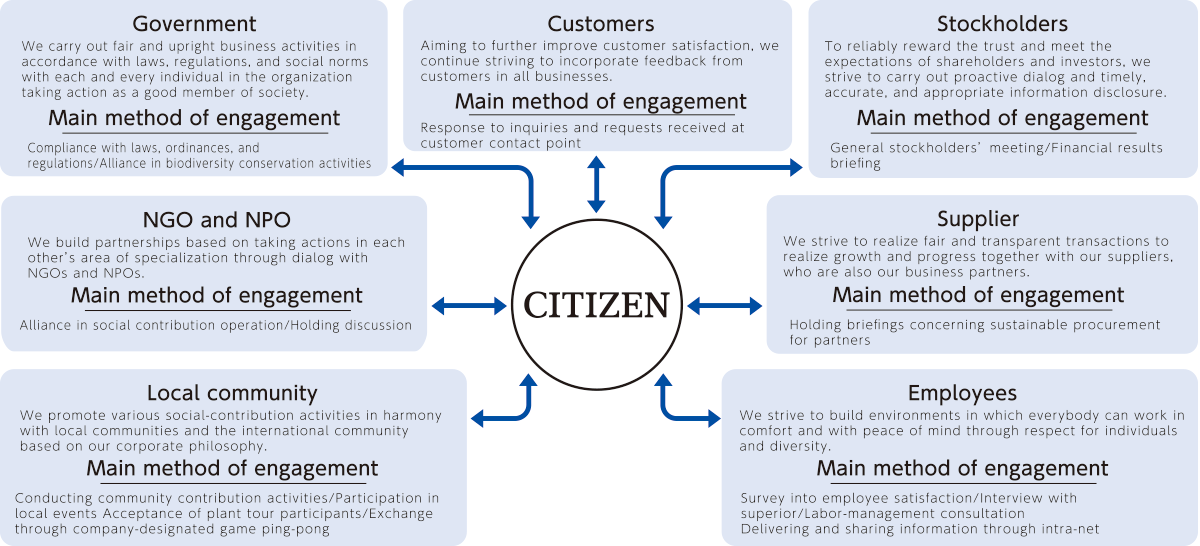 Stakeholder engagement
In FY 2020, the CITIZEN Group placed importance on engagement with its suppliers with an eye to realizing sustainable procurement in connection with the promotion of sustainable management, which was one of the important measures of the midterm management plan for 2021 that had been launched in FY 2019. Specifically, it conducted a survey by sending SAQ, held online briefings by distributing video, and conducted remote fact-finding (which were equivalent to auditing) due to the effect of COVID-19. In addition, engagements with the employees, such as checking the stress they go through when their work styles were forced to change by the pandemic, and sending a questionnaire to foreign employees, were also conducted.
Examples of stakeholder engagements
*In FY 2020, some engagements
were suspended or conducted online due to the pandemic. Activities that were suspended will be resumed and implemented one by one, taking the situation of COVID-19 infection into consideration
| Stakeholder | Response / Plan | Result / Evaluation |
| --- | --- | --- |
| Customers | Improvement of products and services, ensuring safety, promoting universal design principles | Conducting social campaign "New TiMe New Me" |
| Suppliers | Implementation of human rights due intelligence | Briefings for suppliers (distributing video), evaluation based on SAQ, evaluation based on fact-finding |
| NGOs and NPOs | Improving employee satisfaction, enhancing work-life balance programs, developing workplaces where employees can work with peace of mind, developing workplaces where employees can demonstrate their abilities to the maximum extent | Reinforcement of work-life balance, promoting health of employees, introduction of telecommuting, operation of flexible time system, operation of talent management system |
| plian | Promotion of social contribution activities in cooperation with NGOs that allow participation by employees/Holding briefings to report on the results of Social Contribution Mission Program | Holding sessions for reporting results of social contribution activities |
| Local communities | Inviting community residents to events held on business sites, contributing to stable communities through mutual understanding, enhancing activities to contribute to local society through our businesses, improving table-tennis skills in the community | Total number of employees participating in beautification activities: 2,294; number of plant tours accepted: 8; number of watch assembly classes held: 3; donations to social contribution activities: JPY16.9 million; Table-tennis lessons held |