CITIZEN WATCH MANUFACTURING
Community-Wide Environmental ISO Training Sessions
The Iida Factory of CITIZEN WATCH MANUFACTURING CO., LTD., has participated in community-wide environmental ISO training sessions since their founding (starting in 1997 with six companies from the local area, including the city of Iida, and growing to include 24 participating companies in 2020) by advancing environmental activities based on coexistence with the local community. These efforts include development and promotion of the Minami Shinshu Iimusu 21 program, a regional environmental management system reflecting consideration for ISO 14001 requirements and the levels of efforts by individual business facilities, and advancement of the Iikosu Iida Project to reduce greenhouse gases. This project conducts specific energy-conservation measures at model sites and publishes information on energy-conservation case studies to share energy-conservation expertise among businesses. It also promotes seasonal integrated environmental activities four times a year. These are evolving from an initial focus on energy conservation alone to include familiar efforts to preserve biodiversity with a little ingenuity by adding the concepts of "consumption of local seasonal foods", and "becoming more familiar with nature" and others. We also plan and promote various events such as lectures, study meetings, and tours.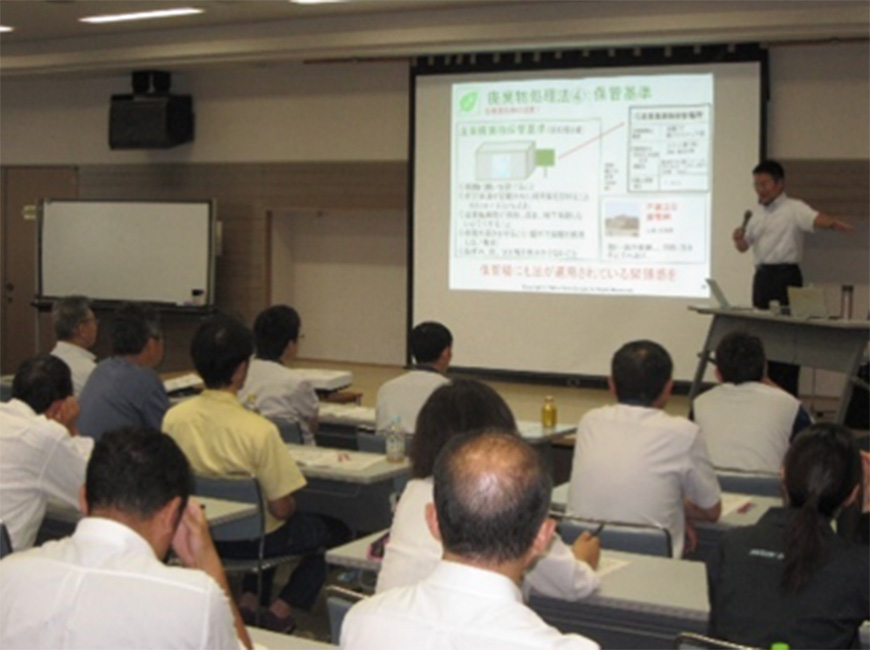 A study meeting on environmental laws and regulations
CITIZEN ELECTRONICS TIMEL
Publishing a Newspaper on the Environment
Since April 2017, CITIZEN ELECTRONICS TIMEL CO., LTD., has published a monthly newspaper on the environment. This activity is intended to communicate information to employees in newspaper form to encourage them to take an interest in and become more familiar with environmental ISO certification. The newspaper contains easy-to-understand articles written from an employee's point of view on such subjects as environmental events during the month, current environmental concerns, and the state of environmental activities inside the company, as well as articles that help to resolve common concerns, showing how the everyday activities that employees take for granted are connected to environmental ISO certification. Another goal of this initiative is to help employees get a true feel for how following the rules is a way to participate in environmental activities together with the local community.
The newspaper has been used as a tool to raise awareness of the details of activities under the environmental management program, and employees have commented on having learned about related topics in the newspaper, and they can be observed stopping to read it on bulletin boards in the company . It seems as if such cases are increasing as the newspaper has an effect on the company culture. This overjoys newspaper staff and helps them feel that their efforts are being rewarded.
We plan to continue publishing this environmental newspaper monthly to share the environmental ISO with all employees as familiar activities.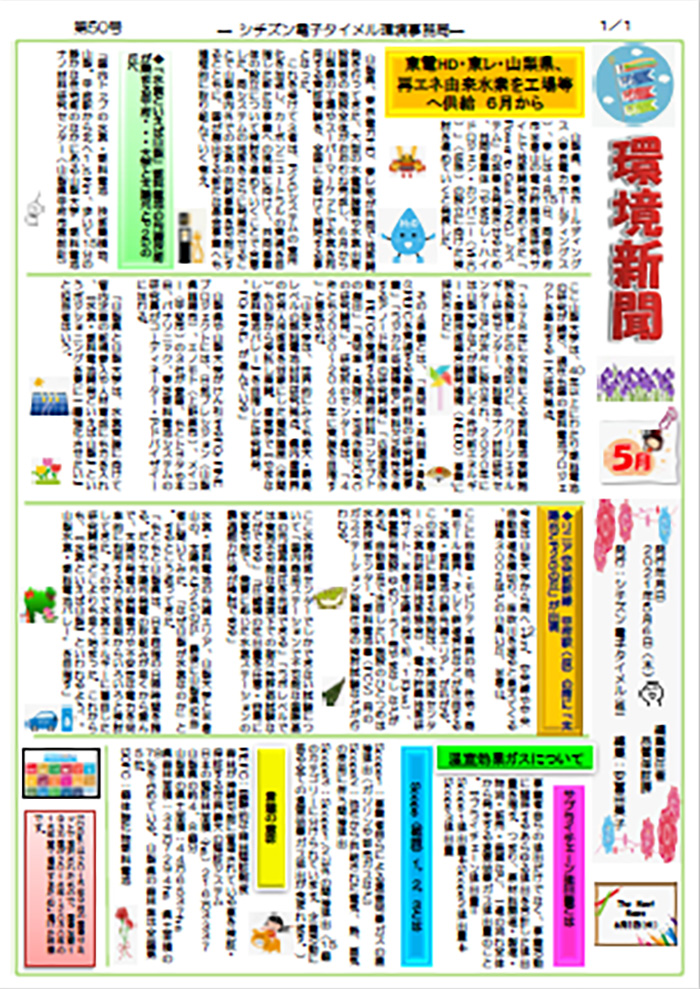 CITIZEN ELECTRONICS TIMEL's environment newspaper