A case: CITIZEN ELECTRONICS
Adoption of Phthalate Ester Analysis Equipment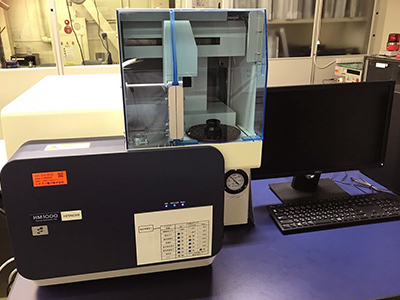 The revised RoHS directive requires ascertaining of phthalate esters contained in products, parts, etc. Since phthalate esters could have hazardous effects on human health, CITIZEN ELECTRONICS has introduced screening equipment that enables quick, easy analysis of phthalate ester content. Since they are used to increase the flexibility and moldability of plastic and rubber as plasticizing agents, phthalate esters are used in a wide range of parts and materials. Since their transmissivity means that there is a risk of their introduction into the manufacturing process, parts and materials used in that process also need to be investigated. Today, we have been able to secure product safety by completing the replacement of parts and materials that could contain phthalate esters. This screening equipment has assisted in risk management efforts by making it possible to eliminate theis risk of products having hazardous effects on human health
A case: CITIZEN WATCH MANUFACTURING (China)
Green Procurement Initiatives and Responding to Regulations on Chemical Substances Contained in Products

Staff of MCL's PDC Environmental Management Division
Based on the CITIZEN Green Procurement Standards, the PDC Environmental Management Division manages and monitors the state of compliance of exterior component suppliers in South China with requirements such as those of environmental regulations.
It exchanges three environmental documents with basic suppliers and conducts environmental quality audits of the main suppliers, checking their documentation and sites and issuing certificates to those identified as outstanding suppliers based on the results thereof, as Citizen green partners. In 2020, these were issued to 41 companies.
The division also pays close attention to global trends in environmental regulations. To control chemical substances contained in products, it holds periodic briefings for suppliers on the latest regulatory information; collects and manages data on subjects, such as SDS/RoHS analysis, regulations on the use of nickel, and conflict minerals for materials used in products; and provides guidance as appropriate.
In the future as well, we will continue promoting manufacturing based on the Citizen Environmental Policy.
A case: CITIZEN WATCH
Development of Eco-Friendly Products – Eco-Drive One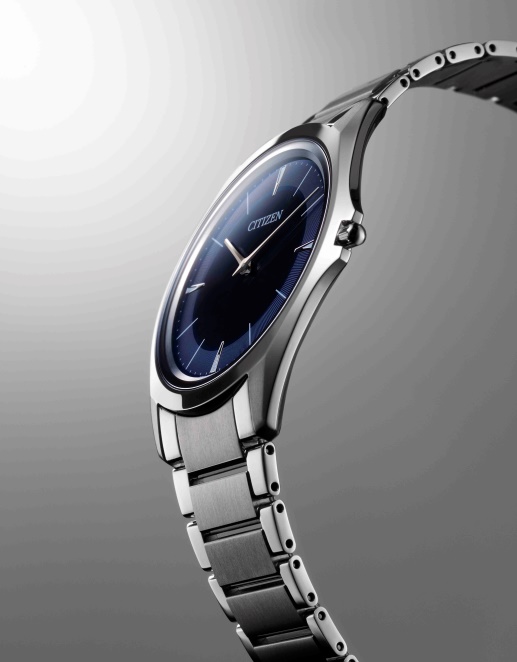 Eco-Drive One, the world's thinnest light-powered watch
A thinness beyond imagination for a wristwatch. Eco-Drive is the world's thinnest light-powered watch. Its beauty lies in the way the essence of a timepiece has been retained while everything else stripped away. Just 1.0mm thick movement of eco-drive has been realized a 3.53mm (design value) case. The skin-friendly titanium case, which causes less metal allergy, is 40% lighter than stainless steel, delivering stress-free comfort to the wearer.
With Citizen's unique light-powered battery technology, there is no need for regular battery changes. The watch runs by converting sunshine and even the dimmest of indoor lighting to electricity, which is used to recharge the battery. On a full battery, the watch continues to run for a long period in the dark.
Furthermore, surface hardening technology Duratect α*1 containing no allergenic metals is used. Duratect α is the hardest of the Duratect range, Citizen's own technology, which protects surfaces from damage over a long period. Also, 99% Clarity Coating,*2 which delivers superb durability and cleanability, is added to sapphire glass in order to ensure toughness and excellent visibility.
Eco-Drive One, a product of 40 years of work since the release of the first analog light-powered watch, is a model that represents the culmination of Citizen's engineering prowess.
| | |
| --- | --- |
| *1 | Duratect α: Duratect is Citizen's proprietary surface hardener for stainless steel, titanium and other metals. By advancing the Duratect technology, Duratect α has realized alloy coating, which is approximately twice as hard as an conventional alloy coating, with Vickers Hardness (HV) of over 2,000. This advanced technology alloy coating is applied to cases and bands, giving them anti-scratch surface and making them shine like precious metals for a long time. |
| *2 | Clarity Coating: By adding multilayered silicon coating on both sides of sapphire glass, reflection of light is suppressed (light transmittance rate is 99%), ensuring excellent visibility of the dial. It is also abrasion-resistant. Moreover, the application of a water-repellent film over the glass surface has improved durability and anti-fouling properties. |
A case: CITIZEN MACHINERY
Using LFV Technology to Reduce CO2 Emissions
Low-frequency vibration (LFV) technology, a proprietary CITIZEN control technology, enables processing in which chips are split finely during so-called "aid cutting time," which occurs while the blade dose not contact the subject during cutting by vibrating the servo axle *1 in the direction of cutting. In traditional parts processing, many cases have been reported of defects or blade damage due to the risk of clogging by the long chips generated through cutting. Since a machine tool equipped with LFV technology experiences less frequency of operation disruptor due to chip clogging, it reduces the amount of electricity needed to start up the machinery. Finley splitting the chips also reduces the volume of waste. These and other results lead to reductions in the environmental impact in the manufacturing workplaces. Furthermore, it also contributes to environmental innovation in customers' manufacturing processes through means, such as reducing processing costs, by decreasing defects and reducing workload through cutting the number of times chips need to be cleaned out. After first shipping of CNC automated lathes equipped with LFV technology in the Japanese market, CITIZEN MACHINERY now has begun shipping them globally, and the cumulative total number shipped has surpassed 2,000 units. About 80% of L-series lathes (CNC automated lathes with movable headstocks) shipped in Japan in FY 2019 were equipped with LFV technology, as were about 30% of all CNC automated lathes shipped that year. As such, LFV technology can be considered to have had a major impact on the company's business.
*1 Servo axle: a structural component transmitting power from a motor, guide, etc.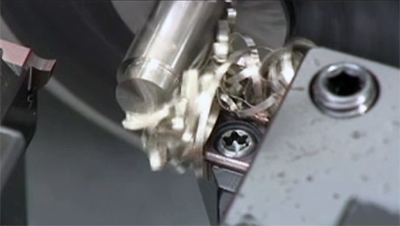 Clogging by chips in the traditional cutting process
Difference in shape of chips
In low-frequency vibration cutting, chips are split finely and ejected during the aid-cutting time. The volume of chips generated per process is reduced by 50 to 90% compared to traditional cutting.


Comparison of chips
A case: CITIZEN MACHINERY
Development of Friction Joining Technology
New Friction Joining Technology substantially reduces cutoffs after processing. It is expected that the technology can reduce material costs through cutoff waste reduction and more efficient processing of materials. A problem with a sliding headstock-type automatic lathe, one of CITIZEN MACHINERY's mainstay products, is that part of material held between the main spindle chuck (capturing a workpiece) and the guide bush (holding a cutting point) is left as cutoffs that cannot be machined. With the Friction Joining Technology, a cutoff is chucked with the back spindle without ejecting it from the machine and joined with the tip of the next material to be fed in. This will reduce cutoffs and enable the effective use of materials to the maximum extent.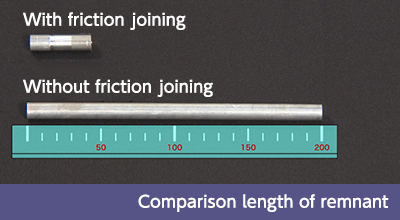 A case: CITIZEN ELECTRONICS
Development of the Product Which was Conscious of Environment:, LED for lighting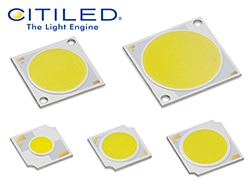 LED (Lighting)
LEDs have taken off as eco-friendly light deviceand been used in many applications in our daily lives. LEDs use approximately one-tenth the electricity of incandescent lights and contain no mercury—a problem with fluorescent lights. Additionally, LEDs' long operating life means a significant reduction in waste. This outstanding eco-friendliness has led to LEDs being dubbed the "ideal light source."
CITIZEN ELECTRONICS began developing LEDs for lighting in 2003 and has succeeded in creating a world-leading, high-output, highly efficient LED that delivers more than 70,000 lumens. The CITIZEN ELECTRONICS environmental policy of "smaller, thinner, higher-performance product designs" is evident in the company's constant efforts to develop LEDs using the latest advanced technologies. As well as striving for energy-saving functionality, we continue to develop products that lessen environmental impact in other ways. For example, we are reducing material use by decreasing the numbers of parts used and shrinking package sizes.
A case: CITIZEN SYSTEMS JAPAN
Eco-friendly Product Development:Thermal Printers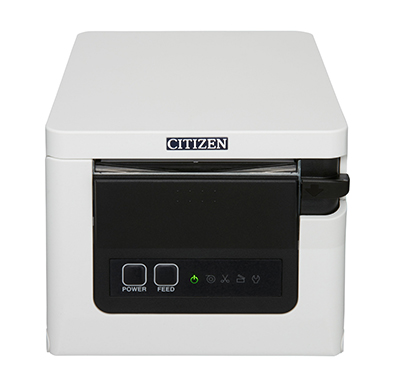 Thermal Printer CT-S257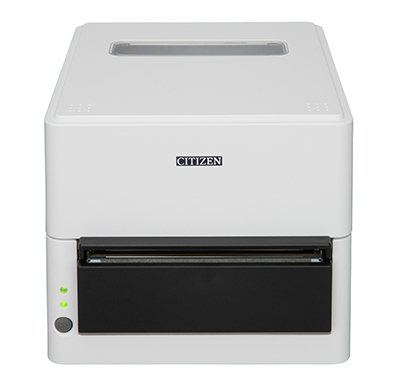 CT-S4500
Based on the concept of a global product lineup that wins the patronage of customers all over the world, CITIZEN SYSTEMS JAPAN's thermal printers employ a common design and development concept, aiming at achieving compactness and resource and energy conservation. Featuring a minimalistic external appearance, the thermal printers adopt a downsizing design to achieve compact body sizes, thereby reducing the use of materials.
In terms of functionality, a paper-saving function is incorporated to reduce the size of the top margin of a receipt as well as space between lines.
CT-S257 employs a front access design that enables users to operate the printer from the front. It can therefore be fitted in a small space such as under a counter. This contributes to space saving and enhancing the image of a store.
CT-S4500 serves both as a receipt printer and label printer. The multi-functional machine achieves both resource and space conservation.
CITIZEN SYSTEMS JAPAN's global product lineup conforms to the EU's RoHS Directive and REACH regulation. Complying also with the International Energy Star Program, a program globally adopted for the promotion of energy efficiency, the products can contribute to the environment and cost reductions for customers.
A case: CITIZEN T.I.C.
Developing Eco-Friendly Products: Outdoor Radio-Controlled Clock


GPS satellite radio wave outdoor clock
CITIZEN T.I.C.offers eco-friendly and solar-powered outdoor clocks that use an electric double layer capacitor. Energy-saving circuit design efficiently ensures the necessary electric power even on rainy or cloudy days. Since there is little deterioration due to charging and discharging, the electric double layer capacitor lasts approximately three times* longer than conventional nickel cadmium batteries. Maintenance is not needed for a long period and accurate time display continues. Moreover, the cost of periodically changing batteries and the energy used during manufacturing and transporting replacement batteries can be reduced, and this product has little environmental impact at the time of disposal. Since its launch in 2007, the product has been patronized in schools, parks and other public places throughout Japan.
*Battery life differs, depending on the environment in which it is installed.
A case: CITIZEN WATCH
CITIZEN WATCH wins an Encouragement Award in the first EcoPro Awards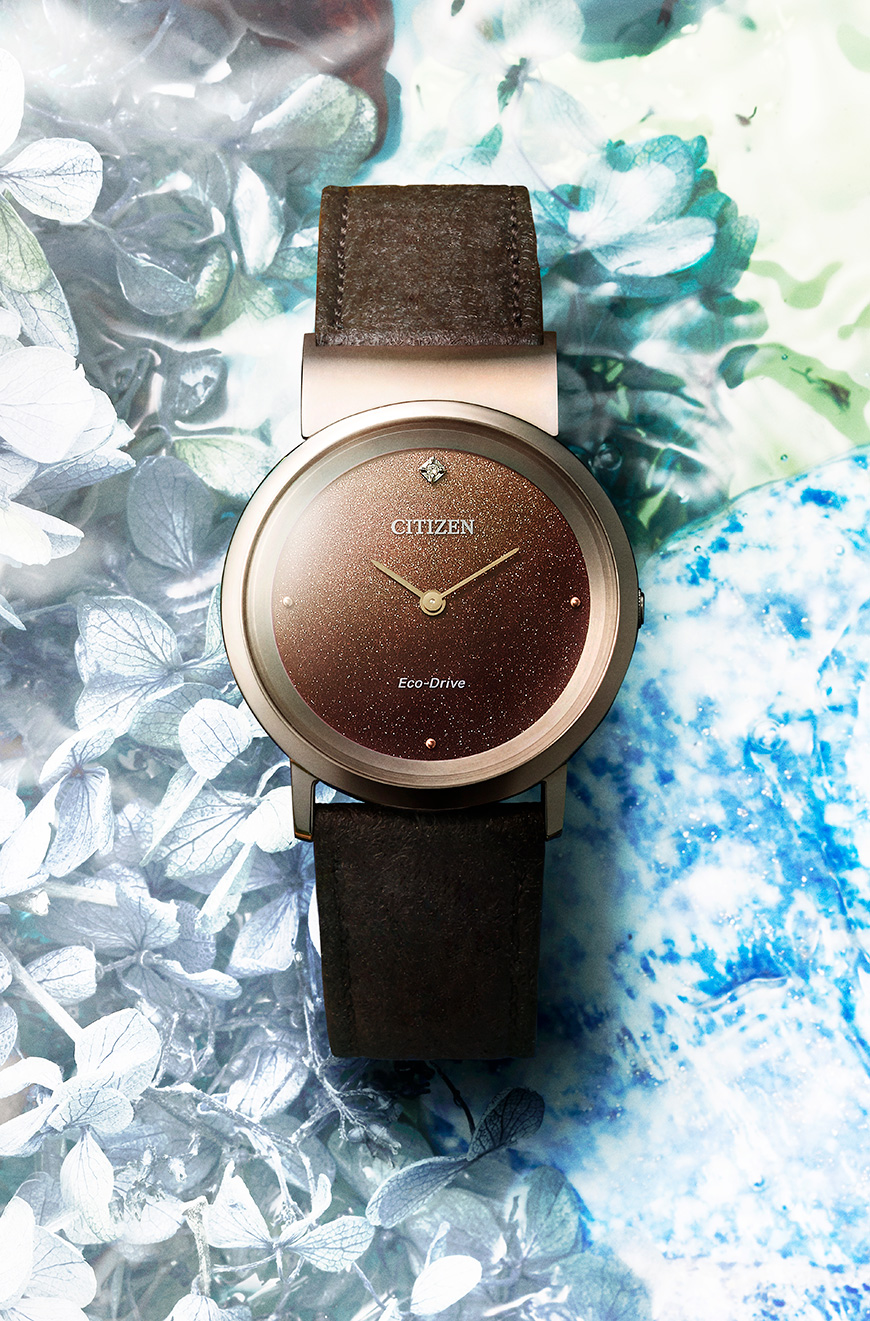 New CITIZEN L Ambiluna model for 2020
As a sustainable watch brand intended to be as beautiful as the Earth itself, CITIZEN L promises to manufacture products that are friendly to the global environment and people.
It publishes information on subjects, such as product ingredients and CO2 emissions, as a statement of its resolve to address the climate crisis. It has issued a DRC Conflict-Free Statement pledging that there are no victims behind its beauty. Its Eco-Drive technology, which does not require periodic battery replacement, eliminates battery waste. Its digital user manual protects the forests, while its sustainable packaging reduces waste. This product won an Encouragement Award in the first EcoPro Awards held in December 2018.