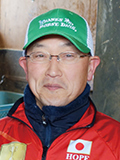 Born: 1964
Shiga

Retraining Retired Racehorses in a Wide Variety of Areas such as Medical Treatment and Education
In Japan, about 7,000 horses are born annually and only dozens of horses join the top GI race each year. The horses that enter such races lead the rest of their lives as stallions and for horse breeding. The other horses are sometimes sent away or culled after retirement, partly due to the cost of keeping them. Intending to change this situation, Mr. Katsuhiko Sumii (53 years old), the horse trainer with the top-class skills of the Japan Racing Association (JRA) who won an award many times for obtaining the greatest amount of prize money and an award of obtaining the greatest number of wins, has supported the second career of retired horses, training them to make a difference in the world.
Mr. Sumii was employed by a ranch where racehorses are bred and trained in Hokkaido after graduating from high school. While he worked there, he saw a horse with a broken bone culled and was shocked. This was the start of his activities.
In 1986, Mr. Sumii joined JRA and in 2001 he opened his own stable. He won awards for gaining the greatest amount of prize money five times consecutively, providing great service as a horse trainer, and during all of this, he considered the future of the retired horses. When he learned about horse therapy, he started specific activities.
In 2011, he held an event for communication between horses and humans, from adults to children, including people with disabilities, called "Thanks Horse Days". As the event has been held several times, many people have become involved. Wanting to increase the scale of his activity, Mr. Sumii established the general incorporated foundation "Horse Community" in December 2013, the purpose of which is to spread and promote activities through the co-existence of horses and humans in a wide variety of areas, such as medical treatment, welfare, sports, affairs relating to horses and work.
The projects of "Horse Community" are broadly divided into the following: "Horse Therapy" and "Thanks Horse Project". "Thanks Horse Project" is an important activity to achieve a second career for retired horses under the three following pillars: (1) retraining (training racehorses previously trained to run fast to be suitable for horse riding and horse therapy); (2) career path (creation of a second career in cooperation with horse owners, horse riding clubs, ranches and other various organizations); and (3) career management (management and announcement of the second career). The project has produced 55 horses so far. The retraining period generally takes three to six months, but in some cases it takes about one year.
Mr. Sumii is currently proceeding with his plan for training horses for people with disabilities to ride together with people with mental disabilities in collaboration with psychiatrists in Urakawacho, Hokkaido. He wants to create a community for exchange among people with disabilities, the elderly, children and others through horses in underpopulated areas of Japan and produce agricultural crops using compost made from horse manure, among other activities, to revitalize the local community.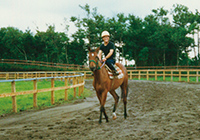 Mr. Sumii knew that horses were culled only when their bones have broken even after they were raised at the ranch where he worked in Hokkaido.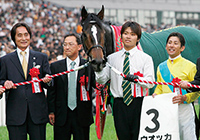 Mr. Sumii is doing a great service as a horse trainer with top-class skills who won an award for gaining the greatest amount of prize money and other awards many times (second from the left).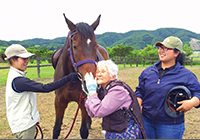 Upon learning about horse therapy, he wanted to expand the second career path for the retired horses.
He will continue these activities to save the lives of horses and concurrently heal and help people.


Touched by the Attitude to Move Forward, Starting from a Delicate Sensitivity and Desire to Save Horses
It is wonderful to create a specific system to achieve a happy second career for retired horses. While the world of horse racing recognizes that there is little choice but to cull horses, the energy of a leading expert in the horseracing world to move forward to save horses in many ways touches people. Mr. Sumii's delicate sensitivity toward life. This should be shared and cherished among us these days.