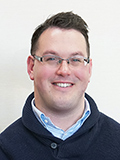 Born: 1981
Tokyo

Communicating Useful Barrier-free Information on Tourism in Japan to Overseas Tourists with Disabilities in English
A website for information on tourism in Japan for overseas disabled persons is available in English. It provides useful information for trips in Japan from the perspective of persons with disabilities. This website, "Accessible Japan," has been run since 2015, by Barry-Joshua Grisdale (37 years old), originally from Toronto, Canada. Mr. Grisdale also has disabilities of his arms and feet, which are considered to have been caused by a fever when he was six months old. He has used an electric wheelchair since he was four years old.
When he was a sophomore (16 years old), Mr. Grisdale studied Japanese in school and became interested in Japan. He learned not only the language but also a broad overview of Japanese culture, from history to subcultures, which increased his interest. In July 2000, when he graduated from high school, he stayed in Japan for one month with his father. That stay decided his destiny.
During that stay, when he visited Senso-ji Temple, six station employees at the subway station carried his electric wheelchair (weighing 130 kilograms with him seated) to board the subway train. When he went to Hakone, station employees also provided support. Such experiences gave him the impression that Japan is a comfortable country in which to live. He came to think that he wanted to live in Japan someday.
Upon graduating from college, he accepted a job with a local company, but he could not hold back his dream of living in Japan. At last, two years later, in 2007 (when he was 26 years old), he secured employment with a Christian-affiliated Japanese organization and came to Japan. Currently, he manages the website for a social welfare service corporation. While living in Japan, he has come to feel that he wants to repay Japan for what he has gained. In 2016, he obtained Japanese citizenship.
After living in Japan, he felt that the advanced barrier-free measures and services for persons with disabilities were not communicated overseas. In fact, Mr. Grisdale often finds the barrier-free information available in Japanese but not available in English when he searches the information on trips. This situation might cause many people to give up on a trip to Japan. He wanted to do something to address such situation, which led to establishment of his website.
The website provides complete information about the use of various facilities and services, including transportation facilities, hotels, elevators, toilets, restaurants, Internet access, discounts for persons with disabilities, voltage and battery chargers. It also publishes reports based on his experiences and evaluations of barrier-free conditions. Mr. Grisdale received the following comment: "This site gave me the knowledge that it was possible to travel to Japan and we immediately made a reservation."
"Running the website by myself has its limitations. My future goal is to build a network and provide information that covers all of Japan," said Mr. Grisdale.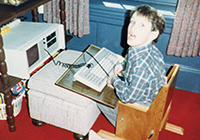 Easy access to personal computers since childhood has led to his present activities.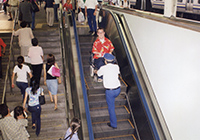 Mr. Grisdale stayed in Japan during a trip after graduation from high school. He was touched by the kindness of the station employees.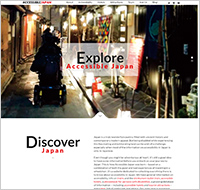 Many foreigners with disabilities visited Japan after visiting Mr. Grisdale's website.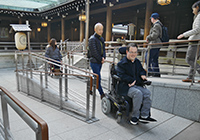 When visiting tourist attractions, he checks the accessibility and barrier-free conditions from the perspective of people with disabilities.


In addition to communicating information on tourism in Japan, the site encourages persons with disabilities and widely expands their possibilities.
The motivation to run the site on his own, actively assimilate into Japanese society despite his disabilities and move from a foreign country touches people. This site will not only provide travel information, but also encourages people with disabilities and broadly expands their possibilities. Its value will continue to increase in the future. This award is granted in appreciation of the communication of the virtues of Japan from the perspective of people with disabilities.