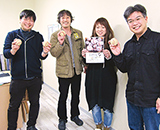 Uji City,
Kyoto Prefecture

Spreading the Eco Ball initiative nationwide, with a total of 15,000 baseballs recycled in seven years
Based in the city of Uji, the nonprofit organization Shuro Net Uji Mix Hearts (Administrative Director: Osamu Nishiyama) has supported the Eco Ball initiative since 2009. In this initiative, ripped, damaged hard baseballs are repaired and recycled. A total of over 15,000 balls have been recycled in the seven years since the action started. This has expanded to many other employment support organizations nationwide, producing nearly 20,000 Eco Balls annually.
Usually baseballs with damaged seams are bound with tape and used for toss batting before being discarded. One by one those otherwise abandoned balls are repaired and re-stitched to become Eco Balls. They can be used just like regular baseballs, which can extend the ball's lifetime three to four times longer and lead to cost saving.
The idea for Eco Ball originated from Kazuhiko Daimon, a former professional baseball pitcher (Yokohama Baystars and Hanshin Tigers) and graduate of local Higashi Uji Senior High School (currently a business owner). Daimon visited his old school in 2009, where he saw a number of ripped balls that were unusable. Daimon, who used to stitch damaged balls during his high school days, felt that it was wasteful to throw them away because they were still usable. He then suggested to Osamu Obata, Mix Hearts' administrator with whom he had a relationship, whether the organization could handle the repair work. The organization responded to his request, and the action launched. It started with 20 balls from Daimon's old school, when all the staff members brought their naming ideas to come up with the program name Eco Ball. Eco Ball instantly generated a buzz and the client base expanded to include high schools, colleges, universities and other institutions in Kyoto Prefecture.
At Mix Hearts, ten male and female staff members with disabilities, from their teens to their sixties, are involved in the Eco Ball program. The recycling process ? cut off loose threads, re-stitch, and scrub the ball ? is shared by the members, who are now producing an average of 20 to 30 balls a day. The client pays 50 yen per ball repaired.
This activity will also be of great help in providing employment support for the disabled. Thanks to Mix Hearts' own PR promotion and word of mouth, the action has spread and developed on a national scale, with 21 employment support organizations in 17 prefectures providing the ball repair service for a total of 179 client groups, including 120 senior high schools, 18 colleges and universities, one team in an independent professional league, and 40 Little Senior and other teams, as of January 2017.
The Eco Ball action also has a significant educational meaning. Learning about the importance of their equipment, young baseball players now use and store their bats, gloves, and other tools with better care. As some baseball players voluntarily start to play Eco Ball catch with the workers with disabilities that deliver the repaired balls to schools, it creates a communication opportunity for natural interaction between people with disabilities and baseball club members.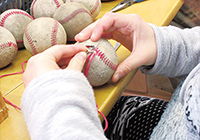 A member stitches a ball carefully with baseball yarn for a nice flat seam.


Connecting people with disabilities with local communities while cultivating mindset to treat things with care
Eco Ball is a great initiative to connect people with disabilities with the local community through baseball. It provides an opportunity for adolescents to learn about the importance of treating things with care and to develop empathy and learn how to live together with people with disabilities. The program can also be a great source of encouragement for those working at employment support organizations because they know that their work makes an important contribution to society. It will be very significant for this activity to spread nationwide.