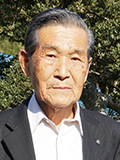 Born: 1928
Gunma

Giving Gifts of Young Plants in Commemoration of Entering Elementary School to All New Students of the Local School for 55 Consecutive Years
Mr. Tatsukichi Shimizu (Annaka, Gunma; 90 years old), a former civil servant of the Gunma Prefectural Government, gave gifts of young plants in commemoration of entering the elementary school to all new students of the local school for 55 consecutive years, as a wish for the vigorous growth of children.
When Mr. Shimizu's eldest daughter, Keiko, entered Kamigokan Elementary School (now closed) in the spring of 1962, Mr. Shimizu gave his first gift. Hoping to see his daughter grow into a vital young woman, he wondered, "What can I do to commemorate her entering elementary school?" At that time, he was working on a prefectural greenery project as the civil servant in charge of guidance on the forestry of Gunma Prefecture. Mr. Shimizu planted Japanese plums, peaches and grape vines in his own garden. He felt his gift should also benefit other children, because it was rare, unlike gifts in commemoration of graduation, which are common. Therefore, he decided to give gifts to all of the new students of the local elementary school, as a way to express his wish for their vigorous growth and a hometown full of flowers and greenery.
Immediately he obtained the approval of Kamigokan Elementary School and started his activity from the spring of 1963. That year he gave gifts to about 20 new students. This annual gift of young plants to the new students became his lifework. For more than 55 years, he has given these gifts to a total of about 360 students.
The young plants that Mr. Shimizu prepares include cherry trees, dogwood trees, fragrant olive plants, plum trees, mandarin trees, chestnut trees, Japanese persimmon trees. As the activity has lasted over half a century, there are also quite a few cases of giving these gifts to a parent and his or her child or brothers and sisters.
In 2010, Mr. Shimizu's activity, which had been such a success, was in danger of ending. The number of new students at Kamigokan Elementary School dropped to zero for the first time that year, as the student population had been in decline since 1959. Unable to give the gift of young plants, Mr. Shimizu planted them in the school garden with a resolution to continue this activity.
In 2011, Kamigokan Elementary School finally closed and became integrated into Gokan Elementary School. Mr. Shimizu has continued to give the gift of young plants to the new students of Gokan Elementary School.
His main source of motivation is praise from others. He receives compliments from the children and their parents such as, "We are enjoying delicious chestnuts this year, too," and "The trees bloom beautifully." Mr. Shimizu believes that a person needs praise and recognition to grow.
This April, the 56th anniversary of his activity, Gokan Elementary School will welcome 14 new students. Mr. Shimizu is looking forward to the entrance ceremony.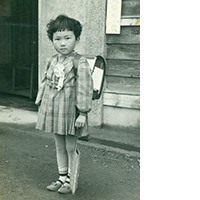 His activity started by planting trees in commemoration of his eldest daughter Keiko entering elementary school.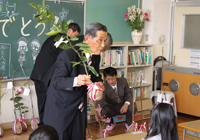 Giving the gift of young plants at the entrance ceremony for 55 years, wishing for growth of children.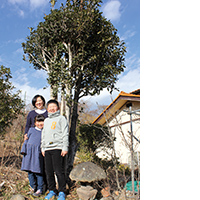 There are many cases where the gift of young plants is presented to brothers and sisters and a parent and his or her children.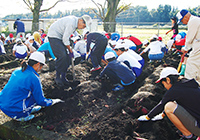 In addition to the gift of young plants, Mr. Shimizu deepens exchanges with the students of the local elementary school as the teacher of gardening/fields.


Steadily Continuing the Activity of Giving the Gift of Good Will to Others by Himself for More Than Half a Century
A present that grows. This is the story of the dream that trees will grow alongside children, as will their hopes. It is wonderful that this persistent and painstaking act has continued for 55 years. Continuously giving will move people.