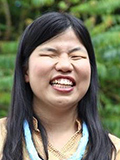 Born: 1983
Chiang Mai Province,Thailand

Operating libraries and child literacy centers to create reading and studying opportunities for people in Thailand.
"I want to let people know about the joy of reading and learning words is in Thailand, where reading books is not a common practice." said Yoshimi Horiuchi. She moved to Thailand, where she founded an NGO called Always Reading Caravan (ARC) in 2010. Based in Chiang Mai Province in northern Thailand, ARC operates a library, three child literacy centers for teaching the Thai language to children of ethnic minorities, and a mobile library that travels to schools and kindergartens for reading and lending books.
Shortly after she was born, Horiuchi developed complications from congenital cataracts and glaucoma. She was a high school student when she completely lost her sight. However, she knew that the whole world was out there by reading books ? books that her parents and grandfather read to her when she was a child. During her elementary and secondary school days, she was a bookworm, reading books from morning till night in a braille library.
Horiuchi was inspired to start her activity back when she went to Bangkok for study abroad as a student at International Christian University. When visiting villages and organizations for the disabled across the region, she learned that in Thailand, books were expensive and libraries were only found in cities. Books were considered to be for studying, and many children grew up without knowing the joy of reading. From her own reading experience, she hoped to connect people with books. Upon graduation from the university, she found a job in Japan. Unable to give up on that dream, however, she quit that job two years later. In 2009, she was in India, learning the know-how to change society by overcoming disability and poverty at the training institution of a social entrepreneur. "I was able to read many books thanks to support I have received from many people. I would like to give back in Thailand," she said and started her activities in Bangkok in 2010.
In the early days of her activities, she carried a backpack stuffed with books and traveled on a crowded bus to children's facilities, where she read books to children. She received support from other volunteers who knew about her activity, which enabled her to found a mobile library to visit rural communities. Invited by a foundation in Phrao District, Chiang Mai Province, she moved her base to Phrao in 2012. Horiuchi now runs a mobile library that travels to schools and kindergartens around Phrao District to read and lend books to children. For the elderly and people with disabilities who have difficulty going out, she also visits their homes directly to lend books to them. The community library houses 6,000 books of all genres in Thai and foreign languages, which anyone can read and borrow, serving as a place of relaxation as well.
Horiuchi also goes beyond library activities. For non-Thai speaking children of ethnic minorities, she established child literacy centers where those children can learn how to read and write in Thai. Moreover, by having Thai-speaking villagers serve as teachers, she makes sure that her support system emphasizes and respects the village's autonomy.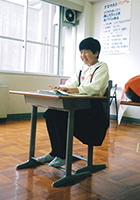 Having studied braille, Horiuchi was a bookworm, reading books all day in a braille library.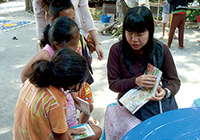 Once Horiuchi begins to read, children listen to her intently.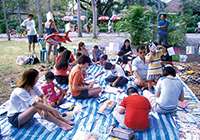 At the mobile library in the park, parents voluntarily start reading to the children.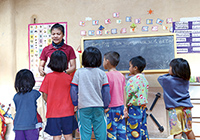 Horiuchi also provides support activities to teach the fundamentals of Thai and English to non-Thai speaking children of ethnic minorities.


Horiuchi overcomes disability and language barriers to be active on a global stage.
We are overwhelmed by Horiuchi, who fears nothing and takes on challenges resolutely and courageously. In any field where she is active, there are no barriers such as country borers and languages and she achieves her dreams overcoming her disability. The way she lives is creative and heart-stirring. Because it is so necessary to have access to books and learn a language for character building ? we would like to show our respect for her resolve to convey the importance and the joy of such experience and knowledge.