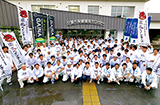 Takasaki City,
Gunma Prefecture

Volunteering to paint in about 80 places, from all over the country to overseas.
From schools and parks to areas hit by the Great East Japan Earthquake and the Kumamoto Earthquake, To-Kon Painters (Chairman: Yusuke Miyajima), a group with a passionate soul, goes wherever they are needed nationwide, to volunteer to paint buildings and playground equipment.
This group consists of volunteers of professional painters from all over the country, from Hokkaido to Okinawa, with 147 member companies currently participating. The group has volunteered in about 80 places so far. Members pay out of their own pockets for all the expenses associated with the activities, including the painting, transportation, and accommodations. About 40 painters on average participate in each project.
The activities also include hosting events to provide opportunities for children to experience painting, such as painting courses (called To-Kon Nuri-Nuri Class and Family Painting Class), as they hope that many children will experience pleasure from accomplishing something together and learn the importance of treating things with care. These activities are also a source of pride and encouragement toward work for participating painters.
To-Kon Painters was launched in 2009 as a commercial association of painting companies. In 2010, it was reborn as a volunteer group with the philosophy of "contribution to society through painting," to reflect the intentions of then-participating members, including Keiichi Yasuda (first chairman, current Senior Adviser) and Taihei Ikeda (first secretary general), who had long been interested in corporate social contributions. "As painters, we want to repaint this sad world into a colorful, happy one." The group restarted with 13 member companies, with no name recognition or track record, and therefore no requests from clients. Still, their continued patient efforts, such as relying on their acquaintances' connections, gradually paid off, and they started receiving calls.
In the fall of 2012, the group received a request to paint a temporary store in Onagawa-cho, Miyagi Prefecture, a town hit by the Great East Japan Earthquake. Nearly two years had passed since the earthquake, yet evidence of its effects were still deeply visible, as current Chairman Miyajima recalls, who saw the scene and felt that the colors were gone from the city. He has visited Onagawa-cho three times since then to continue volunteering to paint schools and other buildings in the town.
The group's activities go beyond the country's border. They volunteered to paint local high school and temple buildings in Hawaii – where the Pearl Harbor attack took place – in December 2015, the 70th anniversary after the end of the war, as well as a hospital and a restaurant in Ho Chi Minh, Vietnam, last March. In October, the group established To-Kon International as an overseas support function. This year, it will participate in a renovation project at Chiune Sugihara Memorial Hall in Lithuania to repair the outer walls.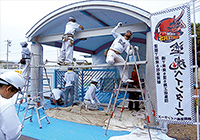 All expenses related to the activities – painting, transportation, accommodations, etc. – are paid by the members themselves.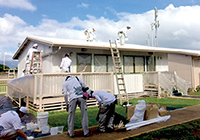 In 2015, the 70th anniversary after the end of the war, the group participated in its first overseas volunteer activity at Pearl Harbor in Hawaii.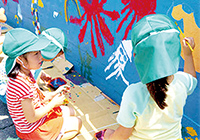 The group also organizes events for children to experience the pleasure of accomplishing something.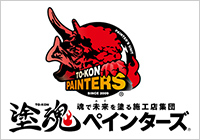 The logo of To-Kon Painters expresses the members' passionate souls.


The action of To-Kon Painters is a new, original form of social contribution, which can produce a significant power through collaboration and cooperation.
Only one person can make a small contribution, but through collaboration and cooperation, they all can exert a powerful influence. Through their activities, To-Kon Painters, a group of small painting companies, demonstrates how important that is. We feel that the performance and operation of their activities is very original, which makes it a new form of social contribution. More importantly, we can see how thoroughly and actively the painters enjoy volunteering. We also like the unique name of the group.