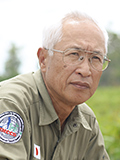 Born: 1947
Cambodia

In 1992, Ryoji Takayama, then a Japan Ground Self-Defense Force official, was dispatched as Facility Battalion Commander's Assistant to Cambodia, the country of Japan's first undertaking in United Nations peacekeeping operations (PKO). Takayama is an expert in the construction of roads and bridges and mine clearing. Upon his return from the mission, he harbored a strong sense of non-fulfillment because there was more left to do there, and decided to come back someday. Even after returning home, he was constantly thinking about what he could do to improve the lives of the people there. To make "someday" come, he began to study how to use a PC, English, and Buddhism (Cambodia is a Buddhist country).
Ten years after returning home, when he would soon turn 55, the age of retirement, he learned that one of the old boys from the SDF was preparing to undertake mine and unexploded bomb disposal activities. He applied to join, and was appointed as a local deputy representative. Three days after he retired from the SDF in 2002, he set foot in Cambodia again. There were some times when he had to return to Japan temporarily, but he has spent more than 12 years since then devoting himself to land mine clearing. Over this period, he has removed some 4,000 land mines and unexploded bombs.
Since 2006, Takayama has been based in the village of Tasaen near the border with Thailand, a site of the hard-fought civil war, conducting the land mine removal mission in which local residents participate. Local residents join in the task, as the project is based on his conviction that removing land mines is not enough, but peace is built only when the local residents accomplish rehabilitation in their own right. He calls for participants, trains them to be "deminers" (mine detection personnel), and pays for their contribution. This project is important in terms of job creation, but in addition it is more meaningful because it helps the local residents themselves contribute to security and reconstruction in the region.
Apart from his main mission, he also works on various reconstruction projects with local residents, from infrastructure development to education and human resources development; including the construction of wells and roads, agricultural land development, the development of local industries, school construction, Japanese language education, support for study abroad to Japan (currently two local students studying in Japan), and attracting business investment from Japan (currently four companies). These activities are backed up by his supporters, who are mostly from his home of Ehime Prefecture, who founded an NPO called "International Mine Clearance and Community Development (IMCCD)" in the city of Matsuyama in 2011.
He spends two thirds of his time in Tasaen, where the local government officials trust him deeply and the local residents affectionately call him "Ta." "I do so only because once I started living here, I noticed issues other than land mines to take care of," Takayama said in a humble manner, but surely all his actions are driven by his strong wish to serve as a "seed for peace."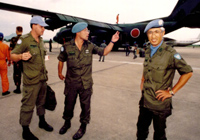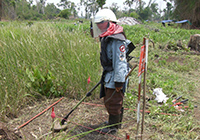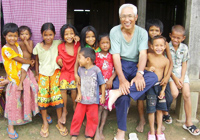 We admire his courage in devoting himself to land mine removal, at his peril, for more than a decade. In addition, he has also helped the local residents to achieve a self-reliant reconstruction based on his conviction that if they recover their land themselves, they will not allow another civil war again. This should be called the real international support activity.