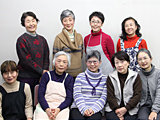 Setagaya Tokyo

Production of over 200 types of cloth toys in response to requests from users
In 2013, the TOY Workshop Donguri (Acorn; Ms. Toyoko Kawamura, Representative) celebrated its 30th anniversary of continuous production of original toys from cloth for challenged children. The group traces its start to the commencement of activities by housewives who love handicrafts at the Daita Volunteer Bureau attached to the Setagaya Volunteer Association in 1983. The members learned by watching each other and initially sent the toys they made to children's homes. They launched into full-fledged production of cloth toys after receiving a request to that effect from on-site facility personnel, who noted there were few toys for challenged children and asked the group to make some.
TOY Workshop Donguri now gets requests for toys from a diversity of parties, including schools for challenged children, special support classes, hospitals, libraries, and even individuals. It now delivers a total of 60 - 70 toys to more than 30 locations a year. The requesting side is asked to shoulder the expense burden for the materials, because the group wants to make toys that are needed on the site and reflect the preferences of the receiving side.
So far, the group has made more than 200 types of cloth toys. Each toy is made while incorporating the opinions and desires of the requester. Each is also tailored to the disability of the particular child, with a view to having the toy support his or her growth and independence. As such, each is truly a one-of-a-kind toy, without equal anywhere in the world.
While playing with the toys, which are warm and soft to the touch, the children naturally have various abilities stimulated and acquire skills they need in daily life. For example, the children learn to recognize the expressions for various emotions with the "face-dice" toy, how to dress with the "mijitaku" (dress-up) apron, and to understand colors and throw with the "colored darts". The group pays close attention to fine details of the design, coloring, shape, and stitching, and absorbs the wishes of the people on the facility site at the prototyping stage. For this reason, it sometimes takes about three months for them to complete a single toy. The group has about 20 members who get together about three times a week to make toys through a division of labor.
As a future objective, the group is considering the production of toys for children with severe physical or mental disabilities and entertaining tools for adults with mental disabilities.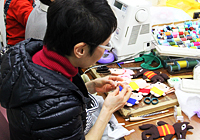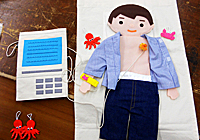 Thirty years of continuous production of toys that are tailored to the disability of the individual recipient and encourage his or her growth
First and foremost, it is wonderful that TOY Workshop Donguri has steadily continued to make toys for 30 years. I don't know of any other group that makes toys which are tailored to the disability of the individual child and assist his or her growth, based on the toy's prospective influence on that growth. Their activities are really original and creative.