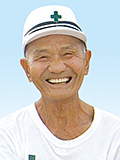 Born: 1927
Niigata

Senami Onsen Beach in the city of Murakami, Niigata Prefecture has more than 100,000 sea-goers annually. Here, Kinichi Honma, the 87-year-old head of the city's water rescue team, saves lives at sea as an active-duty lifesaver despite his age, working during the 37-day period from July 15 through August 20 every year. With his lifesaving skills backed by rich experience, Honma has saved about 50 people in the past 40 years since 1975, four of whom were in a state of cardiopulmonary arrest before he brought them back to life. He has also been a devoted trainer, educating more than 120 young lifesavers.
Since childhood, Honma, who used to play a lot in the Miomote River, which flows through the city, and the sea in his neighborhood, has been so good at swimming that he was nicknamed "Skin Diver Kin-Chan" or "Echigo no Kappa (Kappa is an imaginary animal believed to live in the water)." In 1948, he began to participate in lifesaving because of a sad accident that happened when he was 21 years of age. A schoolboy who was playing in the Miomote River became lost, and all the villagers went out to search for him. Worse still, the leader of the youth association, who had been searching for the boy, also went missing. Later, they were both found dead in the river. As he recovered the body of the leader, a young woman rushed over and broke down. She was his fiancée, and they had been planning to get married just one week later. Witnessing such a sad scene made him resolve to let no more tragedies occur.
While subsequently participating in lifesaving, Honma and his colleagues established the volunteer lifesaving organization "Murakami Sensui Club (Murakami Diving Club)" in 1956, when there was no official rescue team in place. Whenever his team was called upon by the police and the community, they rushed to the scene to rescue drowning people and recover bodies. In 1975, Honma was elected to be a lifeguard at Senami Onsen Beach at the request of the city of Murakami, which strongly recognized his deep knowledge of the local coastal topography and currents and rich experience in lifesaving.
"There is no job more important than lifesaving," said Honma. Every year before the season starts, he imposes three tests on himself: 1. to travel the five-kilometer distance from his home to the guardhouse in Senami by bicycle within 16 minutes; 2. to climb up a hill on the way without becoming short of breath; 3. to swim without breathing out to the tetrapods 30 meters off the coast. He will retire if he fails any of these. The oldest lifesaver, who will celebrate his 88th birthday this May, is working hard to train for his 41st season.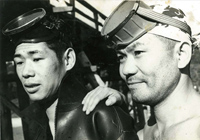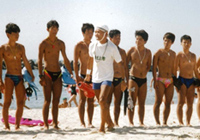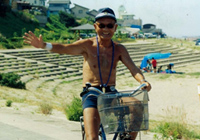 Over the past 40 years, Honma has been on the front line of lifesaving, and has saved many lives. It is also impressive that he has devoted himself to training the next generation, educating many lifesavers. We take our hats off to him for the efforts he makes despite his advanced age, taking daily exercise and working hard to remain healthy. In Japan's aging society, we truly hope that more and more elderly people will become active like him.