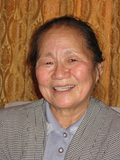 Born: 1938; from: Aichi Prefecture, Japan

Since 1993, Mrs. Kuwayama has spent her income from part-time jobs, such as delivering newspapers, to help Sri Lankan children enter school. A newspaper article inspired her to do so. The article said that the annual cost for a Sri Lankan child to go to high school is about \12,000. She has set aside all her income for every month, which is about \40,000, to send the money to Sri Lanka through the foundation of Aizu Sakuralanka Kai since she read that article. Her contribution has already reached five million yen, a large sum of money, which enabled 41 children to enter high school.
In 2002, Mrs. Kuwayama entered a local part-time high school of the Prefectural Anjou High School, while continuing her contribution. She went to school without being late for or absent from class. Last year, she made an address in reply to the principal's address at graduation. Mrs. Kuwayama closed down her family business after her children became working members of society. This is certainly one of the reasons why Mrs. Kuwayama decided to enter high school. However, it was the letters from the Sri Lankan children supported by her that inspired her to make such a decision. Raised by a single mother, Mrs. Kuwayama had helped her mother on the farm since she was an elementary school student. Her circumstances never allowed her to enter high school. Therefore, entering high school was also her earnest wish.


Mrs. Kuwayama could not go to high school when she was a child. This is the very reason why she has helped other people do it. To this end, she has continued to work as a part-time worker while serving as a housekeeper. She also achieved her own earnest wish of entering high school. Even during her high-school days, she continued to support Sri Lankan children. This is an excellent example of self-realization, which was achieved by a housewife aged 67.