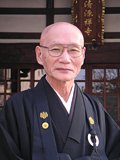 Born: 1941; from: Toyama Prefecture, Japan

In 1979, the Toyama Prison first broadcast "the 730 Night Hour," the voluntary radio show for its inmates. Since then, 27 years have passed. This monthly radio program reached its 311th broadcast this January. It is a 90-minute radio show with a DJ, which is organized based on the requests and comments sent by inmates. Mr. Kawagoe is the chief priest of a local Buddhist temple, and his mike name is "Houjou-Yutaka." He has been serving as a volunteer disc jockey for this radio show. He has never failed to work for each broadcast of the show since its first broadcast.
Mr. Kawagoe is the chaplain of the prison. Around the time when the idea of this voluntary radio broadcast was under consideration, he worked as a radio personality for a local radio station. This is why he was asked to serve as the volunteer DJ. He took on the post of DJ on the condition that the radio program would not be discontinued after its first or second broadcast.
In the radio show, the theme for the next time is announced at the end of the broadcast. The show takes up various kinds of themes, such as "Mother," "Looking back to the past year" and "Graduation." Although 60 to 80 requests are sent to him for each broadcast, only about 15 songs are taken up. The show proceeds in the form of the conversation between Mr. Kawagoe and a female volunteer. The comments sent by inmates are awash with various feelings of the inmates, such as love for their families and the repentance for their past acts. "If you talk to them from your heart, they will respond to you from their heart. I would like to continue to talk as the DJ as long as possible, with my belief that they will be successfully rehabilitated," said Mr. Kawagoe.


Prison-related problems, such as the increase and aging of inmates, have lately drawn public attention. Under such circumstances, Mr. Kawagoe has been serving as the volunteer DJ for more than 300 broadcasts during these 27 years without any absence. The many requests sent to him also suggest that many inmates love his radio show. For him, talking might be only an extension of his profession. However, he has made good use of his talking skills, which is one of his great strengths. This is wonderful.