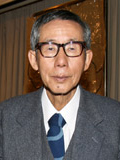 Born: 1941; from: Kyoto Prefecture, Japan

Since he was in high school, Dr. Tanigaki had dreamt of working as a doctor overseas. In January 1979, he was stationed in the Republic of Niger in West Africa as an industrial physician with an oil company. His term ended after a year and a half, but his wish to involve himself in medical care in the region continued, and from 1982 he worked at the national hospital in Niamey, the capital city, as a dispatched physician with JICA. During his 10 years of service, he witnessed patients who had spent days walking to the hospital from remote areas, only to die before they could be surgically treated. Dr. Tanigaki vowed to offer medical care, including surgery, in a remote area without any medical facilities.
With 80 million yen of his own money he built a hospital, which was completed in May 1992, in Tessaoua, a city of 30,000 people about 770 kilometers away from Niamey. However, many obstacles awaited him there. The clouds of dust necessitated quadruple doors for the operating room, and a nearby marsh had to be filled because everyone on staff came down with malaria. As all this was happening, in 1999 he lost his wife Shizuko to a high fever of unknown cause. Dr. Tanigaki never fails now to call out to his wife's grave by his front door on his way to and from the hospital.
Dr. Tanigaki performs more than 1,000 operations a year. Costly medical supplies cannot be used for the poverty-stricken patients, so he and his staff get creative. They use kitchen gloves in place of surgical gloves, and inexpensive, thick sewing machine thread in place of surgical thread. Promotional towels, sent in from Japan, are used as gauze. Japanese newspapers can be used for a variety of purposes once they are sterilized. Even so, ever since JICA funding was cut off in 2001 after 19 years, Dr. Tanigaki relies on donations from fellow physicians such as Dr. Yoshiya Kumagai and former classmates from his native Kyoto to help cover shortfalls in operational costs.
Although he donated the hospital to the government, he bailed a new hospital again with his own money, and he re-open his practice in September. Dr. Tanigaki continues to strive to make his vision of "independent surgical care" a reality.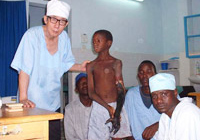 Dr. Tanigaki has devoted himself to medical care in this extremely deprived region in West Africa, overcoming many difficulties in the course of a quarter century. While physicians working abroad are becoming something of a trend in recent years, surgeons are still very rare. There are even fewer people who have set down their roots to this extent in the local community. This is also a lesson for our high-cost, modern medicine.
<In attendance to represent Dr. Tanigaki at ceremony>
Dr. Yoshiya Kumagai (Director, Kumagai Satellite Clinic)
<Supporters for Dr. Yuzo Tanigaki" (Representative: Shuji Shimanuki>
"Supporters for Dr. Yuzo Tanigaki" (Representative: Shuji Shimanuki)
Secretariat: 7 Orimoto, Hachiyama-cho, Kyotango City, Kyoto Prefecture 627-0023
Tel: 0772-62-1085, Fax: 0772-62-2119