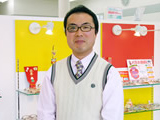 Kenjiro Yoshino Born: 1930; from: Osaka Prefecture, Japan
Masaru Yoshino Born: 1956; from: Osaka Prefecture, Japan

Mr. Kenjiro Yoshino and his son, Masaru have continued the activity to offer free reading glasses to senior citizens in Izumisano in autumn every year. All senior citizens over 65 years who are on welfare in Izumisano City are qualified. Information on the gift is distributed by the city government to 200 to 300 old citizens every year (alternatively each year to people who were born in odd years and even years). About 60 to 70 persons respond to the offer every year. In 2006, 67 old citizens were presented free glasses.
This activity was originally proposed by Kenjiro's father, the late Koichi. Koichi, who was an owner of an optician's shop, took care of many socially-challenged people in the community as a local welfare commissioner, and started this activity in 1961 to contribute to the welfare of the community. From the beginning, this activity has been conducted in consultation with the city government, and an eye examination has been also offered free in a meeting room of the city office for one day each year.
Free reading glasses offered are limited to standard models both in prices and designs. But Kenjiro and Masaru try to satisfy the specific needs of individual applicants as much as possible within a reasonable extent, such as need or want for "more powerful glasses", "different designs" or "glasses for nearsightedness."
The family of Yoshino has given more than 3,000 free glasses to about 2,000 old citizens throughout the three generations of Koichi, Kenjiro and Masaru.


The continuity of the activity for 45 years in three generations and 3,000 glasses are marvelous. Free glasses with a free eye examination are certainly a heart-touching gift for every senior citizen. Because their optician's shop is so closely accepted in the community, the city government is also able to continue the cooperation. Their activity goes beyond the extent of promotion of the shop.