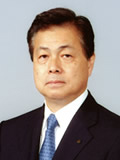 Nihon Spindle Manufacturing Co., Ltd.
Junai Saito, President
Born on 1945 in Kanagawa Prefecture.

In the morning of April 25, 2005, a disastrous derailing accident happened on the JR Fukuchiyama Line. One of the quickest who rushed to the accident scene and volunteered in rescue and relief activities was the president and 230 employees from Nihon Spindle Manufacturing. The location of their head office/plant just in front of the scene was one of the factors, but their promptness was beyond that. At 9:18 AM right after the accident, some employees who witnessed the accident hurried to the scene and notified the accident to their safety manager. Then, the safety manager immediately reported to the president who was in a business meeting. The president suspended the meeting and he himself went to the scene right away and saw the disastrous state of the accident at 9:40 AM. The president immediately decided to stop the operation of the plant and to make all employees to help the rescue operations.
In response to the operation order, 230 employees gathered at the accident scene at 10:00 AM. They used their autonomous judgment to split into four groups. Work assignments were naturally decided among these groups, including rescuing victims from the derailed train, guiding or moving rescued passengers to safe places, giving first aids to minor injuries, and transferring the injured to hospitals.
By noon when they handed all of their relief activities to professionals, they transferred a total of 91 injured passengers to hospitals by using company cars. A large quantity of water and towels needed for the first aid of the injured could be obtained very quickly by the cooperation of the adjacent terminal market, which, they said, was thanks to the lessons they learned from the Great Hanshin-Awaji Earthquake.


In this accident, many people from the community helped in the relief activities in cooperation with rescue teams and the police. Among these people, the way these employees of Nihon Spindle Manufacturing worked together in an organized manner under the leadership of the president was praised highly by many people who witnessed the activities at the spot. This award should be presented to them as the representative of all citizens in the community who helped in the relief activities.