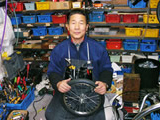 Born: 1943; from: Ibaraki Prefecture, Japan

Mr. Hotta's creation of unique bicycles started with a tricycle he made for his son in 1979. At that time, the rules of his son's elementary school prohibited children to ride bicycles. So, Mr. Hotta created a tricycle with step-on type pedals, instead of revolving type pedals. One day, an old woman saw his son riding this tricycle on the street and asked the father where she could buy one. She could not ride ordinary bicycles because of the difficulty in her leg, but she said that she could ride this one with step-on type pedals. At first, Mr. Hotta never imagined his hand-made cycle would help physically-challenged people.
But rumors brought so many requests for cycle tailoring one after another that he could not handle all orders in his spare time. He closed his packaging business a half year later to dedicate his hours to this new business. His banks got angry about his "foolish" decision, and in fact, he soon experienced serious financial hardship and could not even pay the school lunch charge for his son.
Creation of one tailor-made cycle cost about 70,000 yen at that time, and currently costs 150,000 yen to 260,000 yen. Hand-made cycles can be produced not more than 3-4 units per month because they are made from a scratch. Careful consultations and many trial rides are needed to fine tune the cycle to the status of physical difficulty of each user. Mr. Hotta never refuses a request however difficult it is. He has created motor-assisted four-wheeled cycles, portable cycles and many other unique cycles never found anywhere in the world.
Subsequently, a supporters' association was formed by users of his custom-made cycles, and in 1989, a subsidy program was started by the Ward of Suginami, Tokyo for purchases of cycles for the physically-challenged. Currently, four wards in Tokyo and six cities in the Tokyo metropolitan area provide similar subsidy programs. Mr. Hotta has created a total of about 1,600 cycles for more than 1,000 users.


For long years, Mr. Hotta has been engaged in the production of customized cycles that extended the mobility of people with different physical difficulties. His activities have moved local governments to create subsidy programs, too. Gifted in machining skills, he started the cycle creation as a fun. But turning it into a business and operating it professionally has made it possible for him to continue these activities for long years. This can be a new form of welfare activities.