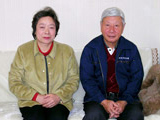 Toshio Nagai Born: 1934; from: Osaka Prefecture, Japan
Sayoko Nagai Born: 1943; from: Osaka Prefecture, Japan

In 1973, Mr. and Mrs. Nagai decided to become foster parents. The couple had not had their own baby after 10 years from marriage. A one-year-old baby introduced from the child welfare center was the first foster child for them. Since then, they have taken care of over 60 foster children. The period of fostering varies from just a few days to nine years. Now they are taking care of one boy in the second grade of high school. "We keep treating them seriously and sincerely until they understand us some time. We wait patiently for their smile," said Toshio. "It is sad that we cannot become full-time parents for them. But we have to accept that, or our sentiments would keep going round and get nowhere," said Sayoko. The Nagais has 11 family rules. Most of them concern observation of time schedule, such as time to get out of bed, time to go to school and time of meals. The couple said that little children are less defiant to obey the rules. Foster children who left the nest often come home to report how they are doing, calling the couple "dad" and "mom." Mr. and Mrs. Nagai always welcome them, but would not go out to visit them.


It is often argue that in Japan it is difficult to operate the foster parent system and most children facing family difficulty are left to the care of welfare institutions. On the other hand, reports of child abuses by real parents have been increasing. Under such circumstances, the activity of Mr. and Mrs. Nagai to have raised and taken care of more than 60 foster children for over 30 years is marvelous and they are really professional parents. They continue physical training and cycling every day to manage their health because they believe that interaction with children needs physical strength.