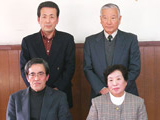 36 participants in the Hyogo Prefecture municipal pensioners federation
Toyo'oka branch's Fureai Shimboku ("Friendship") trip

When the bus of the tour group was driving on a road, it was suddenly flooded by a rapid rise of water during the strike by Typhoon No 23, the very huge storm that left serious scars in many areas throughout Japan. 36 passengers and one driver spent a night on the top of the roof of the submerging bus and were rescued in the next morning after 10 hours. All 36 members of the tour group except one young secretary were over 60 years old and the oldest was 87. The tour bus was on their way home when it was suddenly blocked by a muddy stream and isolated on the road around 19:30. When the water level in the bus rose abruptly around 21:00, one man from the group broke the windowpane with a hammer and got out to the top of the roof using the curtain as a rope and pull up women and other members to the roof. They confirmed by a roll call that all people in the bus were safe on the roof. They huddled together, putting very old members and women in the center, and they shouted loud and sing songs together to cheer up. But, the bus was moving slowly by the force of the strong wind and the muddy stream. The submerging bus roof was slippery and had no enclosure to protect them. They were shaking with cold. But they all endured this horrible situation overnight.


Two men led the escape up to the bus roof. Two other men swam to the near tree to anchor the bus by a rope. A former woman nurse led the singing together for cheer-up. And each of all other people endured the disaster by giving ideas and encouraging each other. In the situation where the water level rose above the roof around 3:00 a.m. and they had to stand on the roof with their legs under water to their knees, it is astonishing that all elderly members were rescued safely. It was an impressive incident symbolizing the year of disasters.