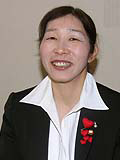 Born: 1954; from: Hyogo Prefecture, Japan

Summer of 1997, she lost her elder son who was a 1st grader in high school at that time by a mob violence from his classmates. From the spring of 2000, she has been tackling "trial attendance support" to who suffers from similar crimes. Through communication with members of National Association of Crime Victims and Surviving Families, she started to think that she wanted to support someone of similar circumstances. Suddenly, people became a sufferer one day; they're confused and feel depressed, lonely, and angry. Ms. Takamatsu begins her activities by making a phone call to the family of the deceased upon police's request, sufferer's contact or news report. She listens to their stories, and she takes her action if they requested. Her activity includes trial attendance and support for everyday consideration including listening to their distresses or even worries about food. In 2002, she became one of the board members of Hyogo Victims Support Center, and the hands of help is widening.

Her activities of in and outside the law court that naturally comes from her own experience as a sufferer were highly recognized. Her supporting style is unique that she keeps hanging on to the sufferer tightly as she literary support them with post on their back. She probably received heal by giving heal to others, and her action creates great power to those who need it.