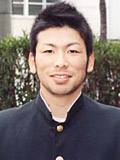 Born: 1985; from: Ehime Prefecture, Japan

A baseball player, Soga from Imabari high school participated as a third baseman with player's number 6 who stand on an artificial leg fully to the game against Nihon University Touhoku High School on the 2nd day of 85th All Japan High School Baseball Tournament (Summer Koshien). He made a great contribution to their victory. He lost his foot in an accident with a trolley when he was 5 playing in an orange firm. He now has an artificial leg for the part down knee. His interest in baseball started when he played catch with his father, and he was the top player with player number 4 when he was in junior high school. At 5 local games that lead his school for Koshien, his batting average is .571. which is the best in his team, and he run 50m as fast as 6'6". Usami coach says "I don't put any reserve for him just because he has an artificial leg and he is handicapped. And he doesn't want it". Player, Soga says "I do what I want to do with all my best, because I like baseball. It will be nice if someone who has the same circumstance as I do feels something after seeing me, but that's not the reason I do this. Mr. Masashi Deguchi who made Soga's artificial leg also has an artificial leg on his left side was surprised to see how roughly Soga uses the artificial leg when he advanced to the 2nd base at a local game.


It was very remarkable for him participating the highest competition in high school baseball which students with no handicaps can't make the way easy. It was not certain if he could really manage the job until we first see his play, but soon after all the worries were gone. He gave power to all not just those with handicaps. His natural character who says "I like baseball" was favorable as well.