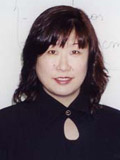 Born: 1964; a second-generation Brazilian of Japanese descent from São Paulo, Brazil

To the Brazilian school "Don Bosco" just opened last year in Komaki city, Aichi, 170 students commute from all areas in Owari by 3 school buses. The students range from 6 years old to 15 years and preschool children. Marcia established this school in respond to people's voice in distress after a Brazilian school located in the same city closed due to the financial difficulty. Marcia who delivered lunch boxes to school had a hard time deciding after her family's opposition, her husband finally agreed and said "We did nothing when we got married, and maybe this is the time for you". She rented and renovated a construction company's dormitory located next to her store. Most staff remained from the previous school, and a nearby Nagoya Art University and people who learned about her and her school helped to prepare school supplies and furniture such as desks and chairs.


It is not rare to find foreign residents who actively perform in Japanese society, and Marcia is one of them. She established a school on her own with a request from the school principle of that time. She had no ways to leave children as they had no school to attend, and she successfully persuaded her family. We should also give high recognition to all people who supported her, including her husband, people who helped to collect school supplies, landlord of the school building and all teachers who help to renovate the school even now. She will confidently get over with her great nature all problems that may arise, such as the handling of expected-to-increase number of students or the operational expenses that cannot be covered only by students' tuition.