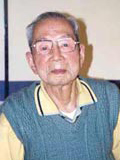 Born: 1905; from: Shimane Prefecture, Japan

In the 1960s, Mr. Tanimura planned to build a nursing home for elderly, and visited a district welfare commissioner and the elderly club. However he gave up his plan of building the nursing home after learning the reality that there were enormous numbers of lonely and miserable old people in a society. He first started to visit each of them in person to cheer them up, but soon he learned that the number was too much and he could not visit all. Then he started to write postcards and sent them to all. In 1967, he got some companies and "Nerima Yuuai Tsushin Kai" was established. Number of postcards sent in past 35 years exceeded 450,000. Currently, there are about 2,000 bedridden old people in Nerima-ku, and the members gather once a month at Tanimura's house to write postcards addressed for 1,600 among 2,000 who requested.


There must be many old people living by themselves who was impressed by the handwritten postcards sent by him. Members who once joined Mr. Tanimura's activity were about 70, and it is charming that most postcard receivers are now younger than Mr. Tanimura himself. He knows how old people feel the best.