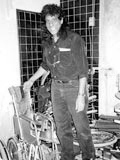 Born: 1948; from: South Africa

For the past five years, Mr. Kantha has been collecting discarded wheelchairs, repairing them into perfect condition by fixing flat tires, removing rust and changing damaged parts, and presenting them for use by the handicapped people in the Republic of South Africa, his home country. He makes shipments four times a year. He defrays the cost of shipment, which is about 250,000 yen, by the sales of a collection of his poems and soliciting public donations. Recently, he found cooperators in the repair and safekeeping of wheelchairs. The cumulative total of wheelchairs he has shipped is nearly 2,000. The recipients in the Republic of South Africa are three major organizations. In that country, there are many physically handicapped people because of poverty and the aftereffect of apartheid. He continues the donations with the wish to give wheelchairs to as many people as possible.


While living in Japan, he has found wheelchairs in good condition discarded here and there. He began to repair those wheelchairs and donate them to the physically handicapped people in his home country as a solitary endeavor. The number of wheelchairs donated by him has reached a significant figure. In addition, he extends guidance to the Japanese residents of the district where he lives about how to repair wheelchairs and is also engaged in other recycling activities. His activities are a warning to the Japanese who are accustomed to throwing away still usable goods.