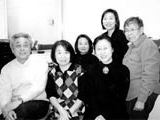 Founded: 1974; members: 20, plus one recording engineer (as of January 2000)

1999 was the 25th year since Recording Group Koe began to produce tape recordings of various readings and delivering them to people with eyesight problems. This activity began with recording the ward bulletin of Sumida-ku, Tokyo, by three or four people. Later the group began to record newspaper articles and literary works. For the past four years, they have been producing, publishing and sending three tape recordings every month. About six people take part in making one tape. They make arrangements, check and study the method of reading, and make dedicated endeavors to produce tape recordings that please the subscribers (blind listeners). Their activities are diverse. They record newly published books at the request of individual subscribers and hold a recital once a month.


There are a great many volunteers and volunteer groups among the townspeople, but this group deserves praise for its 25 years of uninterrupted activities and for having the zeal to improve their reading skills and making good tape recordings, as revealed by their inviting an announcer to teach them the skills. It is unique that newspaper articles, too, are included in the materials.