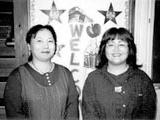 Midori Thayer Born: 1960; from: Okinawa Prefecture, Japan; pharmacist
Masae Yonamine Born: 1962; from: Okinawa Prefecture, Japan; middle-school teacher

As the mothers of Amerasians (children of American fathers who are U.S. soldiers or American civilian employees of the U.S. armed forces) they decided to establish a school for Amerasians, and with the cooperation of their friends set up such a school in Ginowan City. Effective from the second semester of 1999, the city government decided to recognize attendance at this school as attendance at a school designated for compulsory education. At present, about 40 students of up to the junior-high school level are studying at this school. Thayer and Yonamine established the original school which provides education in two languages (Japanese and English) because although American schools in the compounds of U.S. military bases are almost tuition-free as long as the fathers are military personnel, high tuition begins to be collected as soon as the father retires from military service. And also because of the language barrier, Amerasian children are bullied by Japanese classmates at public schools.


The two mothers established the school by settling all problems, including such financial problems as the rent for the school building and the teachers' salaries, by themselves, and "bored an air hole through the wall of bureaucracy" (overcame bureaucratic formalism)." Their deed should be praised as an activity symbolizing new Okinawa in the sense that it attracted public attention to the existence of the military base problem.