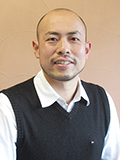 Born: 1981
Yamagata

To assist with the self-reliance and employment of young people who refuse to attend mainstream school programs and shut themselves up at home, Yoshikazu Shiraishi runs a free school in the city of Yonezawa, Yamagata Prefecture, and also a membership-only bar, a cafe restaurant, and the Okitama Youth Support Station, an organization for employment support.
Shiraishi's activities originate in the setbacks he experienced upon his graduation from the Faculty of Education at Yamagata University. He had hoped to get a job saving lives in his community and tried to become a firefighter, but failed the test for two consecutive years. He had been successful up until that point, but then he believed that his whole life had changed completely. He was lost, not knowing what direction his life would be headed in, and underwent several career changes. He was 24 years old when the turning point arrived. He started a job as a part-time teacher at an elementary school and had the opportunity to work with children with developmental disabilities. This experience gave him the idea of providing a free school. He then went to the Philippines to help street children, where he learned that pedagogical approaches could take many forms. After returning home, he created leaflets in which he recorded his idea, and visited around 7,000 locations in the city to obtain ten supporters. In May 2007, he opened the long-awaited free school, which started with just one junior high girl who had stopped attending an ordinary school.
The free school called "With Yu" (With You) accepts young people mostly from the local provinces but also nationwide, and currently has 20 students ranging from elementary-age children to 20-year-old adolescents. To date, 50 students have graduated from the school. The school offers individual learning programs tailored to the goals and progress of each student, such as courses for high school graduation eligibility and college entrance exams. It also actively provides students with experiential opportunities, including farming, work experience, volunteer activities, local events, and exchange activities within the local community. An education support fund was also established in 2014 to offer financial support to the students.
Those students who had obtained a place to learn then faced their next challenge: employment. He therefore established the Okitama Youth Support Station to commence employment support. He also opened a membership-only bar "Yui" in February 2013 as a place in which to provide job training to young people who were trying to get a real job and who had once started a job but had not been able to adapt to society. He hoped that this bar would serve as a place where young people could connect with the community through working. Based on his belief that "it is possible to make a mistake; but just be cheerful and keep smiling," 30 adolescents have worked in the bar so far, and seven people are currently receiving work training, including customer service. Last May, he also opened a Terakoya, or a small private school, with an old-fashioned penny candy store, as a place where people of all ages from children to the elderly could gather and communicate across generations. "I will provide education, places, and roles to the young and foster them within the community so that they will want to continue living in this community, and protect them," said Shiraishi. His challenge will continue.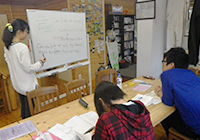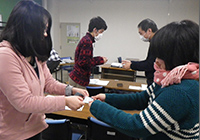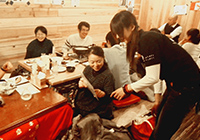 The mistakes you make when you are young will become valuable assets later on in your life. However, there is a tendency in our society that no failure is allowed, which makes you nervous and your life painful. His stance, though, gives us hope. He tells his students who have just graduated and are looking for a job that they can always come back to him if they fail. Today, Japan faces a major issue of truant students and socially withdrawn adolescents. We are encouraged by his challenging attitude to think about what we can do for the people who are not helped by the existing systems, and resolutely create new initiatives for them.