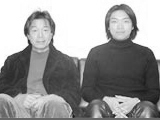 Founded: September 1995

Some 850 students are now studying at the Junko School, a public elementary school established in a village in central Vietnam in 1995 according to the dying wishes of the late Junko Takahashi, a student at Meiji Gakuin University. Her parents used condolence money and other sources to build the school, which was named by the villagers.Continuing the work begun by Junko's parents is the Junko Association, which was formed soon after the school opened by Junko's former teachers and classmates. The association does not stop at raising funds for school buildings, but also supports tuition, and currently has about 50 members, consisting mostly of Junko's junior classmates. The association's fund-raising activities include the sale of Vietnamese products, and the scope of its activities is spreading to other countries in Southeast Asia.


The work has been carried out over three stages, by Junko, her parents, and Junko's campus friends and teachers, and the selection committee wanted to recognize the ongoing nature of these activities and the way they are expanding in scope. The committee was also impressed by the way the association raises funds entirely on its own initiative, without requesting support from any quarter, and felt this was a good example of the way students today participate in society.