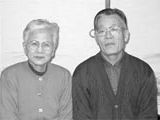 Genri Kondo Born: 1931; from: Nagasaki Prefecture, Japan
Misako Kondo Born: 1929; from: Yamaguchi Prefecture, Japan

In 1962, Mr. and Mrs. Kondo opened their home to people with mental and other disabilities, establishing the Nazuna Garden as a communal living project. At any one time, 10 or so handicapped people would be in residence, helping on the farm and experiencing a normal family life. The Kondos carried on this work for 38 years, only closing the garden in August 2000 after the all the residents had found new homes. They now hope to build a house to care for the elderly on the same site.


The citation was by way of expressing appreciation to the Kondos who made their home available for 38 years to people in the area who wanted to experience a normal family life. In particular, they are to be commended for funding the project by themselves, without recourse to government support in any way.