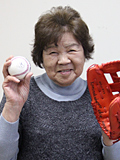 born: 1930
Kanagawa

Diligent study at a night school out of the simple desire to learn more, and active participation in the baseball team and other activities
May 2013 saw the first of the preliminary softball games in Kanagawa Prefecture in a national softball tournament for students of night or correspondence classes on the high school level. In the bottom of the fifth inning, a woman was standing in left field for the team of Kawasaki Municipal Takatsu High School. Her name was Chie Kaminakabeppu, an 83-year-old fourth-year student on the part-time course attending night classes at the school. Her team advanced to the prefectural finals, but unfortunately failed in its bid to make it to the national tournament. After the game, Ms. Kaminakabeppu was there to console her teammates, some of whom shed tears after the defeat.
Ms. Kaminakabeppu was born in 1930, on a farm in Kagoshima Prefecture. Because it was during the war, she was unable to receive decent schooling and abandoned ideas of going to high school. She had once dreamed of becoming a teacher, and locked the desire to get more education deep in her heart.
She married at age 24 and gave birth to two children. Subsequently, she moved to the city of Kawasaki when her husband was transferred there. Change came after the death of her husband in 2004. At first, she was overwhelmed by the feeling of tremendous loss and unable to do much of anything. Realizing that she could not go on like that, the urge to learn again welled up inside her. In 2007, at age 76, she enrolled in evening classes at Nishinakahara Junior High School in Kawasaki. Still eager to study after graduating, she took and passed the entrance exam for night school at Takatsu High School, which she entered in 2010 at age 79.
Ms. Kaminakabeppu readily makes friends with all sorts of people, and swiftly blended in, becoming a favorite with her classmates, who were younger than her grandchildren. Some of the students in night schools have trouble opening up to adults and teachers for various reasons, but even these students opened up to her. In her studies, she made sure to do advance preparation and review lessons every day. Determined not to fall behind, she refused to go to bed until she mastered everything she had been taught that day; her dedication was so strong that it caused concern among her relatives. Furthermore, she joined intramural clubs (in calligraphy and flower arrangement) and actively took part in cultural festivals, ball game tournaments, and speech contests. Impressed with her spirit, Mr. Katsumi Nakajima, her homeroom teacher, encouraged her to join the baseball team. He served as an advisor to the team, and figured her presence would help the team to grow. She consequently joined the team in the autumn of her third year. Although her activity was limited to things such as retrieving balls and tending the grounds, her teammates learned much from their interaction with her as the hardest worker in the school.
Her favorite term is "lifelong activity." After graduating, she has decided to do calligraphy, India ink painting, "e-tegami" (letters with pictures), and swimming.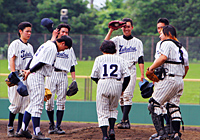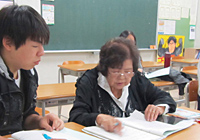 An inspiration to all, brimming with a challenging spirit and working hard efforts at anything she tries
Ms. Kaminakabeppu encourages and energizes all around her. This is not only because of her activity on the baseball team; it also derives from the way she began studying so diligently at night school in spite of her advanced age, her interaction with classmates younger than her grandchildren, and her enthusiasm about taking up the challenge of calligraphy and flower arrangement as extracurricular activities. We are inspired by her attitude toward life.