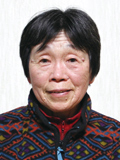 born: 1938
Yamanashi

She broke the world record of being the oldest woman to climb Mount Everest twice with a spontaneous attitude: "I just liked mountains and wanted to challenge."
At 9 p.m. on May 18, 2012, Ms. Watanabe started the camp at the altitude of 8300 meters, heading for the summit. Struggling with a gale and, moreover, accidentally running out of oxygen, she managed to stand safely on the top of Mount Everest, the highest mountain in the world, 10 hours later, at 7 a.m. (10:15 a.m. JST) on the following 19th. It was the moment when she renewed her own record of being the oldest woman to climb Mount Everest (63 in 2002) for the first time in 10 years. It was the ascent she accomplished after overcoming her serious injury (centrum collapse of the first lumbar vertebra) that she suffered in 2005, which forced her to stop mountaineering activities for two whole years.
Although she has a history of climbing world-class mountains, she goes back to an ordinary citizen after she climbs down a mountain. From her early years until she graduated from a high school, she helped her parents, working on a farm and doing heavy labor every day. As she had thus learned to have a steady daily life, she cared about managing both work and mountaineering after she started it. If she takes a day off, it may cause trouble to her colleagues. Thinking it important to do everyday work earnestly and win confidence, she practiced it until she retired at 59.
She paid for most of her mountaineering expenses out of her own pocket, and some of her equipment was given to her by her mountaineering friends. For both attempts, her Everest climbing party was a simple one consisting of herself and Noriyuki Muraguchi, a mountain cameraman, with only three Sherpas. She talks nonchalantly even about her world record, "I am not interested in my age. I just like mountains and only climbed Mt. Everest because I wanted to challenge." "Climbing Mt. Everest is an extension of activities in my daily life such as working on a farm."These words represent Ms. Watanabe's way of life itself more than anything else.
"Because I spent much money on this climbing expedition, I do not have any climbing plan for the time being." While working on a farm, which she likes very much, she also serves as a nature guide in Kawaguchiko-cho and a climbing guide for Mount Fuji, walking in nearby mountains instead of training.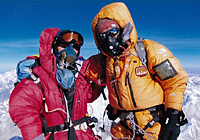 Steady and humble way of life
Her record is impressive because she is not a professional mountaineer but an ordinary citizen.
Not only is her establishing the world record a brilliant feat, but also her steady and humble way of life is remarkable: she steadily continued her moutaineering activities while caring for her everyday life. That may perhaps be the reason why she managed to make her second attempt after overcoming her serious injury. You can honestly be impressed by a world record achieved by an ordinary citizen.