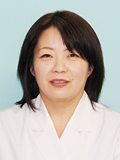 born: 1972
Kitakami,Iwate Prefecture

Volunteer activities as an encoffiner in affected areas, with care for grief-stricken bereaved as well
The Great East Japan Earthquake struck on March 11, 2011. Ms. Ruiko Sasahara, a professional encoffiner who lives in the city of Kitakami in the inland region of Iwate Prefecture, formed a volunteer organization with friends, entered affected areas along the coast of the prefecture, which had incurred tremendous destruction, and launched into encoffinment activities on a volunteer basis. Sleeping in the car and repeatedly making the trips back and forth over distance of about 150 kilometers one way, she visited about seven communities, including the cities of Rikuzen-Takata and Ofunato. Her activities had basically run their course by July, by which month she had laid out more than 300 bodies.
The bodies of victims were greatly affected by the tsunami. In possession of excellent skills of restoration (to repair changes of appearance after death), Ms. Sasahara first closed cuts and scratches on the body and then restored the skin, brows, eyelashes, and hair to their condition before the disaster, which she ascertained by asking the bereaved. Finally, she put a serene smile on the face. The restoration of a single body took from four to five hours in some cases. When the deceased persons show a half-asleep look on their faces, the bereaved start to talk to them as though they are there and alive. Ms. Sasahara has a pad in which she sketches the restored face and writes down the comments of the bereaved and her own thoughts. She has made more than 100 such records so far.
Ms. Sasahara is also providing grief care to soothe the souls of people who lost family and/or friends. She believes this care for the hearts of the bereaved is of very great importance. At her suggestion, a "tea and talk" group was launched last autumn as a venue for communication between experts in palliative care and disaster victims over a cup of tea. Even at present, she continues to make the rounds of affected areas daily with physicians in round-trip runs that take about 2.5 hours each way.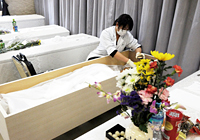 Commiserating with the bereaved and soothing the pain of people left behind
Bodies were terribly mutilated by the tsunami. The bereaved were hit by the double blow of suddenly losing loved ones and being faced with their horrible disfigurement. Ms. Sasahara restores the appearance to that they knew before the disaster and puts a peaceful smile on the face. Heeding the wishes of the bereaved, she has soothed the pain of many surviving relatives and helped them get on with their own lives again through her activities. We would like to honor her as a representative of many people who remain involved in activities to support recovery in the affected areas.