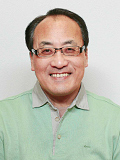 born: 1952
Funabashi, Chiba Prefecture

In 1996, when he was 43 years old, Mr. Iguchi, who worked at a major textile firm, found he had highly malignant small-cell carcinoma of the lung. The doctor told him only 5% of patients with this type of cancer survived more than three years. No figures were available on survival past five years. What kept him going through a difficult surgery and five treatments with anticancer agents was a tape of rakugo-a traditional Japanese form of comic storytelling he's loved since his time as a student.
After passing the critical juncture of five years after surgery, at the suggestion of his wife Kayoko, Mr. Iguchi gave a solo rakugo performance. Its main purpose was to give something back to the fellow patients, their family members, and the doctors who had supported him, in the form of an "anticancer agent of the heart."
Since then, he has continued these rakugo performances at a pace of once per year, inviting only cancer patients and their family members to attend free of charge, as "solo performances drawn from a gratitude for life." Last year marked the 10th year of these performances. Mr. and Mrs. Iguchi pay all costs, from venue rental and production to the mailing of invitations and tickets. Fellow patients help out on the day of the performance. Mr. and Mrs. Iguchi receive applications to attend the performances from across Japan, which are so popular that each performance has a waiting list. Mr. Iguchi, who gave himself the stage name "Hatarakuya Hajikaku," each year performs a new rakugo production under the title "Rakugo of Life: Hospital Diary." "I haven't laughed so hard in ages" and "I resolved to live each moment to the fullest" are typical audience comments. Fellow patients in attendance vow to meet there again the following year.


Based on his experiences overcoming malignant cancer, Mr. Iguchi continues to inspire and give hope and courage to cancer patients and their families with rakugo works he creates himself, holding solo performances to which they alone are invited, based on his conviction that "laughter is the best anti-cancer agent." He collaborates with his wife Kayoko in all aspects of these productions, from planning and venue arrangements. What's more, he works to come up with a new rakugo production each year. Perhaps only someone like him, who understands how patients feel, can inspire the responses that he does. Countless attendees declare that his performances make them feel glad to be alive.