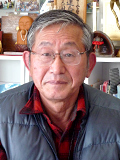 born: 1944
Former police officer; representative of the nonprofit organization Kokoro ni hibiku bunshu/henshukyoku ("Editorial office: anthology that touches the heart"; Mikunicho, Sakai, Fukui Prefecture, Japan)

While working at the Fukui Prefecture Mikuni Police Station, which had jurisdiction over the picturesque Tojinbo rock formation, Mr. Shige saw the double suicide of a couple in the early stages of old age who were under his protection, leaving behind a note addressed to him. In response, after retiring from the police force in April 2004 he began activities to prevent suicides in the area.
Establishing a nonprofit organization with about 20 friends, he opened a consultation center in a leased storefront at Tojinbo. While also selling oroshimochi rice-cake dishes, the center serves as a base for patrol activities and as a place where people helped by the organization can tell their stories and talk about the future. Members patrol the 1.4-kilometer path along the precipice in two two-hour shifts: one during the morning and one around sunset. Through the end of 2009, they had aided 227 persons. Perhaps due to the economic downturn, recently they have seen many cases of people considering suicide for economic reasons, particularly men in their thirties.
Another important issue is provision of care following suicide prevention. For this purpose, the organization rents six apartments in the city of Fukui. As Mr. Shige's activities have become well known through means such as media reports and lectures, he has received assistance such as offers from various locations to employ users of the organization's services. Progress also is being made on building a national network for suicide prevention, as Mr. Shige's activities steadily grow in depth and spread.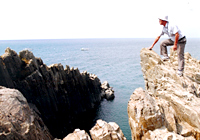 Since 1998, more than 30,000 people per year have committed suicide in Japan. Mr. Shige's activities, which he has funded with his retirement benefits out of a belief that helping save potential suicides should not be left to the government alone, reflect his experiences as a police officer.
In addition to daily patrols for prevention and provision of care, his thorough portfolio of activities also covers support for making a new start. At the same time, through awareness-raising activities such as lectures and publications, the level of interest in society is increasing and the support network has spread nationwide.縲」・p>