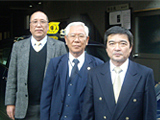 Kawasaki City, Kanagawa Pref.

The good folk of the Kawasaki Owner-driven Taxi Co-operative Association have long taken children from Shiinoki Gakuen, a school for intellectually handicapped people in Kawasaki City, on excursions.
These taxi rides began in 1975 when a driver picked up a child who happened to attend Shiinoki Gakuen. He learned from the child's parents that the school's students rarely have the opportunity to go out, and roped a few of his fellow drivers in to see if they could do something about it. The program officially started four years later in 1979 as part of the association's activities.
The excursions are held each year on or about the third Wednesday in May, and the children get to go to amusement parks and other leisure facilities in Kanagawa and surrounding prefectures. In 2008-the program's thirtieth birthday-some 23 taxi drivers took time out from work to take a total of seventy people including 36 Shiinoki Gakuen students, their families and school staff to Yokohama Hakkeijima Sea Paradise.
The timetable is generally the same every year: the convoy leaves the school at 9:30 a.m. and returns at around 3:30 p.m. The taxi co-op covers all expenses through its annual fees and fund-raising (a donation box is located in the co-op's office, and drivers often drop in a few yen when they pop in to cash in taxi vouchers they have received from passengers). Last year, the co-op paid for 320,000 yen's worth of boxed lunches and snacks, and the drivers covered the gasoline bill.
At present, the program has around twenty drivers who participate every year.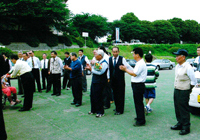 This is a very unique form of community service and it doesn't take much effort to imagine how much the children enjoy their annual taxi drives. The fact that such a program has continued for three decades with more than twenty drivers taking time out of their busy working day to make it happen, and with many more drivers donating money to help, is truly wonderful.