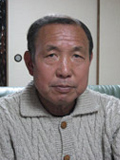 Born: 1941; from: Fukuoka Prefecture, Japan

In September 1957, Mr. Nishitani sent his first letter, enclosing 300 yen, to the night school program at Arakawa 9th Junior High School in Tokyo. He had learned about the existence of a night school at the junior high through a letter, written by a high school girl, published in the newspaper. In her letter, the girl explained how she had made several donations to the night school but was no longer able to continue, and issued a plea for someone to take over. At the time, Mr. Nishitani was 16 years old and enrolled in the night school program at his local high school while delivering milk and doing other jobs. Having lost his father to the war, he was brought up by his mother, who supported her family by carrying coal. This was a time when a box of cigarettes cost 40 yen.
Ever since then, Mr. Nishitani's monthly gift to the junior high night school program continued without a single lapse. This January marked his 604th donation. After graduating from high school, he joined Yahata Steel (now Nippon Steel). His donations gradually increased, to 500 yen, 1,000 yen, and now, 3,000 yen. His cash registered mail is always accompanied by a letter of encouragement. At the night school, Mr. Nishitani's letter is always read at the "evening assembly" before classes start, and his donations are used for such purposes as making temporary payments for the school excursion trip.
Arakawa 9th Junior High School's night school program was the model for the 1993 film "Gakko (School)" by film director Yoji Yamada. In November of last year, the school held a banquet to celebrate the 50th anniversary of its founding. Mr. Nishitani was invited to the event and gave a speech in which he expressed his intent to continue his monthly donation for as long as he lived.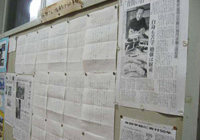 Mr. Nishitani continued his donations for a half century, from his high school days to the present, without a single lapse. His motive of wanting to encourage the students is simply amazing, especially since he studied in a night school program himself, and he knew firsthand about the importance of learning. His stance is natural and unforced, in that he did not set out to make a donation every month but it "somehow turned out that way." In this age of e-mail and text messaging, his hand-written letters exude warmth.