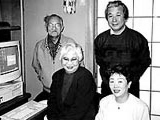 Founded: March 1997; began services to first home June 1997;
members: 180 (as of December 1998)

A group of residents in a district of Tokyo's "shitamachi", or traditional neighborhood area, is operating a network of personal computers to check every day on whether senior citizens living alone are all right. Operated by volunteers, the network is the brainchild of Mr. Hiroyuki Amino, secretary general of the group. He wanted to upgrade welfare services for the aged at home and proposed that the network be set up. Top leader Tokuei Murakami played a central role in its establishment. A sensor attached to a home electric thermos sends a signal to the network's computer. When the owner pours hot water out of the thermos, the time is displayed on the screen, thus allowing the volunteers to know he or she is safe. Every morning, 28 senior citizens send their signals to the network, which has been in operation for 18 months.


It is splendid that the network utilizes something close at hand for everyone such as a home electric thermos at the neighborhood level to find whether elderly residents are safe or not at a time when communication among members of a regional community is declining in today's aging society.