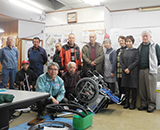 Sapporo, Hokkaido

Twenty years of delivering wheelchairs adjusted to user specifications to more than 80 countries across the world with the help of travelers
Sapporo-based NPO Go! Fly! Wheelchairs (executive officer: Michiyo Yoshida) delivers wheelchairs no longer in use to overseas locations. It is an interesting arrangement. They recruit volunteers among travelers and ask them to bring wheelchairs as carry-on luggage to their destinations. They have been doing this for 20 years. The number of chairs transported is 2,894, the number of countries 81 (as of late December 2018), and the number of courier volunteers exceeds 3,000.
Late in 1997, the English-language teacher Michiyo Yoshida visited a slum area in the suburbs of Dhaka, the capital of Bangladesh. What she witnessed there was the restricted lives of persons with disabilities as they lacked wheelchairs for moving around. Yoshida came to think, "There are plenty of wheelchairs in Sapporo. I want to bring the ones not in use to people who need them abroad." But what could be done about the methods and costs of transportation? She discussed this with his friend Masahiro Sato and was introduced to Kazuyori Yagyu, then a 4th-year medical student at Hokkaido University. Yagyu had previously transported a wheelchair aboard an airplane to an Asian country as part of his club activities, and explained that they could be brought along for free if they weighed no more than 20 kg. This could work. In May 1998, Yoshida founded Go! Fly! Wheelchairs together with Yagyu. That same month, two children's wheelchairs took off to Thailand.
The wheelchairs are supplied by individuals and welfare facilities. These are then fixed and adjusted before being sent to the homes or departure airports of registered travelers. The travelers go to the destinations and deliver the chairs to the users directly.
This is visible work going from hand to hand, but a major feature is that the wheelchairs are customized to suit the users. As such, they ask them to provide information about physical properties and conditions in advance so that a datasheet can be compiled. Meanwhile, numeric data about seat width, backrest height, footrest height, and weight for each donated chair is also entered into the datasheet. The most suitable chairs are then found using the datasheet, after which they are fixed and adjusted according to user specifications. Moreover, to ensure long use, they create user manuals (Japanese, English, Indonesian) and have volunteers visit the locations to explain the technology.
They receive words of gratitude from all the countries, saying things like "Now I can go out freely and even go to school" and "The range of what I can do by myself has widened." There was even a case of a bedridden 8-year-old boy who gradually became able to move his arms and legs after starting to use a wheelchair. Travelers also saying things like "It was great to interact with locals," "I can't forget the smiles of the children," and "This was the best experience I ever had."
Yoshida says that, "The happiest moment is when I see a photo of someone smiling as they receive their wheelchair."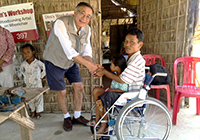 The members deliver wheelchairs which are adjusted according to the physique of user and the condition of their body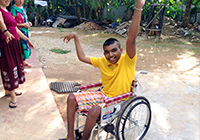 The travelers hand wheelchairs directly to users at their home, departure airports, etc.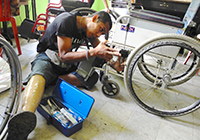 The happiest moment is when seeing a photo of someone smiling as they receive their wheelchair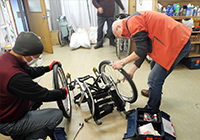 To ensure long use, they have volunteers visit the locations to explain the technology for adjusting wheelchairs


Creating an original way for delivering wheelchairs, helping and raising people by broadening their range of activity
It is an incredible thing to create an original arrangement for delivering the wheelchairs using traveler volunteers. That they are now producing user manuals and teaching overseas users how to take care of the chairs really demonstrates the greatness of 20 years' experience. Moreover, I am touched by the widening ring that has participants ranging from teens to senior citizens. Delivering wheelchairs leads to knowing people and knowing the world. Their activities also has a side of "raising people."